Transcender Festival 2012, Barbican |

reviews, news & interviews
Transcender Festival 2012, Barbican
Transcender Festival 2012, Barbican
The music of Iran, Iraq, Armenia and, er, Saturn in the latest instalment of a radical festival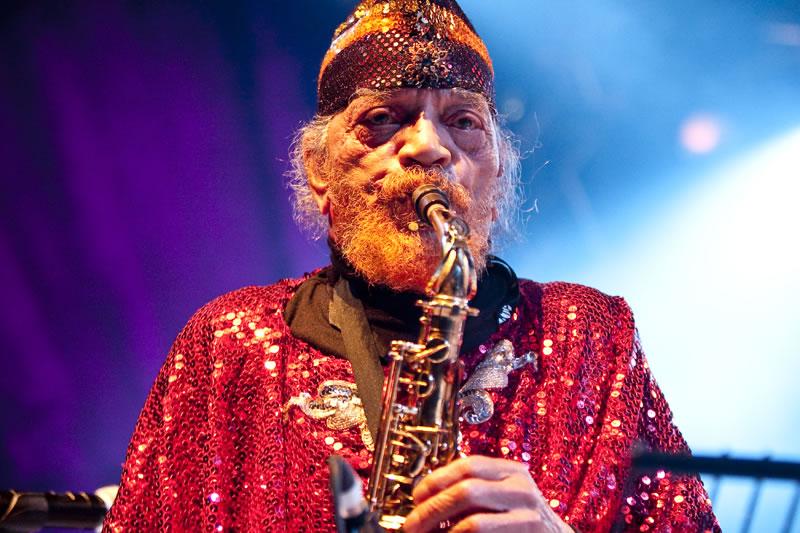 One of the highlights of concert-going this year: Marshall Allen, 88, leads the Sun Ra Arkestra
The Barbican Centre's Transcender Festival celebrated its fourth anniversary in 2012 and deserves to be recognised as one of the UK's most culturally radical and engaging music events. Transcender grew out of the Barbican's previous festival Ramadan Nights and aims to explore a similarly rich vein of music that is rooted both in Islamic trance music of Asia and the Middle East and Western improvised music that shares a similar sense of free exploration and wonder.
Transcender 2012 – and, yes, the word "transcender" was invented by the Barbican to explain this bringing together of very different yet sonically connected music forms – involves four nights of sublime music making from very different musicians who all engage in a quest to explore the cosmos through their artistry.
Transcender 2012 began on Thursday night with On The Banks Of The Tigris, a celebration of Iraqi classical music. The artists performing came from different communities across Iraq – what they all share is an ancient heritage of music making that stretches back to time immemorial (Iraq being seen as the birthplace of Arabic music). So this was also a celebration of the power music has to unite people across religious boundaries and national borders.
The principal instrument developed to accompany Arabic singers was the oud. The first two groups performing were an instrumental trio (Ahmed Mukhtar) and a quartet (Yair Dalal) that both placed emphasis on the oud. The headliner was Farida Mohammad Ali (pictured below), a singer considered Iraq's foremost maqam singer and widely recognised internationally as a unique talent.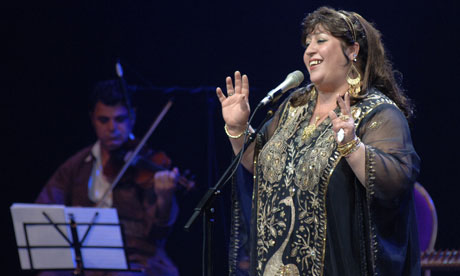 Yair Dalal, born in Israel to Iraqi Jewish parents who had left the land that was home to one of the world's oldest Jewish communities, grew up schooled both in the Iraqi tradition and in Western music traditions. He has worked across the decades to enhance communication and understanding between Jews and Arabs. Ahmed Mukhtar was born in Baghdad in 1967. Trained as an oud player from an early age, he came to London to study at SOAS and has remained here since.
Farida Mohammad Ali was born in 1963 in the Iraqi city of Kerbala, one of the holy cities of Shia Islam. Her name in Arabic means "the special one" and from childhood she was noted for her ability to sing. By her late teens the legendary Iraqi oud player Munir Bashir had invited Farida to join the Iraqi Heritage Ensemble at the Baghdad Conservatory. She became the first female to professionally sing maqams, her powerful, deep voice convincing even the sternest critics that woman can sing maqams. Achieving fame in Saddam Hussein's Iraq brought many rewards yet also much danger, both from the dictator's brutal thugs and those who saw Farida as the voice of the regime. When Farida, her husband (and oud player) Mohammed Gomar and their ensemble were invited to perform in Holland in the 1990s they chose to stay and apply for political asylum. Today, Iraq is still too dangerous for Farida to perform there. Exiled in Europe, she strives to keep the ancient tradition of the maqam alive.
This concert was inspired by a documentary film of the same name that is currently in production – the performances were filmed – and London's Iraqi community were out in all their finery. One problem: putting on such an epic event ensured the concert went on far too long. Music started at 7.30 and did not finish until after 11pm which meant that an audience exodus began around 10pm. Farida, a large lady with a huge voice and a superb six-piece band, performed such epic numbers that a concert simply focusing on her would have been more satisfying. Fine as the instrumental groups were, one could feel a certain restlessness in the audience as they waited for their diva.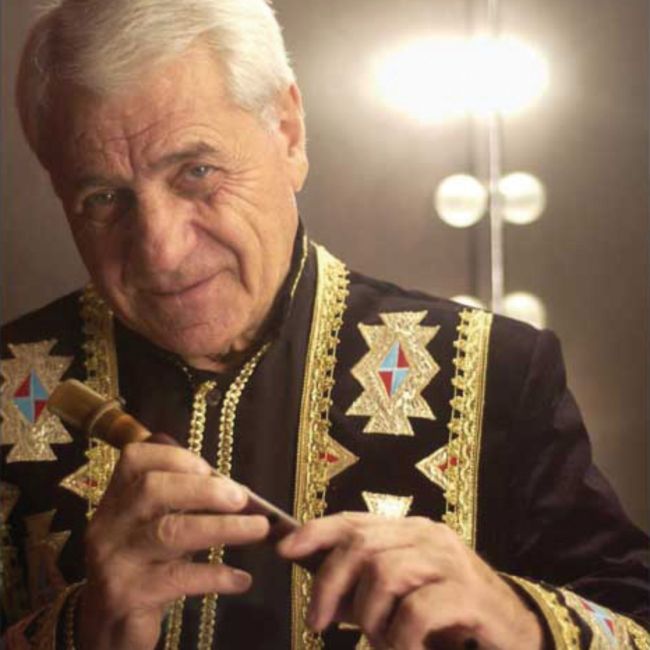 Friday night found Armenia's Djivan Gasparyan (pictured left) and Iran's Hossein Alizâdeh sharing the stage. Armenia and Iran share a land border yet political reality finds the two nations rarely communing today. Thus to have the master musicians' of both nations playing together wasa defiant gesture. This first happened in 2006 when they recorded The Endless Vision (World Music Village), an album exploring the ancient heritage of their Central Asian lands. The Endless Vision received great praise and in 2007 was nominated for a Grammy Award for Best World Music Album. Here both musicians' played separately for the concert's first half and then came together during the second half.
Djivan Gasparyan was born in Solag, Armenia, in 1928. He started to play the duduk – the instrument is a distant relation of the oboe – aged six and quickly demonstrated such remarkable grace that he would go on to play for Stalin, Krushchev, Kennedy and others. Yet it was only when the Soviet empire crumbled that Gasparyan won a wide international audience. Over recent decades he has worked closely with Armenian musicians to ensure their nation's music is kept alive while collaborating with a wide variety of international musicians (Michael Brook, Peter Gabriel, Hans Zimmer, David Sylvian, Lionel Richie, Brian May and Sting) and contributed to film soundtracks (most notably Gladiator).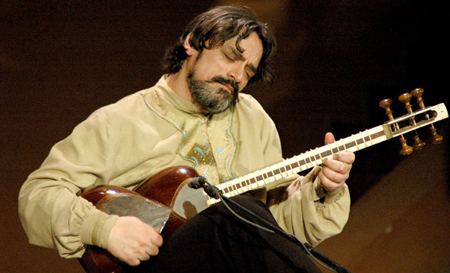 Hossein Alizâdeh (pictured right) was born in Tehran in 1951. He demonstrated a facility for playing instruments at a young age and entered a music conservatory where he studied several traditional Persian instruments. Upon graduating in 1975 he enrolled at the School of Fine Arts in the University of Tehran where he studied composition and Persian music. He then studied composition and musicology in Berlin. Back in Iran he studied with the masters of Persian music so ensuring he was instructed in the Radif – a collection of ancient melodic figures upon which all Persian music is based. Alizâdeh specialises in playing the tar, a long-necked string instrument that is found throughout Central Asia, and the setar, a member of the Persian lute family.
On Friday night Alizâdeh and his tombak (a hand-held drum) player sat cross-legged and improvised for almost an hour. At one point a Barbican staff member had to creep on stage and tap on the percussionist's shoulder to remind that this was a shared event. Trance music can, I imagine, quite remove the musician from everyday reality. Gasparyan then took the stage with his son and grandson (also on duduk) and another chap on bass duduk. At 82, with his huge belly and steely white hair, he looks every inch the Eastern patriarch and stood soaking up the adulation before playing a note. Where Alizâdeh's music bears strong similarities with Indian classical music the Armenian duduk is closer to East European folk with its plaintive melodies. After the interval Alizâdeh took the stage again a lute player and two vocalists to broaden his sound and then welcomed Djivan's musicians with the patriarch only appearing for the last two numbers.
The Sun Ra Arkestra need little introduction, hitting London regularly – when the Icelandic ash cloud caused the Arkestra to be stranded here they played an extended residency at Hackney's Café Oto which brought them both media attention and a great deal of acclaim. While the Arkestra's founder may have left this planet in 1993 the Arkestra that he formed, shaped, lead and composed for continues to play mind-expanding jazz like no one else on earth. Sun Ra - born Herman "Sonny" Blount in Birmingham, Alabama, in 1914 - started his musical career as a pianist for hire and worked with touring jazz and rhythm and blues ensembles before settling in Chicago in the late 1940s where he experienced a vision of sorts that lead to him reinventing himself as "Sun Ra: Jazz Man from Saturn". Sun Ra's cosmology blended a mix of ideas from science fiction, freemasonry, the Nation Of Islam and other sources and posited Ra both descendant of the ancient Nubians of Egypt and a hipster who lands his flying saucer outside jazz bars.
The Arkestra were, as usual, dressed like pensioners performing in a panto
Wacky as this all sounds Ra was dead serious about his music and focused on building a jazz orchestra around his vision. While many musicians were amused or alienated by the eccentric pianist others were inspired by both his talent and discipline. Soon Sun Ra was leading the Arkestra with all the musicians living in the same Chicago house and practising intensively. Right from the start the Arkestra's music was as individual as its composer: some of it harked back to the glory days of Duke Ellington, other compositions reflected the be-bop then being created in New York while his more radical music looked ahead to the free jazz movement of the 1960s.
Sun Ra's Arkestra made a name for themselves in US jazz circles but their music and attire – Ra insisted on dressing the Arkestra in homemade outfits that reflected a comic mix of sci-fi and Egyptology (as refracted through Hollywood B-movies) – was too much for the US record labels. Ra may have been scorned by the jazz mainstream yet his eccentricity and the breadth of his music won him an audience who valued the brilliance of the music. By the late 1960s rock fans swore allegiance to Ra as the leader of a "psychedelic" avant-jazz and with Ra's death, 88-year-old saxophonist Marshall Allen, who joined in 1957, has led the Arkestra. For this special Transcender performance, Allen led an expanded line-up accompanied by a specially commissioned light show from psychedelic lighting pioneers Mystic Lights. I've seen the Arkestra several times – most recently at Café Oto – and this performance was both the best I've yet witnessed from them and one of the highlights of concert-going this year.
The Arkestra were, as usual, dressed like pensioners performing in a panto. But their music was deadly serious and the 12-piece ensemble played superbly, ranging from melodic big band ballads to free jazz workouts to electronic skronk. Ginger-bearded Allen has remarkable drive and energy – and continues to play a highly distinctive sax – while the Arkestra (combining veterans and several more youthful players) maintained a formidable discipline for a band who are encouraged to solo. The psychedelic lighting added a superb interplay and footage of the late Ra both paid homage and suggested how he watches over his vision as it continues forth. The Arkestra appeared to enjoy the Barbican's magnificent sound and lighting with musicians breaking into spontaneous dance and having a very fine time indeed. What a delight this performance was.
Transcender finished on Sunday night with Brooklyn's Reliquary House + Eli Keszler & Megafortress's multimedia performance by electronic musician Oneohtrix Point Never and visual artist Nate Boyce the celebrated American modernist sculpture and was originally commissioned by the Museum of Modern Art. As I had a DJ gig in Brixton I had to pass on what sounded like yet another evening of challenging, enthralling adventures in sound. Transcender Festival: note these dates for your 2013 diary.