Boyhood |

reviews, news & interviews
Boyhood
Boyhood
Richard Linklater unveils his labour of love, over a decade in the making, and it's a masterpiece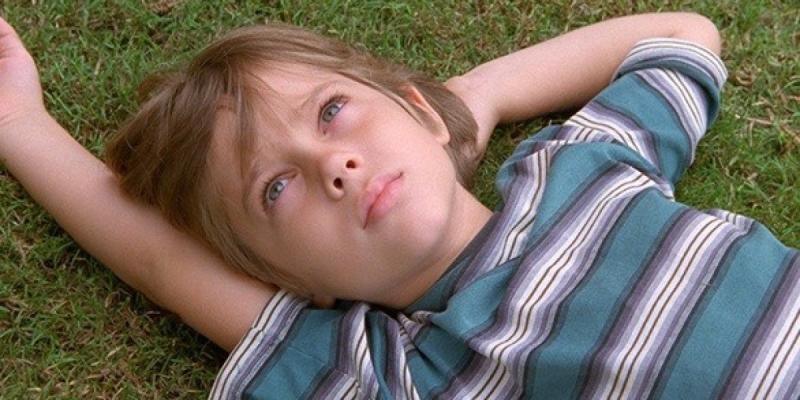 Ellar Coltrane grows up before our eyes in the sublime 'Boyhood'
Coming-of-agers, of which we've seen an awful lot recently, focus on a turning point in a child's life: not so much the moment they transition from child to adult as the moment a child is first drawn into the adult world - retreat might be possible but they emerge from the experience changed. Boyhood, from the ever ingenious Richard Linklater, offers a genuinely fresh and truly ambitious twist on this cinematic staple.
Like the growth chart we see inked on a door-frame, the film provides yearly updates on a child's development. It's a labour of love, shot in 39 days over the course of 12 years, using the same cast members and combining milestones with minutiae. One of the revelations is that the parents evolve as much as the kids.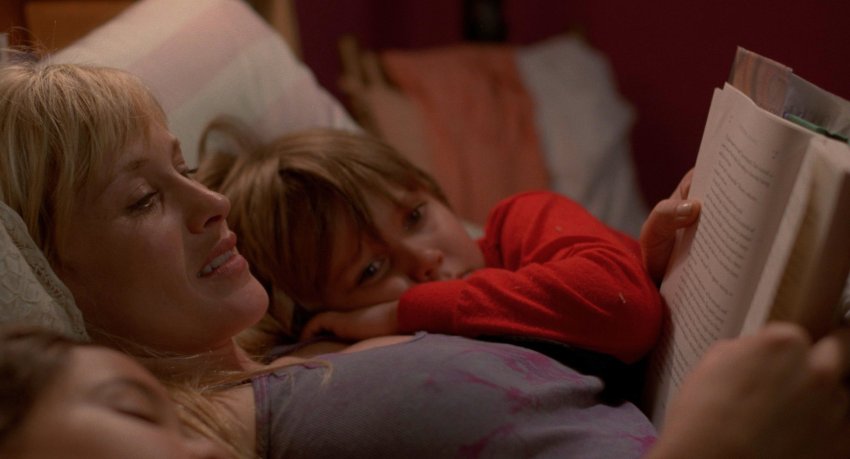 From the moment the film begins with a six-year-old Mason Jr (Ellar Coltrane) staring up at the sky it's evident that this angelic little boy is a dreamer – not quite tethered to his earthly surroundings. It's a shrewd move from Linklater. Focusing on an ethereal, unknowable child trying to puzzle out his place in the world allows the audience to project their own childhoods onto him; for this is not just the story of an individual boy, but a film which aims to capture the essence of childhood itself.
Linklater has pointed out that his 17th feature (whose beginnings predate his recent work) could equally be called "Motherhood", "Fatherhood" or "Girlhood" - such is the importance of each family member.
The sweetly appealing Coltrane shoots up before our eyes and doesn't buckle under the scrutiny, but if Mason is our ostensible focus then his mother Olivia (Patricia Arquette, pictured above right) is the movie's unsung heroine. She's the sturdy prop upon which her children blithely rest, trying to make the best out of a succession of shitty situations, reinventing herself as an academic, pulling her and her children up out of the mire, touching others' lives without even knowing it. That the movie chooses to focus on this single mother's resilience shows the esteem in which Linklater holds women like her. It's one of the greatest roles the sensationally sensitive Arquette has ever had, and it may well be her finest performance.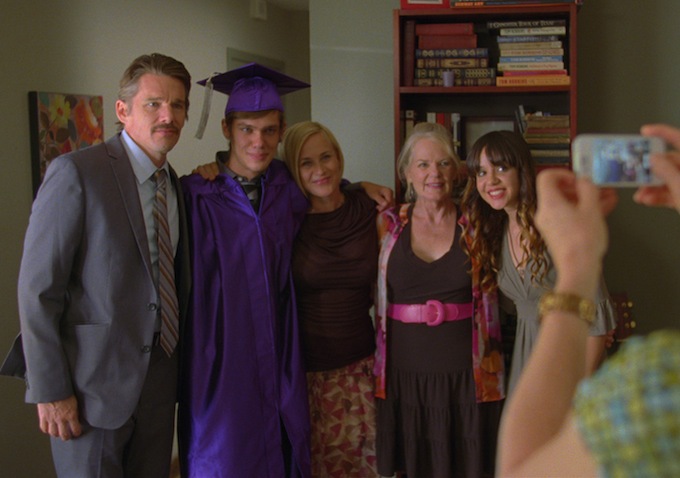 Humour is provided by Mason's petulant sister, Samantha (Linklater's daughter Lorelei), and by the shifting style and ramblings of the siblings' formerly errant, now rather endearing father (a hugely charismatic Ethan Hawke, pictured left with the rest of the family) who wears his failings on his sleeve, treats his kids as equals, and is a purveyor of alternative wisdom.
By refusing to linger long in any one chapter, Boyhood nods to life's inexorable, sometimes unforgiving momentum - like this nomadic family it keeps changing it up and moving forward. It was scripted on the fly, with the collaboration of the lead actors, and there's almost a skittishness to the approach as well as an overarching melancholy - a sense that treasurable moments pass and may be forgotten, that friendships fade and people change, and not always for the better.
It both assumes the character of memory and illustrates how life is a patchwork combining weighty and more flyaway cloth. Boyhood is a film of warmth and wonder which fully justifies the near-epic runtime and the elongated efforts of its collaborators, and is flanked by a soundtrack which cannily combines era-defining songs with more personal choices. In its ambition and exquisite execution it bears comparison with the director's own Before trilogy, being both breezily enjoyable and routinely insightful. This joyous, authentic gem already seems destined to take its place amongst such seminal works as The 400 Blows, Kes and Pather Panchali as one of the greatest-ever films about childhood.
Overleaf: watch the trailer for Boyhood
Follow @EmmaSimmonds on Twitter

'Boyhood' illustrates how life is a patchwork of both weighty and more flyaway cloth
rating
Explore topics
Share this article