theartsdesk Q&A: Pianist Saleem and Violinist Nabeel Abboud Ashkar |

reviews, news & interviews
theartsdesk Q&A: Pianist Saleem and Violinist Nabeel Abboud Ashkar
theartsdesk Q&A: Pianist Saleem and Violinist Nabeel Abboud Ashkar
Palestinian brothers encouraging Israeli youth to make and listen to music across the divide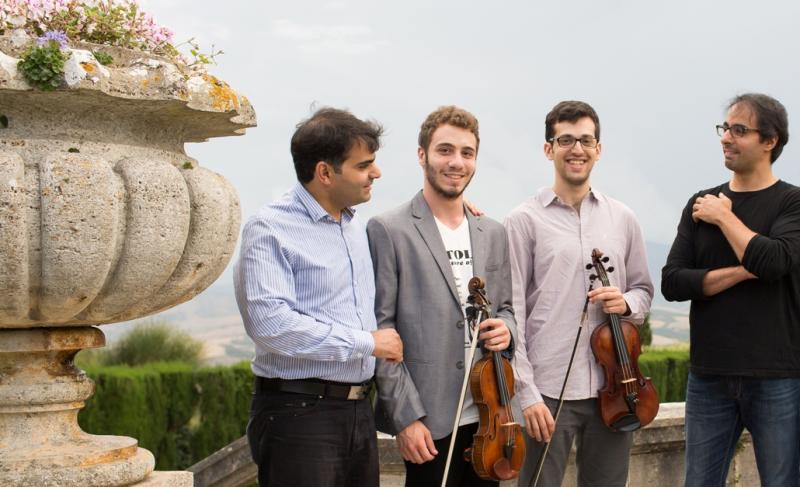 Nabeel (left) and Saleem (right) Abboud Ashkar at La Foce with young violinists Feras Machour and Cohen Ohad
Saleem (born 1976), having dropped the "Abboud" from his name, is one of the world's most individual top pianists: his recent disc of Mendelssohn concertos with Riccardo Chailly and the Leipzig Gewandhausorchester is bound to make my "best of year" list. Nabeel, his brother and junior by two years, has served for some years as a violinist in the West-Eastern Divan Orchestra, first-rate peacemaking brainchild of Daniel Barenboim and Edward Said.
Yet the siblings would surely agree that the bigger picture established by Nabeel, which Saleem has been part of for the past year or so, means more to them than their individual careers. And never more so than under the present horrors.
The Polyphony Foundation, the larger framework of the Polyphony Conservatory in Nazareth which Nabeel founded in 2006 and ran as the Barenboim-Said Music Conservatory before it changed its name, aims to bring young Palestinian and Jewish Israelis, Arabs and Hebrews, together to make music, and - this, I think, is no less important and even wider-reaching - to listen to it, at the very highest level.
What we do is not symbolic, is not cosmetic, what we do is real work in the service of this youth, in the service of educatingI was left in no doubt of that as, tears streaming partly in a release of tension after weeks of atrocious news, I listened to the subtlest of early Haydn quartets from a group in their early teens and a sublime Dvořák Piano Quintet, with Saleem leading an older team destined for professional orchestral or soloistic status, in the perfect theatre of a small town in Umbria. More on that next week, with a report on the wondrous youth-oriented Incontri in Terra di Siena run by cellist Antonio Lysy, grandson of the great Iris and Antonio Origo, from the nerve-centre in beautiful La Foce just over the "border" in Tuscany.
Meeting the Ashkar brothers after John Eliot Gardiner's predictably inspiring talk on Bach in a palace courtyard in Montepulciano, I started with the high emotion of the previous evening.
DAVID NICE: I think I can speak for everyone who found last night not only moving for the circumstances, but also impressive for the sheer finesse of the performances. I got the sense that you [Saleem] were almost conducting the Dvořák from the piano although you were quite discreet, and maybe because the piano wasn't the best…
SALEEM ASHKAR (pictured right): No, but I don't complain about pianos.
Some do.
Saleem I know, and so I vehemently don't. I just take Richter's advice on this, he says, you take the piano like you take faith. I don't complain about acoustics, I don't complain about the piano, I complain mostly about myself. If I was discreet, it was because it would have been so unnatural for me to show everything and dominate the situation, and I think I took the conscious or maybe subconscious decision to back away from this initial dynamic, because I was leading the rehearsals fully as a kind of conductor. So in order for them to perform at their fullest, I gave them the space to do that, because I'd been squeezing them in the rehearsals, so to speak. I was concerned with balances a little, but mainly I think it's a psychological decision that I took not to overpower.
But in fact both performances one would have been happy to hear under any circumstances.
Saleem That's a great thing for us to hear because we don't aim for some kind of musicmaking that is relevant and meaningful in a context – we don't care about that. I've said this before, and I'm happy to repeat it, what we do is not symbolic, is not cosmetic, what we do is real work in the service of this youth, in the service of educating. We're happy to come here and showcase what we're doing, but we're not a project of – I speak about "we", but I'm a guest of the project over the year – but basically we don't go and say, look how nice they're playing today, it is really on the ground down, up. If the project was symbolic it wouldn't work without you coming and listening and looking and writing about it. We're happy that you're here taking it in, but we're doing it anyway, it's for the development of these kids.
NABEEL ABBOUD ASHKAR: The project is not the concert. The concert is showcasing what we do, but the project is education, what's happening on the ground, from day to day.
But ultimately the performance is where what Benjamin Britten described as a magic triangle of work, performance, audience happens, and that ultimately matters for them – they looked very proud and strong and happy.
Nabeel Definitely. I'm not downplaying the importance of that.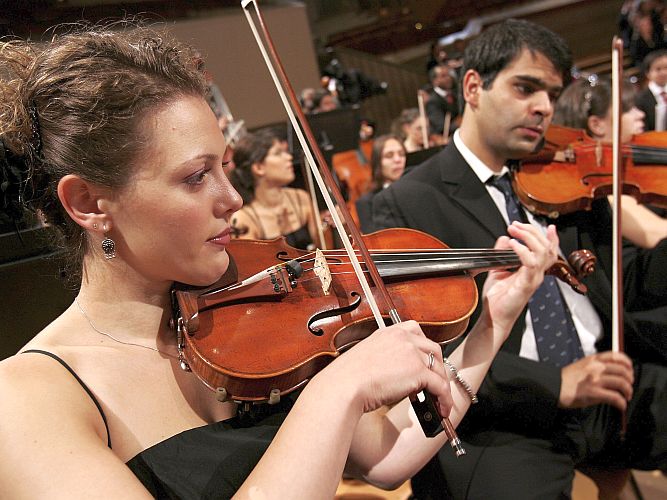 You've played for many years in the West-Eastern Divan Orchestra (pictured left with fellow violinist Mariela Matathia).
Nabeel Yes, it's been a very strong influence, as a musician for sure, but especially as an Arab Israeli, thinking of music as a profession or seeing a future in music at all, if it wasn't for the Divan Orchestra I probably wouldn't have had the courage to take this more on a professional level and make it my life. It offered opportunities for me to go and study in Germany [in Rostock] and acquire this knowledge and absorb the German heritage of music making which has become an essential part of my own teaching.
Would it have been difficult for you to travel and learn without that help?
Nabeel It's difficult not just logistically and financially, it would have been a psychological barrier that I had to cross, to break. The fact that I could be good enough to be accepted to one of the major music schools in Germany, and that I would have enough interest and support from musical organisations out there to enable me to do that, and if you look at our students today, they don't have such a constraint, such a barrier, of thinking, are we good enough? They seem a different generation from us, You can see Feras [Machour], who's 18 years old, playing the Dvořák, and you can see Jeries [Saleh], who's 13 years old, playing first violin in the Haydn, and Jeries knows that it's possible to play as well as Feras, he doesn't have to create that situation. The first time we started the conservatory in Nazareth, one of the challenges was to convince those very young kids that it is possible to play in tune, it's not magic coming from outer space, it's something that we can do given that it's learnt properly and the commitment is there.
And I always remember the very vivid documentary about the West-Eastern Divan Orchestra, showing the tensions that we're unaware of when we watch the performance – are they there with your groups?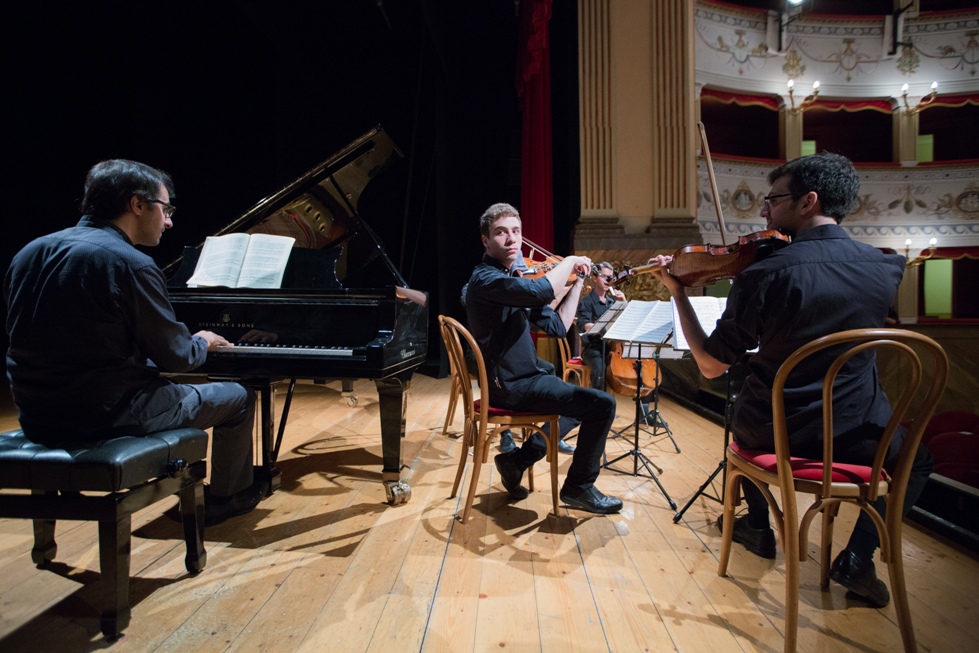 Saleem (pictured right with Machour and Cohen Ohad last week in Città della Pieve) I think in this case – and this is more a question for Nabeel, I work on a different level, I live in Berlin, I'm a pianist - I think the difference is the fact that we are still dealing with the two populations, the Palestinians and the Israelis who are living in Israel. So there's a basic knowledge and a basic familiarity that is already there, as opposed to the Divan where you had the Syrian and the Lebanese alongside the Israelis, there's much more room for immediate dialogue. But on the other hand we have a common future as the United Nations secretary just said, we cannot avoid that fact, at the moment it's gone very tragic, but there's no way out of it. So yes, there's more familiarity, and there's more commitment long-term, because it's the reality that we have to create, it's not there yet…
You are the living proof of what should happen with a two-nation state..
Saleem It applies also to science and in sport and everything else.
Do you feel any sense of being second-class citizens, of there being a sort of apartheid?
Saleem It's common knowledge that this is the reality.
Nabeel I wouldn't say apartheid, but there is an issue with equality in Israeli society.
I understand there were problems with rights of travel and going to university?
Saleem It's more the question of funding for culture. We'd like to avoid talking raw politics simply because it takes away something from what we're actually doing. There's no going around it – it's a reality in Israel and it's really destructive. And it's going even more in the wrong direction. It's not so much what it is as where it's going that's scary for us.
Nabeel What Polyphony also does is not focusing too much on what is wrong but working very hard and constructively on an alternative space where things could be different.
And the only way to do that is through the individual.
Nabeel If you start by pointing out what is wrong, then we will turn people away.
Saleem It's other people's jobs to do that. The job of other people's institutions and foundations is politics and statistics and so on, but what is Polyphony's strength, which I formed, is that you protect your corner. You create a bubble, that's all that we can do as individuals. We're not politicians, we don't have the power to change things on a macro scale, we can protect things on a micro scale, that's all that individuals can do in this situation.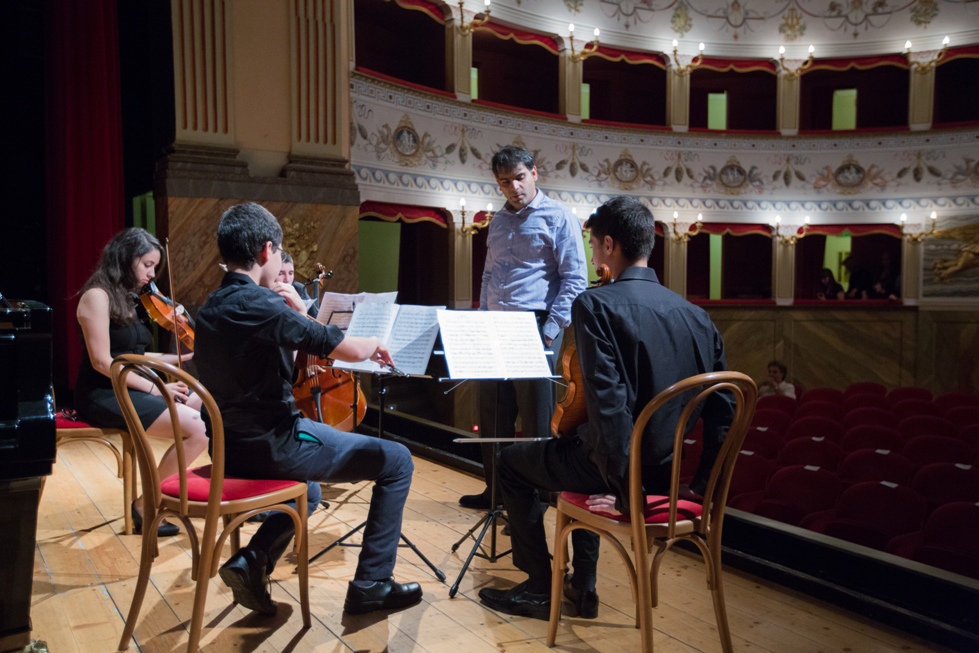 Nabeel (pictured left with young quartet in Città della Pieve) And regarding the tensions in the group, between the young musicians, we didn't feel any at all, on the contrary, there was a total commitment to the music. They're also very conscious of the importance of what they're doing, they're fully supportive, and their families are as well. However, it was challenging to conduct the rehearsals back home when the rockets were falling and there were demonstrations, so this tension in the air infiltrates. It immediately polarises Israeli society, the Arab and Jewish communities, it's like when you have a pack of fish in the sea, and when something disturbs them, you see how quickly they cut away from each other. What was very encouraging to me was that even though the parents and some of the students had concerns about coming to rehearsals in Nazareth because of what they had seen on the news, once I had the conversation with them and said, there's really nothing to worry about, it's very important that we continue what we're doing, they trusted me and they understood how important it was to keep to our schedule and our plan. And this shows that through their ongoing work and with the reputation that Polyphony has gained, it's really developing trust between the Arab and Jewish communities, or rather the individuals, that didn't exist before. The fact that a Jewish mother in such a situation would let an Arab guy from Nazareth take her 15-year-old son on tour says a lot. We're living in a time when parents want their sons and daughters right by them, at home, but the fact that this is done through music, and the focus is education, really is strengthening ties.
And the parents' ties with one another, too?
Nabeel They feel more involved. The multiplying effect is quite significant. And especially the fact that Polyphony is not only dealing with chamber or orchestral playing. Our programme starts from very wide-reaching music appreciation programmes, playing an important part in Jewish schools. The purpose of these programmes is to expose Arab and Jewish children alike to classical music, Arabic artistic music and Israeli music. We believe in introducing elementary school kids of eight or nine to their culture, to the culture of others, to international culture, which will open their minds. We start by writing the curriculum, training the teachers, and in the last year we had the support of the Ministry of Education in Israel, for the first time, to support such a constructive systematic programme of music education in our schools.
That's amazing. We need that in Britain, especially in the field of music appreciation.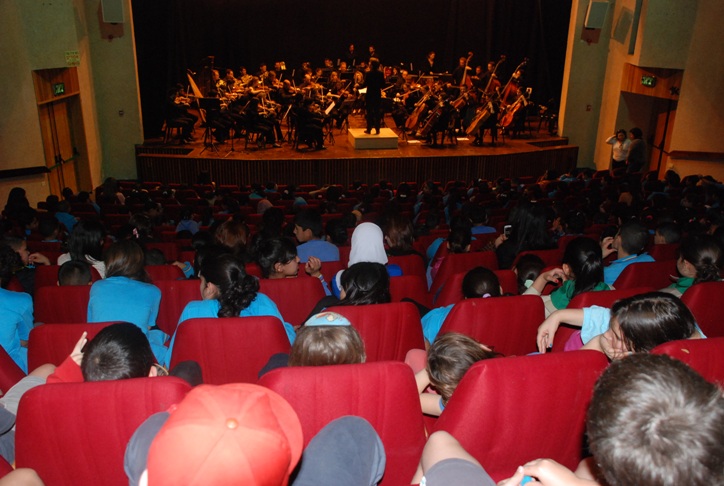 Nabeel And after it had proven itself in Arab schools, it's moving into the Jewish schools where all the students can come together for the final big event with the live concert from our orchestra (Polyphony concert in Israel pictured right). So next year there will be three parallel teacher training programmes in different parts of the country providing the teachers their tools and knowledge how to teach this curriculum. And we will be reaching out to 6,000 young people. This is significant. In two years Polyphony's music appreciation programme has become if not the largest, then one of the biggest group programmes in the country. And it shows that there is a need, that there is willingness and openness, and this is what is so significant about Polyphony. It provides a voice and a venue for people who are looking for something different to happen.
We were talking last night about our orchestras' education programmes in the UK – it's all very well if they send their players to schools, they show them an instrument, this is a clarinet, have a go, it's not the same as getting them to come to the concerts, it's not enough. For me the idea of music as a joy for life for people who aren't necessarily going to be performers or even proficient in an instrument is so important. I'm incredibly grateful to you for doing that: getting children to listen.
Nabeel The change in the behaviour of the students who have been going to these programmes in the last three years is significant. The first time we brought young Arab kids and their teachers from the schools to the concert, it was like an open market. It took three years for the teachers and the students to get so much engagement with the music and to sit and listen, to walk into the concert hall with such a respect for the event itself. For me the reaction we get from the musicians who are performing on stage is the key. When the musicians leave the stage and say, "This is amazing, so wonderful to play for such a young audience and to feel appreciated," then I know that we have achieved our goal.
Again it's that magic triangle.
Saleem But also Polyphony in addition to that has a very wide outreach.
Nabeel We have two conservatories, one in Nazareth and one in Jaffa which are more excellence-oriented and focusing on instrumental training...
Saleem ...the results of which you heard last night.
Nabeel We have only existed for eight years – eight years ago there was absolutely no music school in Nazareth. But already we have three graduates studying in major music academies abroad. Two years ago two of our students - Feras is one of them (pictured below at La Foce in a masterclass with Maxim Vengerov) - won joint first prize in the Paul Ben Haim Competition in Tel Aviv. That was a major achievement, there were two Arab violinists, one Muslim [Yamen Saadi] and one Christian, winning a major competition [it was the first time the judges had made an award of this kind]. That was game-changing.
One other thing I wanted to ask you about. A friend of mine in Jerusalem introduced me there to a writer called Rachel Shabi who's written a very interesting book on the discrepancy between the two strands of Israeli music-making: one was from the Ashkenazi, basically promoting chamber music as their heritage, and the other was from the Sephardic tradition, on which the Ashkenazi looked down. Is that still a problem or is it changing?
Saleem It's a little bit out of our area, but I think Israeli society is facing enormous problems of so many kinds, religious and non-religious, religious Sephardic and Ashkenazi, there are Muslims and Christians, and Christian Orthodox, where do you start? I like to break them into two groups: sane and insane. The country should be divided into two, for my part I think the insane will probably need the bigger part, they can have it and leave us alone. Forgive me, I should go now because my wife is alone with the kids. [He leaves Nabeel to continue for a few more minutes]
Nabeel When we started our education programme in elementary schools, it was very much focused on classical music, this is my background, what I know about, but eventually we realised we were ignoring the elephant in the room as well by focusing only on classical music. And this is when we added the element of Arabic music and music composed in Israel. And also to show that, as different as these musical styles are, there are some common points or similarities or influences from one to the other, and we tried to show that, maybe this is a bit symbolic, but it's also for third, fourth and fifth grade students, if they're exposed to this at that age, it might have an impact on them.
It would seem natural to know both, if you're not exposed, how can you come to it?
Nabeel Yes, how can you acknowledge that it's there and worth listening to?
Finally, the last thing I really wanted to ask, how has it been for you, the children and the teenagers, to come – for me, hearing the Haydn Quartet's minor chords after the two most dreadful weeks for the world I can remember, we've had no time to sit and mourn, and that provided the space. Here is a place that seems unreally beautiful but also has had the most terrible conflict. How was it to come out of that tension in Israel and Gaza into a different place?
Nabeel We were so focused on the music and I myself as a teacher and coach keep pushing to the last second, one minute before the concert I was pushing. So this created the atmosphere where our world before the concert was Haydn and Dvořák (right, the older string players rehearsing). Occasionally the kids were catching up with the news and being sad and worried. That was happening in between the rehearsals, but the main thing we were doing was just the rehearsals. But again, just to be physically away from Israel at this point, it's a two-layered experience: from one side we are grateful that we are here in this peaceful part of the world, focusing on the music, but you know that your family and friends and beloved ones are there, and you cannot detach yourselves from that.
So it's a complicated situation and we can't just say, "Oh we're so happy to be here, it's wonderful and the music is great." Speaking for myself, the political situation does not change the musical text; the musical text was written a hundred or more years ago, it has its own context. But in a way, your inner reflection on the musical text also becomes part of the interpretation, and part of how eager you are to cry out and say something through your music, and as strange as this may sound, the performance yesterday and the eagerness to express themselves, I'm very sure it was influenced by what's going on. Because these young kids know that music can be their voice, and they were so committed to every single note.
Your inner reflection on the musical text also becomes part of how eager you are to cry out and say something through your music
Share this article