Edinburgh Art Festival: Scotland to outer space |

reviews, news & interviews
Edinburgh Art Festival: Scotland to outer space
Edinburgh Art Festival: Scotland to outer space
Anticipating the independence referendum, questions of Scottish identity fill the air
Martin Boyce, Our Love is Like the Flowers, the Rain, the Sea, and the Hours, 2002
Like a canny political campaigner, the Edinburgh Art Festival offers "something for everyone". In this singular year for Scotland, the festival weaves together strands concerning the independence referendum, the Commonwealth and the centenery of the beginning of the First World War. It also provides an introduction to a host of other ideas and artistic worlds.
It's contemporary art that takes centre stage and its flagship is Generation. This multi-venue show takes over the imposing rooms of the Royal Scottish Academy and the Scottish Gallery of Modern Art and is part of a Scotland-wide series of exhibitions running until November. It's been designed to highlight to a wider Scottish audience the work of artists who have lived, studied and worked in Scotland during the past 25 years.
Taken out of their original settings and context they seem to lose vitality and urgency
Many of these artists have become household names in the international contemporary art world, winning its prizes and influencing its development and direction. Why are there so many influential artists currently connected to Scotland is the unspoken question underlying the exhibition. Many of these artists have been students at the Glasgow School of Art, but are there social and cultural conditions that have encouraged their emergence here, and is it simply a swarming effect or are they the zeitgeist? And if so, what does that mean for the future? In the current political atmosphere where choices have to be made soon about a new Scotland, such questions and assumptions put a huge burden on what is a loose artistic grouping.
Generation takes a lucky-dip approach. Installations by Martin Boyce, Christine Borland, David Shrigley, Ross Sinclair and many more are recreated from their earlier shows elsewhere. It's impossible to know what force and impact they had when first seen, but taken out of their original settings and context and placed in these imposing Georgian rooms they seem to lose vitality and urgency. To understand what's going on in these works you can't simply trust what you see. The visual is not always enough to explain the weight of the conceptual, and while there's plenty of material accompanying the work, explanation in the end tends to become exhausting and detract from the overall experience.
It's hard to generalise, however, with such a huge number and variety of artists on show – many with only one selected work. But there's one installation which does drench the senses and overwhelm with the force of its energy and immediacy. As you walk into On Form and Fiction by Steven Campbell from 1990 (detail pictured right) you enter a frescoed cell or maybe hell of frenzied painting and drawing, myth-making and story-telling which makes much of the rest of the exhibition seem flat, empty and formulaic.
In another part of the Generation forest, The Talbot Rice Gallery has the look and feel of a stage set waiting for a party, festival or revolution to begin. The festival has co-commissioned with the gallery a series of installations, Counterpoint (until 18 October), by eight artists that invite active participation in debates about technology, utopia and the Scottish Referendum. In Ellie Harrison's After the Revolution, who will clean up the mess? Four large confetti canons stand ready to fire should a Yes be declared in the Independence vote. In the event of a No, they will remain silent and untested.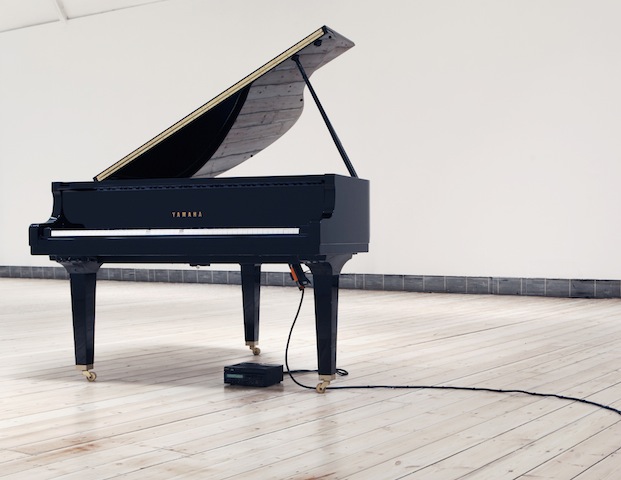 Katie Paterson's Ideas is at the Ingleby Gallery (until 27 September) and Earth-Moon-Earth (pictured left) at Jupiter Artland (until 28 September). Paterson is one of a growing number of artists spread throughout the festival whose work examines scientific questions – evolution, ecology, genetics, cosmology – with an almost romantic sense of poetry. Both shows relate to geological and astronomical processes, specifically in relation to Paterson's study of the moon. At Jupiter Artland a Morse code version of Beethoven's Moonlight Sonata is sent from the earth and reflected on the surface of the moon. A piano located in the gallery plays the code that is received from this reflection. Complementing this work is Second Moon at the Ingleby Gallery, a year-long project which entailed a fragment of moon rock being shipped via courier in orbit around the earth. Paterson's work is often the result of detailed collaboration with scientists and researchers.

One other exhibition with scientific and celestial references is Susan Hiller's Resounding (Summerhall, until 26 September), which tries to find a language which matches and helps explain the experience of people who think they've seen visitors from outer space. She uses radio waves emitted from the Big Bang interpreted into a visual and auditory dream landscape.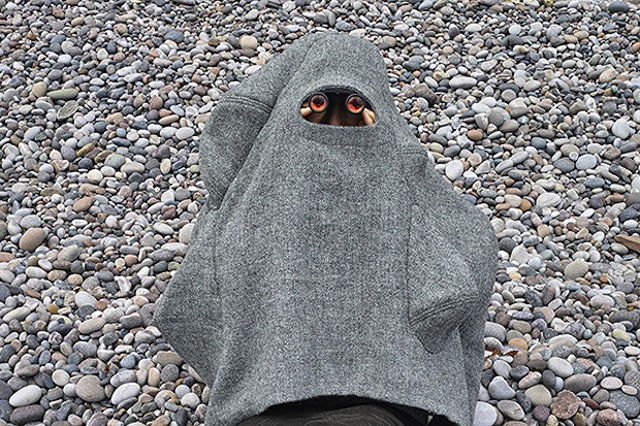 At the Dovecot Studios (until 13 September), Dalziel + Scullion, whose work deals with man's relationship with the natural world, employ a variety of media – textiles, film, found pieces of stone, quotations and visual imagery – in a three-part exhibition (pictured right: detail from Tumadh: Immersion). In one they use the natural fabric of Harris Tweed to design and make a series of outfits for an imagined family. Dressed in this fabric, so closely reflective of the environment which has produced it, the wearers become better attuned to nature around them: sensitised by a magic yet practical cloak into their surroundings of stone, water and air. They also present beautiful age-old stone and delicate cloud formations to amaze our senses and invite a meditation on the natural world.
Some of these same stones and clouds appear in the meticulous watercolours of John Ruskin at the Scottish National Portrait Gallery. John Ruskin: Artist and Observer (until 28 September). His loving, almost obsessive detail has an energy and life beyond photographic reproduction. Rocks and Ferns in a Wood at Crossmount, Perthshire, for example, hold onlookers mesmerised before its intricate patterning and subtleties and harmonies of colour.
Also at the Portrait Gallery is a wonderful retrospective of the work of the Scottish artist, writer and stage designer John Byrne. Sitting Ducks (until 19 October) is a series of portraits of friends, family and well-known faces, many of them his own, from the 1970s to the present which simply makes you glad to be alive. Luckily, Bourne Fine Art on Dundas Street has a complementary show of his work, Dead End (until 30 August)
The Edinburgh Art Festival itself is now 11 years old and is beginning to have a real presence in the city. It stakes its claim not only through permanent additions to the fabric of Edinburgh – such as Martin Creed's Scotsman's Steps from 2011 and Calum Innes's Regent Bridge from 2012 – but also with its specially commissioned maps and the welcome glimpses of the now familiar sky-blue sandwich boards which, amid the overcrowded streets of the world's biggest arts festival, mark the sites of the participating exhibitions and events.
This year the festival has taken another new step and has worked in partnership with one of the city's major art venues, the City Art Centre to develop an exhibition of contemporary art selected by five curators from Commonwealth countries. In Where do I end and you begin (until 19 October) 20 artists reflect on the meaning of Commonwealth. The festival has also commissioned a range of projects dotted around the city centre on the theme Remembering the Future. Jacqueline Donachie's work Mary and Elizabeth in Princes' Street Gardens (until 31 August) uses a looping red line of pigment to connect historic conspiracy and bloodshed with present day thoughts on democracy, governance and identity.
Each artist in the festival tries to find a language to explain individual personal experience. Some we find familiar, appealing immediately in some mysterious way to our senses, others may take longer to appreciate. Whether you make a concerted effort to "do the festival" or spend a few hours just wandering, you are guaranteed to find something to make you pause, think, smile, or fume.
Why are there so many influential artists currently connected to Scotland is the unspoken question
Explore topics
Share this article