Pride |

reviews, news & interviews
Pride
Pride
History offers unexpected yet buoyant bedfellows in Matthew Warchus's stirring film
Thursday, 11 September 2014
On the march: George MacKay (centre) as the Bromley-born Joe in `Pride'
Buried deep in the final credits for theatre director Matthew Warchus's second feature film, Pride, is a shout-out to his late father for teaching his son the twin virtues of compassion and comedy. Both those qualities, as it happens, are on abundant display in this buoyant venture from Warchus fils which works on multiple levels, all of them richly engaging.
In its broadest sense, the film reminds us that society works in different, often extraordinary ways, as is clear from this account of that period 30 years ago when the gay and mining communities came together to mutually enriching effect. Seen purely in industry terms, the movie could also serve as a poster child for the notion of "best of British": it's been a long time since so much British talent converged on screen with such easeful command.
Chief among those are Warchus and his screenwriter, Stephen Beresford, who between them keep a story involving multiple plot strands and shifts of mood by turns trenchant and witty throughout. And though the billing inevitably gives certain performers pride of place over others, Pride is a proper ensemble, as might be expected from a director whose stage accounts of The Norman Conquests and God of Carnage (to name just two) remain among the most finely acted ensemble efforts in recent years. Indeed, the only puzzle posed by the casting here is deciding the categories in which certain actors are going to be placed when it comes time to dole out end-of-year gongs for 2014's celluloid best.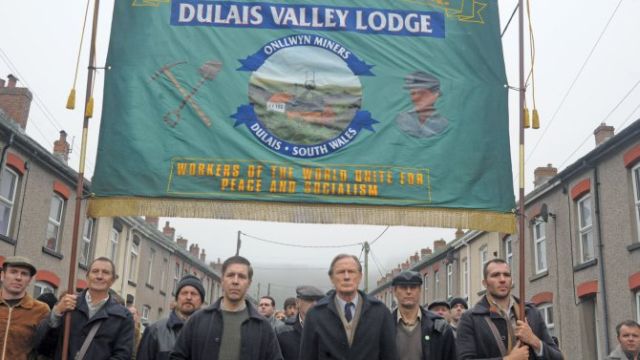 There's much lip service paid in some quarters for fusing the political and the personal, but Pride stands as an object lesson of how that can be achieved. Our way into the action is the ingeniously invented character of Joe (George MacKay), an aspiring chef living in Bromley with his family who yearns to break away socially and sexually as any not-yet-out 20-year-old gay man might do. No one, therefore, is more surprised than Joe to find himself on a London pride march in 1984 falling in with a group of politicised men and women who are awakening to the idea that the striking miners elsewhere in the country might benefit from their support. And so it is that LGSM (Lesbians and Gays Support the Miners) is born.
Won't these two opposites repel? Perhaps not, with Northern Irish activist-leader Mark (Ben Schnetzer, playing a character at the opposite end of the spectrum from his moneyed toff in the imminent play-turned-film The Riot Club) arguing that the two communities share much, divergent sexual preferences notwithstanding. They're at shared odds with a ceaselessly bellicose Margaret Thatcher and have little use for either the police or the tabloid press, the second of which can be depended upon in time to stir the pot courtesy headlines like "perverts support the pits". And so before you can start whistling "It's Raining Men" (or, more appropriately, "Shame Shame Shame", the disco hit that gives the wonderful Dominic West his awards-grabbing moment, playing a flamboyant HIV-positive actor called Jonathan who is alive and well in south London to this day), this motley crew are off by mini-van to the quiet, comparatively cloistered Welsh mining town of Onllywn and its Dulais Valley lodge. (The Welsh townsfolk on the march are pictured above, with Bill Nighy centre.)
Drama thrives on contrast and juxtaposition, and both abound here as the Welsh locals - the men, in particular - regard their colourful visitors from a wary distance, as if aliens from another land. A local widow (Lisa Palfrey, doing well by a determinedly unsympathetic role) isn't so benign an observer and is determined to rout "the gays" in any way necessary, her two sons falling into bigoted line on cue (though one of them resurfaces near the end where least expected). Flying a more inclusive flag (more or less literally) are the bluntly spoken Hefina (Imelda Staunton, pictured above with West, in especially doughty form) and Nighy's movingly indrawn Cliff: the actor's softly spoken, "I'll take an extra gay" - his remark made in response to the visitors' housing needs - among the more priceless moments of this idiosyncratic talent's singularly diverse career.
At times, one might query whether the feel-good pedal isn't being pushed a bit too insistently to the floor, and one wonders whether there's a stage musical waiting to spring forth here as there was with an earlier miner-themed film from a London theatre director, Billy Elliot. But it's to the particular credit of Beresford's canny script that darkness hovers on the periphery, however moving a celebratory finish that should soften the most resistant heart. The period covered by the film tallies directly with early British awareness of AIDS, and one is reminded at once of the scare-mongering that ran rife at the time not to mention the threat to the health of the same community that was busy getting the miners back on their feet. There's a superb playlet all its own in the cameo appearance made by an unbilled Russell Tovey, who springs into view on a self-described "farewell tour" whose implications soon become all too apparent.
And yet, it's the prevailing generosity of spirit that should by rights make Pride a substantial hit, alongside its insistence on granting so capacious a voice: on that front, Jessica Gunning is especially endearing as Sian James, the miner's wife, empowered by her newfound friends, who went on to become a Labour MP. It seems right, for instance, that our young hero by film's end insists on shedding the nickname "Bromley" affectionately granted by his gay and lesbian brethren in favour of his actual name, Joe. What's changed during the year covered by events? More or less everything, not least the fact that this supremely winning young man can now speak his name with pride.
Overleaf: watch the trailer for Pride