theartsdesk in Cadaqués: Inside Dalí |

reviews, news & interviews
theartsdesk in Cadaqués: Inside Dalí
theartsdesk in Cadaqués: Inside Dalí
A Catalan fishing village is the world capital of Surrealism
Sunday, 21 September 2014
Lethal-looking pitchfork-crutches, a trademark of Salvador Dalí's house in Portlligat
In 1959, the walk to Salvador Dalí's house in Portlligat seemed very long. I was on holiday with my parents in Cadaqués, staying in our friends' house high on a hillside with a view of the blue bay and the white houses surrounding it. Not that I cared about views. What I wanted to do was swim, poke sea urchins, watch the fishermen unload their nets, and have a Coke at the Meliton bar.
We set out for Dalí's house with a guide, a little boy not much older than me who led us across rocks and beaches. I whined as we rambled along, annoyed because I couldn't keep up with the boy. In those days there was no road, just this endless rocky path. When we finally reached the house at the edge of the beach Dalí and his muse/divine dominatrix Gala weren't there – I don't know if we thought they would be. Small cypress trees were growing beside the house. It had a strange, lonely feeling. I wondered how anyone could live there.
Time passed more slowly there, he said, and it was a perfect place to work
Dalí spent all his childhood summers in the "perfect and dream-like town" of Cadaqués. He loved its "deep tranquillity… the blue of the sky, the whiteness of foam". He met Gala there in 1929 – she was married to his friend Paul Eluard at the time (she was Max Ernst's lover as well). Dalí and Gala were together from then on, much to the surprise of his close friend Federico Garcia Lorca (the two men had an "erotic, tragic love", as Dalí described it later) though Gala, who had the "libido of an electric eel" according to art historian John Richardson, had a stream of lovers including, towards the end of her life, the young Broadway star of Jesus Christ Superstar Jeff Fenholt. What the Great Masturbator liked best was to watch.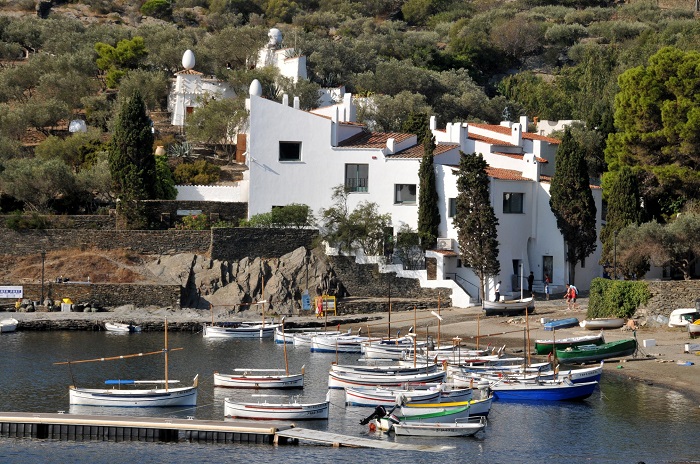 Dalí started building the Portlligat house in 1930 (pictured above). It was originally a fishing hut belonging to a woman called Lydia who had a "marvellously paranoiac brain". Time passed more slowly there, he said, and it was a perfect place to work. Gala was responsible for furniture and decoration. They had to bring their own gas lamps from Paris because there was no electricity and their belongings had to be transported down the path by donkey. They had no architect, just a local builder, Emili Puignau, who worked according to Dalí's designs. By 1959 the house had grown considerably, "exactly like a real biological structure, by cellular outbreaks", as Dalí described the series of huts. He'd added four, housing a living-room, a studio, a library and a dovecote, accessorised later with lethal-looking pitchfork-crutches, a Dalí trademark.
Life in Portlligat was remarkably solitary: there were no other houses, just fishing shacks, and in the evening everyone went back to Cadaqués. The Dalís lived there in summer and divided the rest of their time between hotels, the St Regis in New York and the Meurice in Paris, where Gala deployed her fierce business acumen, eventually turning Dalí, according to Richardson, into "as much a monster of hype and megalomania as she was" though his commercial shamelessness seems modern now, a pre-cursor to the likes of Damien Hirst.
This year is Dalí's 110th anniversary. The Meliton bar, much bigger now, has free wifi. Further along the Cadaqués seafront there's a statue of Dalí as flâneur, sporting flowing locks and a walking-stick. Dalí Intim, an atmospheric exhibit of photographs by Dalí's carpenter Joan Vehi is on at the local museum. And Cadaqués isn't just about Dalí. Marcel Duchamp and Richard Hamilton lived here too, and there's a Hamilton show on at Galeria Cadaqués. "Hamilton was a Catalan artist," insists Vicenc Altaio, one of the show's organisers. The immortal single Barks from Cadaqués is on sale, dating from the 1973 Exhibition for Dogs (all the works were placed at animal height) that Hamilton put on with Dieter Roth. I can confirm from sitting on our terrace that barking is still big in Cadaqués.
Other changes: Catalan is now an official language (during the Franco years it was banned), and the trail to Dalí-world in Portlligat is well marked. But the houses are still white, the streets are just as steep and uneven and the sea is just as blue. And the walk to Portlligat, past the cemetery and the white Sant Baldiri chapel with its elegant interior and elongated ironwork chairs and cross, seems much shorter now. You look out over the wild, rocky hillside and the olive and pine trees, then the house appears, topped with huge eggs and a pair of heads. There's a smart hotel nearby with a terrace restaurant overlooking the bay.
In summer you have to reserve tickets for the Dalí House-Museum online well in advance, and the ticket desk has strict rules about picking up tickets half an hour before your tour begins. No more than eight people can enter at once. Two angry Germans who hadn't noticed the small print were turned away and told to wait for cancellations. They were still sulking over their cafés con leches an hour later.
The house now extends further up the hillside, with terraces and swimming-pool (phallic, of course, and surrounded by bright pink Mae West lip-shaped banquettes and Pirelli tyres) where Dalí held wild parties and performances in the Sixties and Seventies. Everyone brandishes smart phones as we wander up and down stairs through the dozen or so small rooms. It's a confusing series of interconnecting spaces on different levels: narrow corridors, niches and alcoves abound and guests didn't sleep over, apparently, as there are no spare bedrooms.
A life-size stuffed bear guards the lobby; there's an owl, swans, a goat or two, a huge collection of walking sticks, a copper samovar. The ornate and the simple go hand in hand and it all looks rather tasteful. Massed rosettes of dried yellow sempervivum flowers, Gala's favourite, hang from the top of carved chests-of-drawers, antiques that she bought locally. A stylish tiger-shaped stripey sisal rug is on the lobby floor (Crucial Trading, take note). Windows frame the bay.
The light is incredibly translucent and you can almost see a painting – The Persistence of Memory, or The Spectre of Sex Appeal perhaps – emerging from the hyper-real turquoise water. The bedroom is a plush canopied symphony in scarlet and blue; outside Gala's dressing room, wardrobes are covered with magazine covers and photos of her and Dalí with various stars (Dalí didn't like albums). And the kitchen and bathrooms are solidly normal: stylish black and white tiles, Shaker-ish cupboards – OK, one of them does have photos of Surrealists on it – and a classic bathroom suite. Surprising for one who said he couldn't understand why bath tubs are always approximately the same shape (or why telephones couldn't be served on ice, like champagne).
The only room with a door is Gala's oval room, the last room to be built. It has an unnerving, hermetically sealed, oriental feel. Pink curtains block out the light and a huge curved orange sofa occupies the perimeter. Its acoustics make even the slightest whisper reverberate out from the middle of the room. The lady liked stuffed animals: teddy bears and lions loll about. There's a glass bust of Nero, Russian icons and ornamental eggs and photos of Gala as a child with her brothers in Moscow. Gala could shut herself away here and receive her own guests, just as she did, with a vengeance, at the castle at Pubol about 50 miles away, which Dalí gave her in the early Seventies. She accepted the gift on condition that Dalí came to visit her there by invitation only.
When Gala died in 1982, Dalí left Portlligat for ever and moved into the castle, but he didn't last long there. He stopped painting due to motor neurone disease, became increasingly depressed, refused to eat anything except mini-sorbets from a hotel in Figueres and finally caused a fire by pressing constantly on an electric bell by his bedside. He spent his final years in the Torre Galatea in Figueres, an annexe to his Theatre Museum (pictured above left and right) where, he said, all the obsessions of the inventor of the critical-paranoiac method are to be found. He is buried there in the crypt beneath its geodesic dome.
He was, says JG Ballard, the first Surrealist to accept completely the logic of the Freudian age. His hallucinatory realism is still powerful and, as Dali said, "It is not necessary for the public to know whether I am joking or whether I am serious, just as it is not necessary for me to know it myself."
A life-size stuffed bear guards the lobby; there's an owl, swans, a goat or two, a huge collection of walking sticks, a copper samovar
Explore topics
Share this article