Ming: 50 Years That Changed China, British Museum |

reviews, news & interviews
Ming: 50 Years That Changed China, British Museum
Ming: 50 Years That Changed China, British Museum
More than blue and white porcelain emerged from the 300-year dynasty
Monday, 29 September 2014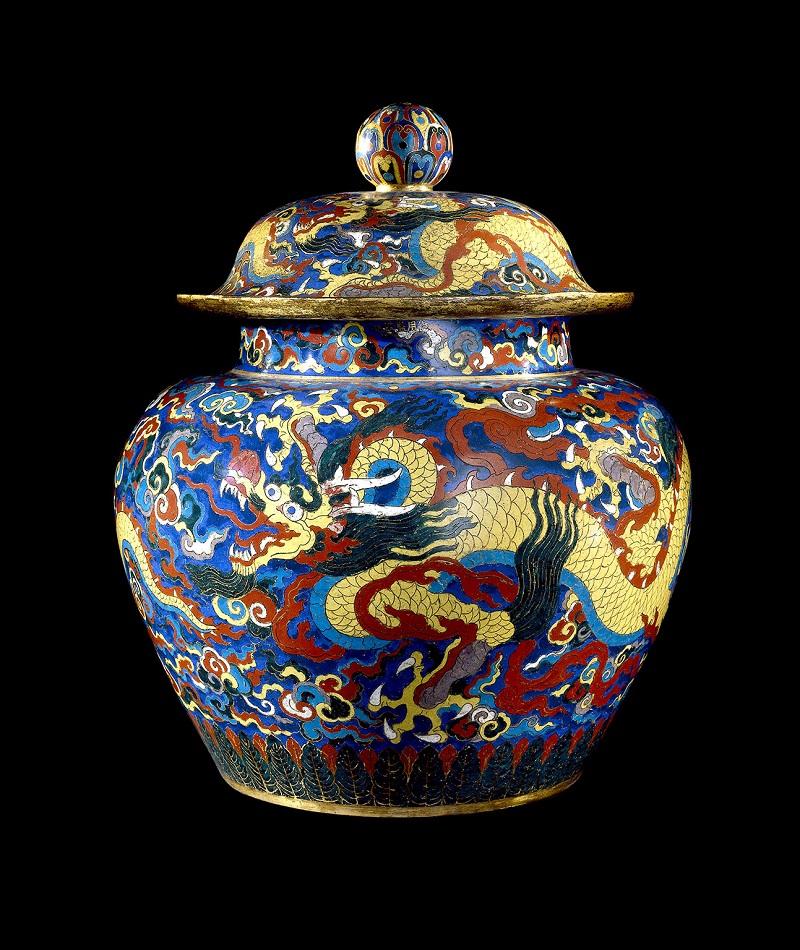 Cloisonné enamel jar and cover with dragons, Xuande mark and period (1426-1435), Beijing
Here be dragons, and plum blossoms in moonlight, model chariots, 15th-century paper money, weaponry and armour, embroidered robes, blue and white porcelain, vivid portraits of the court eunuchs, obese emperors and impassive empresses. There is many an unexpected subject, too: the most tenderly rendered depiction of a giraffe, a gift from the ruler of Bengal for the Imperial menagerie, with the animal dwarfing his devoted attendant.
These are but a sampling of the hundreds of artefacts in one of those exhibitions that shows you all kinds of things you didn't even know you didn't know. It is immensely more than the blue and white porcelain most of us automatically associate with Ming but which only became well-known in Europe several centuries on from the period on view. In an exhibition drawing on both western collections and 10 museums in China, we glimpse the range of an aesthetic tradition brought to a kind of manic perfection, which prized reaching a pinnacle of achievement rather than espousing originality.
Lucky for history that so many things were needed for the afterlife
What we are given is a three-dimensional history lesson that dramatically expands our understanding of the formidable Ming empire in its beginnings (1400 to 1450) through objects of all kinds, from courtly robes to complicated red lacquer boxes and dishes with the most minutely carved detail, to manuscripts, great bronzes of deities from Daoism to Buddhism, a gold belt studded with gems, bronze temple bells, white jade pendants decorated with gold, and even a hat for a prince.
Paintings range from acute portraits of a court eunuch, visiting leaders, fat emperors and impassive empresses, to views of sporting life at the courts and the horsey crowd at the Imperial hunt, misty idealised landscapes, and graceful depictions of animals and plants.
At its successful beginnings, Emperor Yongle (1403-1424) consolidated his grip by dispatching his 26 sons to found regional princely courts covering an area the size of Europe, plus two capitals, Nanjing and Beijing - it was the Ming dynasty that built the Forbidden City. Some of the palaces had as many as 800 rooms; there was little shortage of manpower to make wonderful things for the élite, and the Ming leaders ensured the foundation of academies in all the arts. Recent excavations from princely tombs are part of the processes adding to detailed knowledge of this complex empire: lucky for history that so many things were needed for the afterlife. (Pictured above: Longquan shrine, Yongle era, dated 1406, Longquan kilns, Zhejiang province)
The exhibition is clustered around historical topics from the imperial courts, the arts of war and peace, the complexities of religious belief – in a surprisingly tolerant empire – to the commercial activities that brought the Ming empire to an even wider world. In the cavernous shed that is the new Sainsbury exhibition centre, a dramatic spotlighting scheme makes many an object seem almost to glow with its own luminosity.
The Ming dynasty with its 16 emperors was three centuries (1368-1644) on the throne, creating a China that encompassed an empire greater than the Romans'. In its first century or so, the population doubled. And it was more or less orderly, although subject to upheaval, threat and internecine conflict, managing comparatively blood-free dynastic successions and a steady production of the highest arts – calligraphy, ceramics, poetry, painting, metal and lacquer work, costume – of which human ingenuity, skill and imagination was capable. (Pictured below: Gilded bronze figure of Śākyamuni, the historical Buddha, Nanjing, Yongle mark and period, 1403–1424)
Under the Ming emperors China had an army of a million, an enormous navy, and dockyards, both for the mercantile fleets and the military, and even more astonishingly several thousand scholars who were just as important to the court. The court was adept at games resembled golf, football and polo. Of course too, as is the tradition of millennia in China, perhaps top of the cultural hierarchy was superb calligraphy, exquisitely beautiful and poetic in itself and all the better for writing poetry.
The Emperors themselves could excel in military endeavour or aesthetic achievement, and many a prince excelled as well. The women, limited in power, were often the powers behind the throne. Even more it was an empire of religious tolerance: there was the state religion (whatever the Emperors deemed appropriate for worship and religion); Daoism which seems to be everything you could think of; Buddhism with its monasteries and temples, too; an increasingly vital Muslim ingredient (100,000 Muslims in Beijing alone with three main mosques) and even some small Jewish communities. On view is a Koran manuscript all golden-bordered from 1401 from Beijing's Great Mosque; and a 15th-century standing gilded Buddha, prayer beads and model shrines. There was something for everybody.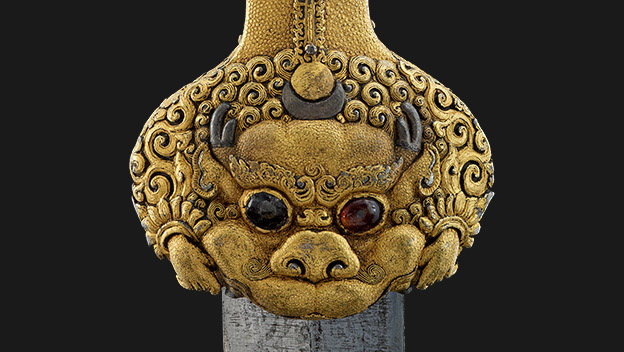 Cleverly, that calligraphy unified the vast country beyond all regional and local languages, as it was intelligible to all literati whereas the spoken languages with their varied tones were not. So commerce could take place across the vastness of the trade routes, the silk roads among them. The trading empire stretched to West Africa, and into South-east Asia. Voyages could carry as much as 20,000 men for over two years to reach the then outposts of the Chinese world. (Pictured above: Presentation sword (jian) and scabbard, Yongle period, 1402–1424 (detail) © Royal Armouries).
Europe was the recipient in the 15th century of a soupçon of the finest of Chinese goods: a tiny blue and white porcelain bowl filled with gold is presented by Caspar to the Christ Child in Mantegna's Adoration of the Magi. This exquisite piece of porcelain would have been a great rarity, perhaps owned by the Vatican or one of the Italian princely courts. This fitting image of mutual adoration acts as a subtle finale to this spacious and complex exhibition.
A dramatic spotlighting scheme makes many an object seem almost to glow with its own luminosity
Explore topics
Share this article