Schama on Rembrandt: Masterpieces of the Late Years, BBC Two |

reviews, news & interviews
Schama on Rembrandt: Masterpieces of the Late Years, BBC Two
Schama on Rembrandt: Masterpieces of the Late Years, BBC Two
Simon Schama campaigns and entertains, but does he explain?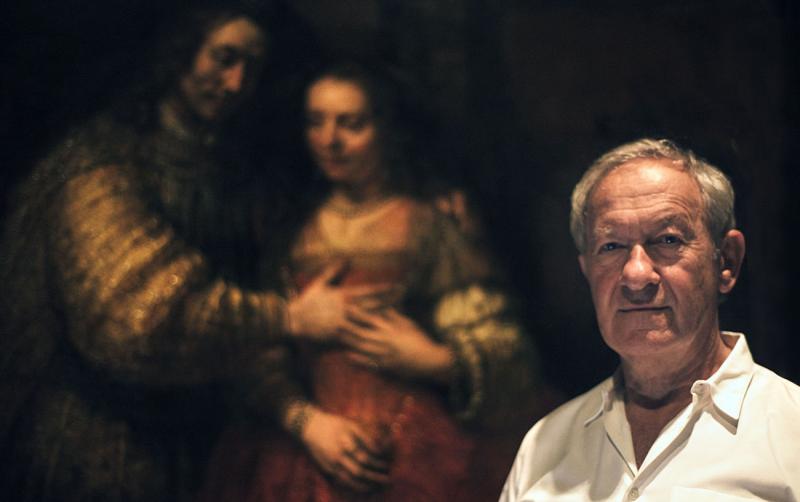 'Chatty, loquacious, exuberant': the prolific Simon Schama
The chatty, loquacious, exuberant Simon Schama, whose seminal 1987 book on Holland in the 17th century, The Embarrassment of Riches, transformed the anglophone's understanding of the Dutch Republic, describes himself as historian, writer, art critic, cook, BBC presenter. He is also the University Professor of History and Art History at Columbia, and has written 14 substantial and even significant books.
On several of his subjects, from British art, slavery in America and landscape in culture to the history of the Jews, he has presented popular television series. The energy and curiosity is prodigious. The author too of
Rembrandt's Eyes
, he is therefore a natural to take us on a tour of the master's late paintings, in conjunction with the unmissable current National Gallery exhibition.
If you can't get to the National Gallery, and even if you can, the wonders of high definition television allow at least a crude but helpful approximation of the detail and texture, of these masterpieces. The photography, from focusing on an entire image to telling detail, is captivating; and some related drawings also get a look-in. But it is disappointing to report that while the narrative is a case study in over-the-top appreciation, it is a little short on the facts that illuminate, and this from a leading historian. (Pictured below: Aristotle with a Bust of Homer)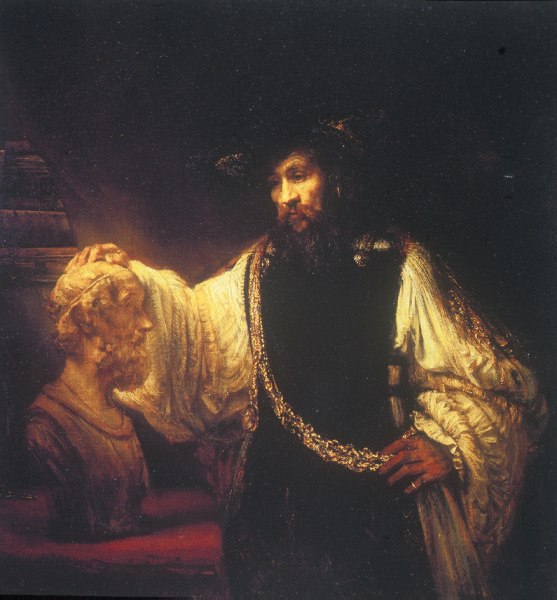 Yes, Schama reminds us that Amsterdam in the 17th century was the richest city in perhaps the richest country in the world and describes the tragic turns of Rembrandt's last 15 years (he died in 1669, and was buried in a rented grave). Immensely successful earlier, internationally famous, the artist was wonderfully extravagant, made bad investments, could not keep up the mortgage on his substantial studio and town house (now a museum, called in fact Rembrandt's House) and went bankrupt. Worse was to follow: commissions and patronage dramatically slowed as fashions changed, and the slick finishes of the colourful French style were preferred to Rembrandt's tempestuous use of paint and vivid explorations of subtle, glowing light. His beloved son Titus and his mistress Hendrijke predeceased him. At the end he was without family and mistress, alone in a house on the wrong side of town. His painting, though, became ever more experimental and profound.
We were informed with a light touch of the Biblical, historical, mythical characters and plots behind some of the paintings: Susanna, two Lucretias – pre- and post- suicide – Homer, The Conspiracy of the Batavians, Bathsheba, Aristotle, to name but a few. And were told that Van Gogh wrote that he would give 10 years of his life if he could simply sit and meditate, with a dry crust of bread, for 10 days before Rembrandt's The Jewish Bride.
Rembrandt was driven by the "rage of age" – "thought and feeling were welded together"; Rembrandt changed "what painting could be, what art is"; he "tells it like it is"; he is "not just a painter but a psychologist of the human condition"; he "paints a symphony of defiance". Rembrandt had (Schama says) the "confidence of marriage between head and heart". Is it indeed all informed by rage at the dying of the light? (Pictured below: Bathsheba at Her Bath).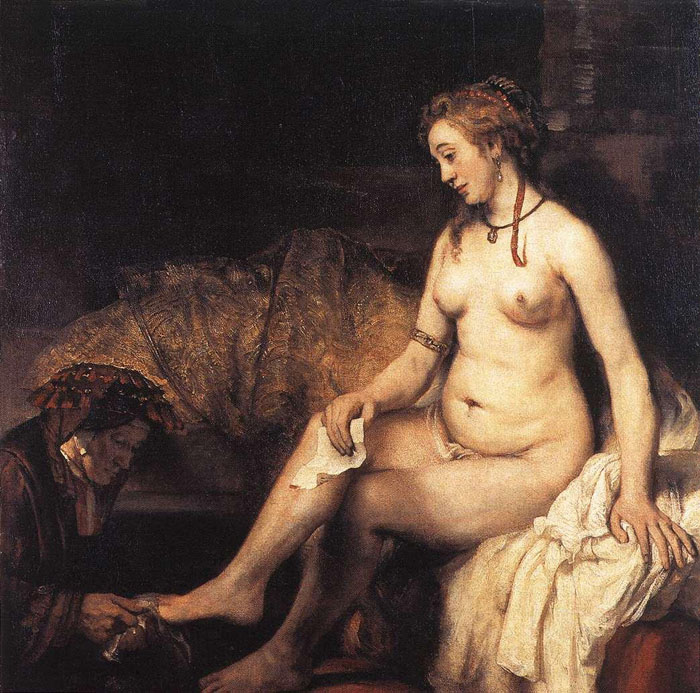 Schama exclaimed – several times – how he found it "incredibly moving" to be in Rembrandt's house. But why did Rembrandt look so much in the mirror, and particularly in old age (though hardly ancient by today's standards – late forties to early sixties) and become one of the most prolific self portraitists in all of art? Why did he choose these biblical subjects, significantly several of familial groups? Why did he paint so many old people, imaginary and real? Why, how, what, where, are the questions that are implied but hardly answered. Perhaps we just don't know. But Schama's scholarship and knowledge seemed somehow to have evaporated in a torrent of gestural gush.
Rembrandt is 'not just a painter but a psychologist of the human condition', he 'paints a symphony of defiance'
rating
Share this article