Memphis, Shaftesbury Theatre
Memphis, Shaftesbury Theatre
Tony-winning Broadway export is well-sung but unoriginal
They just can't stop the beat: the cast of `Memphis'
It's throwback week on the West End, with two very different shows recalling the darkest days of America's racial disharmony. But whereas The Scottsboro Boys shocks and satirises and has us choke on our own laughter, Memphis is content to be the feel-good flipside.
Throw a few home truths and some grit into the mix – disturbing but not
too
real – keep it predictable and sentimental, even a little patronising, and you ensure that everybody is dancing in the aisles and feeling good about themselves at the close.
This 2010 Broadway Tony-winner is a bit like Hairspray but without the wit and self-parody – and, dare I say it, the score. You might think a show called Memphis would be odds-on a jukebox musical, but the good news here is an original score from David Bryan of Bon Jovi fame, and it sings and plays with conviction by way of a hot band – keybard led by the nimble-fingered Tim Sutton – and a super-dynamic cast. That said, there's not an original bone in its body and both the concept and Joe DiPietro's book trade in clichés and some very old jokes: "How do you know when a man is lying?" Go on, you know you can finish it.
The premise is simple. In 1950s Memphis, the music of the segregated black community finds a champion in a wacky renegade and whiter-than-white DJ, Huey Calhoun (Irishman Killian Donnelly, fresh from The Commitments), whose dream is to bring the music that ignites his soul to white folks. The hope is that rhythm and blues and the newfangled rock and roll will spill across the divided communities and bring people together as opposed to driving them apart. So Memphis wields a mighty metaphor on the power of music to break down social and cultural barriers, but you can't taste the dish it serves up for the hot sauce it pours over everything.
Of course, Huey falls in love with the sizzling black singer (Beverley Knight, fresh from The Bodyguard) he comes to champion and the rest you can surely see coming. That includes Huey's mum Gladys (the deliciously feisty Claire Machin), who we just know will set aside her deep-rooted prejudices and see the light at some point – not to mention the mute black boy who finds his voice at the traumatic act-one curtain. (Donnelly and Knight are pictured above)
Subtle or innovative the show most certainly is not, but it knows its audience and both promises and delivers the kind of party where the quality of the numbers matters less than the fervour with which they are despatched by a high-octane company. Everybody gets their "turn" – the cool and lissom Rolan Bell as Delray, the zany and wiry Jason Pennycooke as Bobby. And, of course, there's the Queen of British Soul in Knight, and what a set of pipes she has. Her rangy melismas take us to places off the vocal chart, and whenever she's singing it becomes strangely irrelevant what she's singing.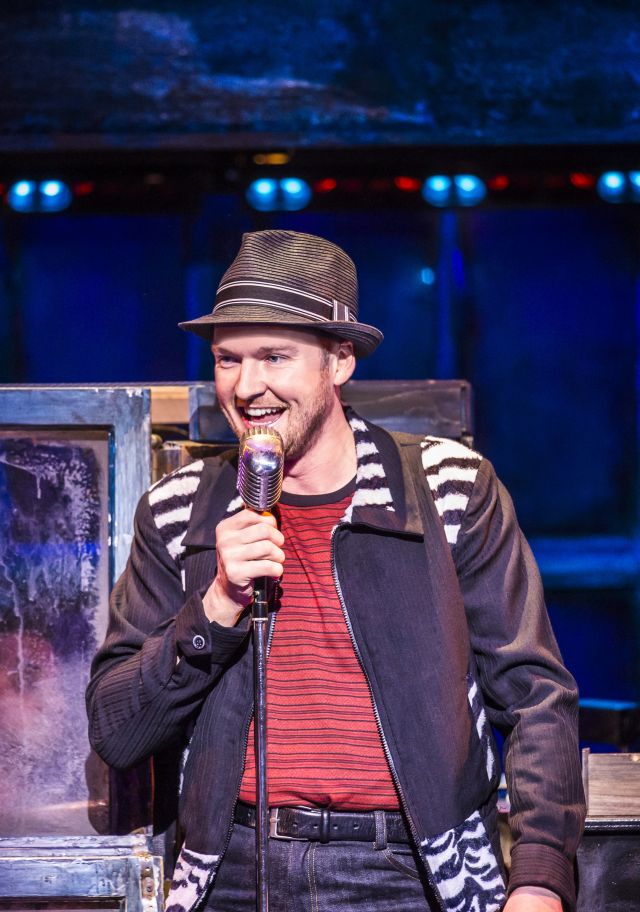 But the star of the show is undoubtedly Donnelly (pictured above), whose Huey creates an entirely new and quirky leading man. He's heartfelt, dynamic, infectious, affecting – he's one of the few things in the show that is truly believable. And he gets a cracking eleven o'clock number (the best in the show) called "Memphis Lives in Me", which he nails to the back of the gallery: white soul indeed.
Two final thoughts: the closing number, in tone and shape, is a good as borrowed from Hairspray – an homage or a shameless steal? – and prospective punters should note that, ominously, there are "alternates" for the two leads - a now well-established custom that I confess I have difficulty with. That means you should check whether Knight and Donnelly are scheduled to be performing when you purchase your tickets.
Memphis wields a mighty metaphor, but you can't taste the dish it serves up for the hot sauce it pours over everything.
rating
Share this article