The Babadook |

reviews, news & interviews
The Babadook
The Babadook
A story-book monster stalks a mother and son, in emotionally rich Aussie horror
Thursday, 23 October 2014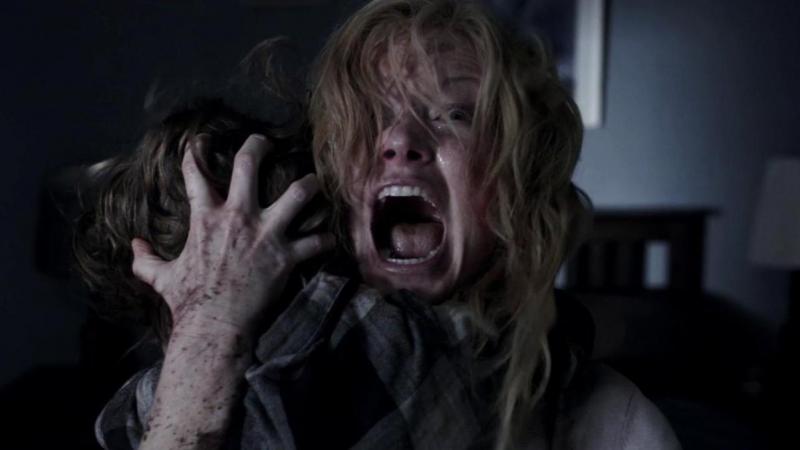 Primal fear: Samuel (Noah Wiseman) and Amelia (Essie Davis) meet Mr. Babadook
Mother love is mangled, yanked inside-out and tested almost to destruction in Australian writer-director Jennifer Kent's heartfelt horror debut. The Babadook enthusiastically fulfils its remit to scare, but finds its fright in the secret corners of maternal instinct, where frustration, grief and violence meet.
Amelia (Essie Davis) is the mother of 6-year-old Samuel (Noah Wiseman), who was born hours after her husband died in a car crash, speeding to the hospital as she went into labour. The matrix of guilt and mourning from that trauma still defines Amelia and Samuel's relationship. She looks glazed and speaks with quiet distraction, her essential kindness emerging faintly from some fathoms-deep place. Wide-eyed, urgently enthusiastic Samuel keeps her awake with his own night-fright that a monster is coming to murder them, maybe from out of his wardrobe, or under her bed.
The mysterious arrival of a horrific pop-up story book, Mister Babadook, pictured right, seems to prove Samuel right. Its words and pictures show the knife-fingered, top-hatted shadow-thing that will now be sharing their home, and its implacable intentions: the mother murdering her son, dog and elderly neighbour, gushings of red blood staining the black-and-white book. As the Babadook is glimpsed in bedroom shadows, slithers across the ceiling and thunders at doors, Amelia absorbs it. Her personality starts to flicker between the muffled kindness which has defined her years with her son and eruptions of foul-mouthed rage at him. As Essie Davis – fearlessly committed and right in a shattering role – has neatly observed, Amelia is The Shining's Shelley Duvall and Jack Nicholson. Mummy has become a danger to herself and her boy.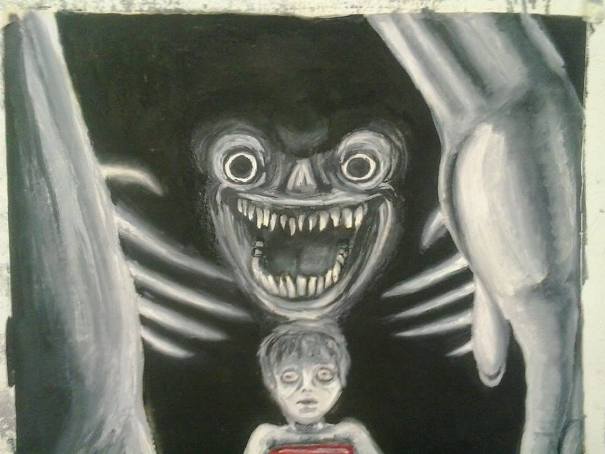 Kent had in mind the German Expressionist-influenced silent films at horror cinema's foundations – The Cabinet of Dr. Caligari, Nosferatu – as she and her crew built The Babadook's world. Amelia and Samuel's house, especially as it seems to warp and entrap them in a private battleground, becomes a harsh fairy-tale place, possessed by its inhabitants' fears. The lives of a loving single mother and her son are so fundamentally private and entwined anyway, they are fertile ground for psychological horror. Kent and her actors never lose sight, though, of the love itself.
When Amelia and Samuel venture into streets which start to feel alien in their normality, or social workers intrude in their home, there are also jet-black laughs to be had. Samuel's tendency to truthfully say what he's thinking, and Amelia's eventual turning on her bitchy sister's yuppie friends, allow some retaliation on an uncomprehending outside world.
Like another imminent, exceptional horror film, It Follows, The Babadook shows the genre is at its best when its scares grow from rich emotional terrain inhabited by cared-for characters. Neither the thrills nor their resolution are cheap. The Babadook frightens because it feels true.