DVD: Finding Vivian Maier |

reviews, news & interviews
DVD: Finding Vivian Maier
DVD: Finding Vivian Maier
Difficult questions dodged in documentary on fabulously talented but now-deceased photographer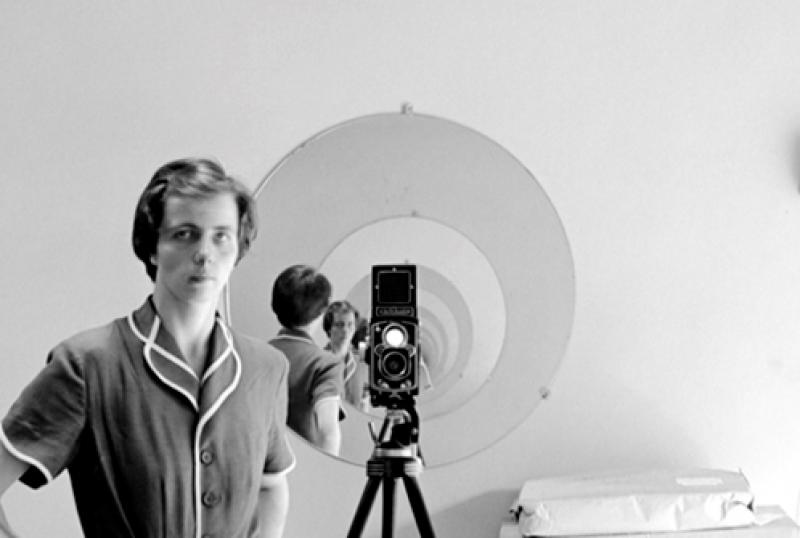 The fabulously talented Vivian Maier seen in a self portrait
It is an extraordinary scene. John Maloof stands over box after box after box of the belongings of Vivian Maier. They contain photographic negatives, undeveloped film, address labels, receipts, tickets and even teeth. In all, there are around 100,000 negatives and 700 undeveloped rolls of film. Soon after acquiring this material, Maloof scanned some of the photos, put them on the internet and it took off.
The formerly unknown Chicago-based nanny and housekeeper became a buzz photographer, compared with greats like Diane Arbus and Weegee.
Subsequently, she has been exhibited, prints of her photos taken from the 1950s onwards are on sale. Her name now has world-wide recognition. Maloof is her main propagator and the co-director of Finding Vivian Maier, a documentary integral to that propagation. He is a continual presence in front of the camera.
Maier had died in 2009 with no apparent surviving family or relatives. All of this recognition is posthumous, though Maloof says he first bought her property at auction in 2007. No one had heard of her then. Most of what she did was in secret. The people she worked for knew she took photos, but had no idea of the scale. They were aware, though, that she was a compulsive hoarder.(pictured right, the posthumously titled Vivian Maier photograph African-American Man on Horse © Vivian Maier/Maloof Collection)
Finding Vivian Maier is supremely compelling. It documents Maloof's piecing together of who Maier was with contributions from her former employers and the now-grown-up children she looked after, and paints a picture of this apparently strange, unusually dressed woman as damaged and self-mythologizing. Was she French? Why did she keep losing or being dismissed from jobs? Extraordinary detective work is grippingly presented (although tension-building music is tiresomely over-egged).
But Finding Vivian Maier raises and then dodges awkward questions. Maloof says "I can't help but to feel a little uncomfortable or guilty exposing the work of a person who did not want to be exposed." But her photos are seen being scanned on an industrial scale – work he has commissioned. Later he says "for some reason my curiosity is overwhelming to find out more about Vivian." There are limits to that too. A central theme is that Maier existed apart from the photographic world. Yet the 2013 BBC documentary (broadcast before Finding Vivian Maier hit cinemas) Vivian Maier: Who Took Nanny's Pictures? showed she attended exhibitions of the well-known photographers her own photos echo. Finding Vivian Maier is a skewed part of the story – not the story itself.
Then there is the issue of an absent originator having no hand in how the pictures are presented. Photos are seen being retouched. How much of what is being sold and exhibited can represent Maier's original vision? In this respect, the Maier case is not unique. These questions also apply, for example, to the similarly posthumously lauded photographer Francesca Woodman (pictured left, the posthumously titled Vivian Maier photograph Woman in Hat NY Public Library © Vivian Maier/Maloof Collection)
There are also ongoing legal battles about who should hold the copyright for these works. And others are trying to claim Maier as their terrain. Nonetheless, money still comes in to finance Maloof's activities. Finding Vivian Maier can only increase the flow. Tantalisingly, one of her super-8 films is the DVD release's sole extra. Presumably, more will be seen in due course.
Maier was undoubtedly a fabulously talented photographer. On the face of it, it is great that her superb work is now being seen. But after watching Finding Vivian Maier, then learning who she was and of her sad final years, it is impossible not to feel that that a form of violation has been and is taking place.
'Finding Vivian Maier' is a skewed part of the story – not the story itself.
rating
Explore topics
Share this article