Betrothal in a Monastery, Maryinsky Opera, Cardiff
Betrothal in a Monastery, Maryinsky Opera, Cardiff
Prokofiev comedy semi-staged with wit and lyrical eloquence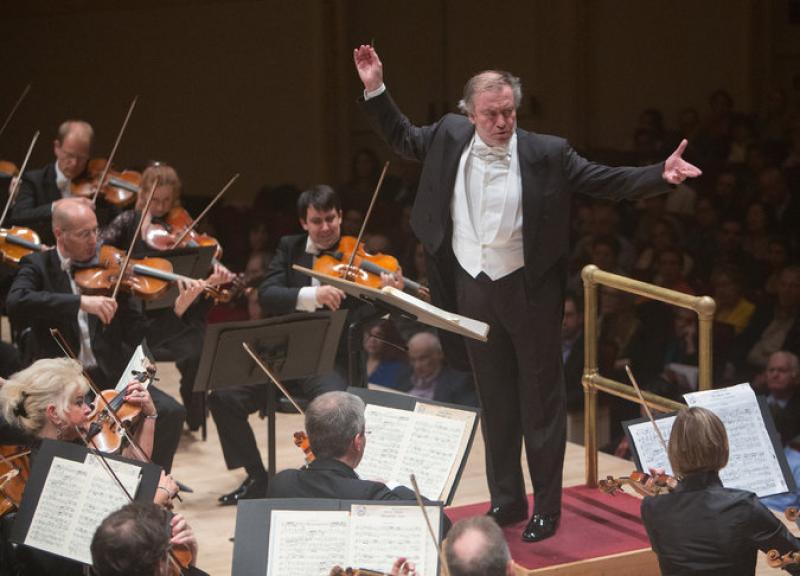 Valery Gergiev, running late but loving what he conducts
It's one of the ironies of life and art that Prokofiev's tenderest and most romantic opera was composed at a time when he was abandoning his wife in favour of a Moscow literature student half his age. Betrothal in a Monastery is a setting in Russian of an opera libretto by Sheridan about the attempt of a Spanish grandee to marry off his young daughter to an elderly fish merchant.
Like most comic operas, and some not so comic, it's set in Seville; the wife Prokofiev was walking out on was Spanish.
The trauma of such events naturally plays little or no part in the opera, which is a comedy of disguise and mistaken identity in the tradition of Rossini's Barber and Donizetti's Don Pasquale. It hangs on the usual devices of characters engaged to people they've never set eyes on, or incapable of recognising their own fiancée in a borrowed cloak, with the added element of a Spanish code of honour so strict that a girl will take the veil rather than forgive her lover for entering her bedroom innocently but uninvited.
You might suppose that such a farrago would depend on stage and costume to bring it to life. But it was precisely part of the fun of the Maryinsky's performance under Valery Gergiev in Cardiff's Wales Millennium Centre on Sunday that the semi-staging glossed over all such superficial details and instead threw itself into the situations provoked by the underlying confusions of motivation and the vitality of the individual characters. Even the fish merchant Mendoza's beard, which is talked about so often that it almost assumes a separate identity (like the nose in Shostakovich's opera), remained invisible on the highly mobile face of Sergey Aleksashkin, who certainly did sport luxuriant facial hair when he sang the role a few years ago at Glyndebourne.
The vocal writing is exquisite and stylish, the orchestration a comedy of sound in its own right
The magic ingredient that transforms this nonsense into memorable theatre is of course Prokofiev's music, some of the wittiest and at the same time most lyrically engaging in any comic opera of the last century. Why on earth such an enchanting piece hasn't entered the repertory of every self-respecting opera company is one of the mysteries of modern arts planning. It has pace, authentic musical humour, melody such as everyone knows to have been at Prokofiev's command more or less at will; the vocal writing is exquisite and stylish, the orchestration not just expert but full of invention – a comedy of sound in its own right.
No doubt the work has suffered from its Soviet connections. It was composed in 1940, by which time Prokofiev had been fully reabsorbed into post-purge Russia (Vsevolod Meyerhold, who had been due to direct Prokofiev's previous opera, Semyon Kotko, had been murdered by the NKVD five months before). Yet the taint of Stalin hasn't inhibited the popularity of Romeo and Juliet or the Fifth Symphony, works close in time and idiom to Betrothal. Perhaps in the end the Russian language, with its strange alphabet and (supposedly) coarse rhetoric, is to blame. Luckily, there are now wonderful Russian singers around to disprove such silliness, and there was a full gallery of them on show at this performance.
Aleksashkin and Evgeny Akimov (as the cash-strapped grandee Don Jerome) set the tone in their sparkling opening exchanges on the subject of fish and young wives – comparable topics in Mendoza's eyes. There was no credit in the programme for the well-oiled front-of-stage action (perhaps by Vladislav Pazi, who directed the Maryinsky production currently in rep); but it deserved one, not least because it brought the singers close to the audience, a contact evidently relished by both parties. Dmitry Voropaev sang the tenor/lover Don Antonio's serenade with lovely, effortless tone; Anastasia Kalagina (pictured right) was coolly charming and light-voiced as his beloved Louisa, Mendoza's marital target, though he is (rather easily, it may seem) tricked into marrying the duenna of Sheridan's title, played here with a nice blend of dignity and self-parody by Larisa Diadkova.
This is an opera with many supporting roles, not all of them obviously essential to the plot. Louisa's friend Clara seems mainly there to provide vocal contrast, but has one beautiful aria in the convent to which she retreats, a rare passage of inwardness which Yulia Matochkina – a somewhat static actress – dispatched with marvellous warmth of tone. Roman Burdenko played her lover (Louisa's brother, Ferdinand, also a target for Don Jerome's nuptial ambitions) as a mildly ineffectual figure who might put up token resistance to paternal pressure. Evgeny Ulanov came and went as the priggish, well-meaning but prurient Don Carlos, without ever quite establishing a significant role in the drama.
On top of all this, Prokofiev introduced elements of commedia dell'arte as in his much earlier Love of Three Oranges. The revellers, servants and drunken monks all come in threes, like Puccini's Ping, Pang and Pong, sung here with growing enthusiasm by Andrey Popov, Yury Vlasov and Alexander Gerasimov. And the Maryiinsky caravan also includes a chorus of fishwives and assorted wedding guests, along (naturally) with the wonderful orchestra, all of whom plainly enjoyed the show almost as much as the audience – presenting us with the unfamiliar sight of a smiling body of Russian musicians. Gergiev, running late as usual, held everything together with great aplomb. He obviously loves the work, and he made us love it too.