Brian Pern: A Life in Rock, BBC Two |

reviews, news & interviews
Brian Pern: A Life in Rock, BBC Two
Brian Pern: A Life in Rock, BBC Two
How does Simon Day's prog-rock comic creation fare on his 'difficult' second album?
Tuesday, 09 December 2014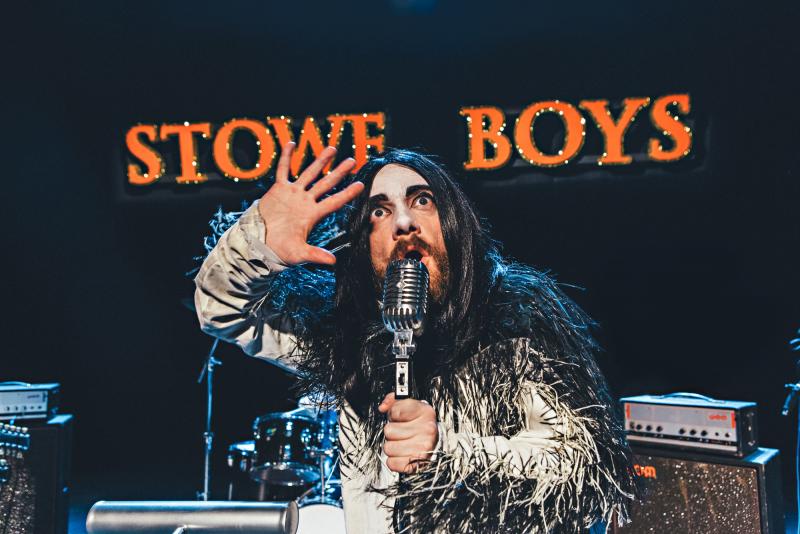 Martin Freeman as Brian Pern in jukebox musical, 'Stowe Boys'
BBC4's The Life of Rock with Brian Pern introduced us to the former frontman of Thotch and creator of world music. With a promotion to BBC2 for Brian Pern: A Life in Rock, it seems that Pern, the comic creation of The Fast Show's Simon Day and Rhys Thomas, has switched from object to subject.
This is both a blessing and a (slight) curse for the character's reprisal – familiarity hasn't bred contempt, but it has made it slightly harder for the conceit to work.
There were clear nods to 1984 film This Is Spinal Tap in the success of the first series, and the best parts of this spoof-documentary are just as funny. However, where Spinal Tap dealt in unknowns that broadly summarized an idea of ludicrous rock excess, Brian Pern is instantly identifiable as Peter Gabriel. While this does allow the series to delve into the realm of enjoyably hammy pastiche and knowing winks, it also means the audience is not afforded the same blank canvas of contextual ignorance (pictured below, Simon Day as Pern with the real Roy Wood).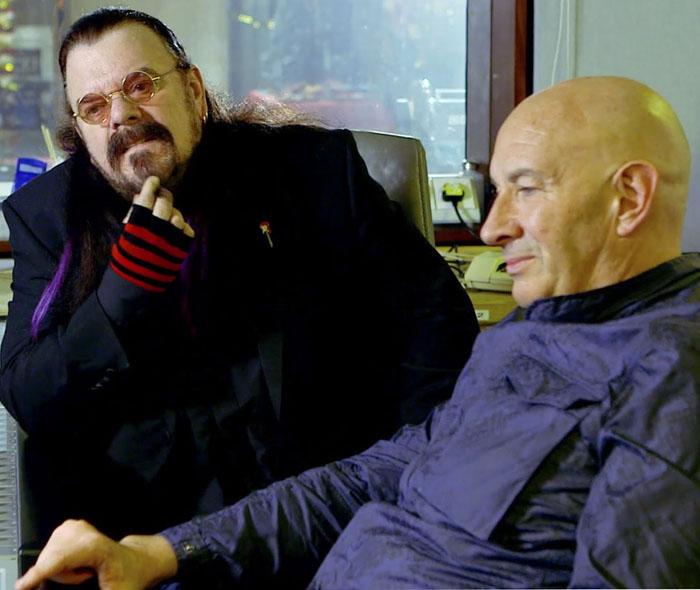 We are constantly aware that this is make-believe, no matter how hard it tries to appear real. When, in this opening episode, we found Brian and his former bandmates from prog-rock legends Thotch involved in the creation of a jukebox musical, the occasional switch from naturalistic to pantomime meant we could never fully lose ourselves in the artifice. That's not to say there weren't plenty of laugh-out-loud moments, but rather the gags that took centre stage had less impact than the ones whispered from the wings.
So, while the joke about Rolf Harris signing the visitors' book at Pern's Poggle Studios fell wide of the mark – because it was signalled and overplayed – the seemingly throwaway lines on the sidelines were a delight. The opening shot of Alan Yentob captioned with the words "Melvyn Bragg", provided the theme for a visual quip that got better with repetition. Alex Petrides as Baz Bamigboye, Annie Nightingale as Fearne Cotton… It all culminated in a wonderfully paced upping of the ante when listing acts on the roster of Pern's agent, John Farrow. It was funny, silly and juvenile stuff that, in fact, hinged on very careful choices, but also spoke volumes about the way so many programmes are cobbled together.
I could spend the entire review quoting lines from the show, such was the care and attention to dense detail in every bit of narration. The claim made of Pern's defunct prog-rock band, Thotch, that, "The name, like the Beatles, Led Zeppelin and Then Jericho, still lives on", was delivered with a feint that allowed it to punch much harder because we weren't expecting it. If there's a more perfect name than "Then Jericho" to go here for comic effect, I've yet to think of it.
On top of this, there were some wonderfully nuanced performances throughout. This is exactly the kind of terrain that suits Martin Freeman – who plays Pern in the aforementioned musical – incredibly well, and he was bested only by the return of Michael Kitchen's staggering grotesque, Farrow. The interspersed talking heads, including Tim Rice displaying a rare talent for comic timing, were great, as was Kathy Burke (pictured, above left, with Nigel Havers as Tony Pebble), who strolled in as if she owned the piece and offered the perfect counterpoint to the band's prog pomposity.
Put simply, Brian Pern: A Life in Rock is, by its own design, something of a hybrid – part naturalistic mockumentary, part caricature-led sitcom. However, this proves less of a problem than one might at first think, as what it lacks in continuity of tone and consistent logic, it more than makes up for in laughs.
The gags that took centre stage had less impact than the ones whispered from the wings
rating
Explore topics
Share this article