The Merchant of Venice, Almeida Theatre |

reviews, news & interviews
The Merchant of Venice, Almeida Theatre
The Merchant of Venice, Almeida Theatre
Las Vegas bling lethally demolished in Rupert Goold's layered Shakespeare
Tuesday, 16 December 2014
At the casino: Tim Steed's Solanio, Raphael Sowole's Salerio and Scott Handy's Antonio
All that glisters is not gold in the casino and television game-show world of Rupert Goold's American Shakespeare, first staged by the Royal Shakespeare Company in 2011. Not all the accents are gold either, though working on them only seems to have made a splendid ensemble underline the meaning of every word all the better – and having come straight from the often slapdash verse-speaking of the RSC's Henry IV, that comes as all the more of an invigorating surprise.
Goold leads his team inexorably from the swank to the skull beneath the skin, a Shakespearean "problem-play" trope well suited to the American setting and one counterpointed as ever by the brick wall of the Almeida belatedly lit up by Rick Fisher behind the blue and gold of Tom Scutt's Venice Casino. The director dazzles as ever with his usual wealth of cross-reference. Any young wannabe could come up with the idea of Las Vegas for The Merchant of Venice, or a Chinese restaurant for Turandot – Goold's first London opera production, a brilliant one to my mind – but it takes a dash of genius as well as sheer hard work to carry it through, as he does so assuredly here. Among the parallels to set the mind racing are twists on Legally Blonde – surely deliberate – and the Brecht/Weill city of Mahagonny – possibly not intended. Whatever the case, Brecht's here-you-may-do-anything-so-long-as-you-can-pay-for-it myth is certainly enriched by the further skewing of Shylock's relentless vengefulness.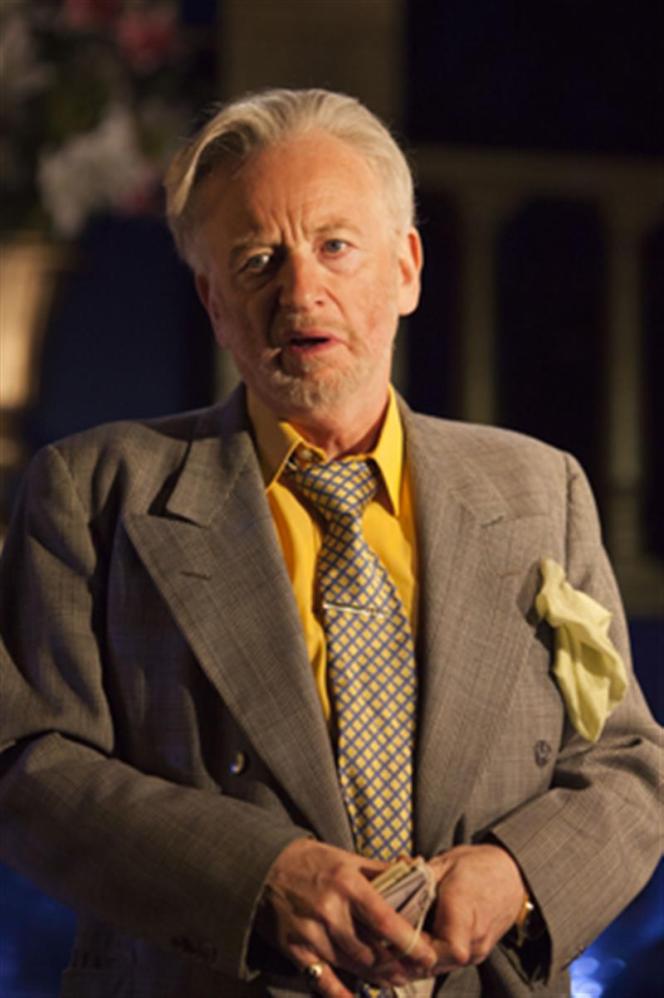 Ian McDiarmid's mittel-European take on the moneylender (pictured right) can be hit and miss, accent and characterisation wise, and I've never found him the most truthful of actors, so the breakdowns, though well motivated, aren't entirely convincing. But he does make the flesh creep playing a lethal old queen – and that's no reason why this Shylock shouldn't have a daughter or treasure the memory of his dead wife – as well as in his shift to deadly legalistic precision. There's a complex human being here, not a stereotyped monster, even if it's not yet in focus, and Goold doesn't spare us the anti-Semitic nastiness of nearly everyone who rails on "the Jew": the notion that it's the characters who are racist while the playwright is much more nuanced doesn't need special pleading here.
How wonderful it is to see the juve leads brought properly to life (again, the RSC Henry IV was an example of how not to do it). No problems with the accents here. Tom Weston-Jones's handsome youth has banked-up rage which may partly account for the disintegration of Susannah Fielding's not so dumb and not so blonde Portia (pictured below, on the right, with Emily Plumtree). She starts out, in perfect accord with Plumtree's Nerissa, putting on an act for "Destiny", game-show product of Belmont Studios. The concept is remorselessly funny, cueing virtuoso cameos from Vinta Morgan as a boxing, cocky Prince of Morocco and Vincenzo Nicoli as a hyper-camp, ay-ay-ay Prince of Aragon, doubling their money and opening the wrong boxes, or caskets, as her suitors.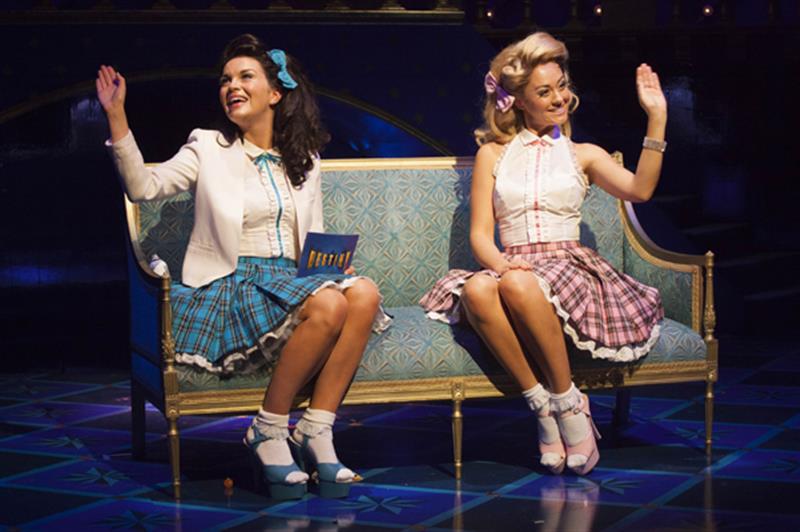 That Portia must then go to law to stop Shylock taking his pound of flesh from depressed Antonio (Scott Handy, the mirror of stillness to all the hyperactivity around him, until he's faced with Shylock's knife) may briefly evoke the Legally Blonde model. But Fielding's supposed whizz-kid lawyer speaks on a knife-edge of tension, ringing an excellent change on the "quality of mercy" speech, and we're to suppose that what she witnesses in court turns her wits. I'm no great fan of the bitter, rather than bitter-sweet, ending in Shakespearean comedy, preferring director Tim Carroll's notion of being true to the mood of every moment; this Portia's limping mad-scene to Elvis's "Are you lonesome tonight?" was the only thing in the show – if rather a crucial one – that didn't feel perfectly motivated to me.The unhappy ending has become almost as much of a cliché as it now is in the lovers' disorientation at the end of Mozart's Così fan tutte.
The Elvis overlay, though, in the person of his impersonator Lancelot Gobbo, works entertainingly well, carried off with huge vitality and a versatile singing voice, lovely in crooner mode, by Jamie Beamish. The other young lovers, Caroline Martin's bookish Jessica prominent among them, are all sharply characterized, and it speaks volumes for Goold's painstaking rehearsal process that as the two "lovely assistants", a parallel to the "slaves" that Shylock points out among the male employees, Rebecca Brewer (also playing Stephanie) and Merry Holden make their mark. This classy Shakespeare not only uses the money thrown at it well – there are 18 "creatives" as well as 24 in the production team – but also strikes the perfect balance between entertainment and the paler cast of thought that emerges from Shakespeare's compelling fantasy.
Any young wannabe could come up with the idea of Las Vegas for' The Merchant of Venice', but it takes a dash of genius to carry it through
rating
Share this article