Amina Figarova Sextet and Isfar Sarabski Trio, Ronnie Scott's |

reviews, news & interviews
Amina Figarova Sextet and Isfar Sarabski Trio, Ronnie Scott's
Amina Figarova Sextet and Isfar Sarabski Trio, Ronnie Scott's
Jazz proves to have unexpectedly long roots in Azerbaijan
Tuesday, 10 February 2015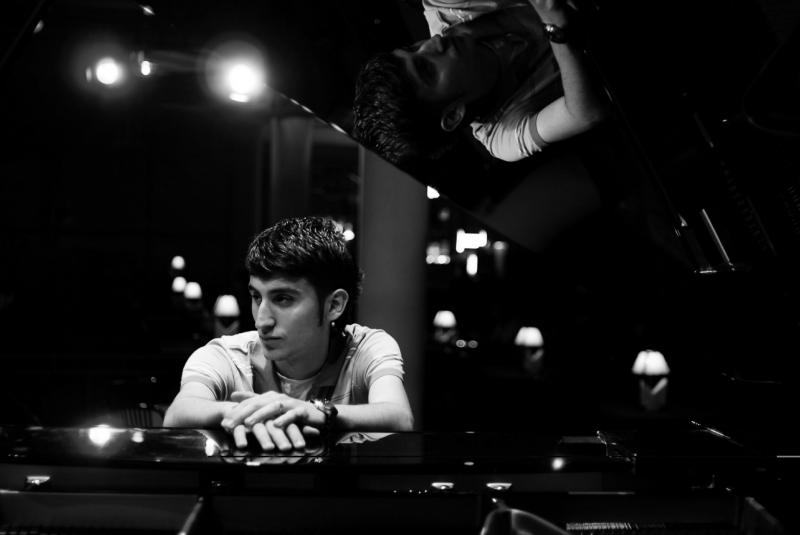 Azeri pianist Isfar Sarabski: toying with jazz history
"Jazzerbaijan", the giddy publicity tag attached to last night's double bill of Azeri jazz at Ronnie Scott's, was sounding soberly appropriate by the end of a dazzling display of generic shape-shifting by the young Isfar Sarabski Trio. A packed and exuberant audience thrilled to his sound, which seemed to transcend generic boundaries with a breath-taking lyricism and fluency. The first set, an accomplished, if perhaps more familiar sound from the Amina Figarova Sextet, had a more consistent Western focus, though Azeri music still featured in Figarova's playing and compositions.
Jazz in Azerbaijan has a long history, first arising during the oil boom of the early 20th century, but that was inevitably stifled during the Soviet era, and has only returned since Azeri independence. The style of the two bands perhaps reflected the shifting outlook of Azeri jazz in the last two decades, with Figarova's predominantly Western idioms giving way to Sarabski's freewheeling generic freedom.
Pianist Amina Figarova led her sextet with delicacy and subtlety, exhibiting a self-effacing but highly effective musicianship. She bound together a performance based heavily on three dynamic soloists, Belgian flautist Bart Platteau and a German brass section comprising trumpeter Frederik Köster and saxophonist Johannes Mueller. Figarova is now based in the US, and with New York drummer Jason Brown and Dutch bassist Jeroen Vierdag completing the line-up, the ensemble had a mainly Western, post-bop sound, though the mood changed frequently, with some tunes exhibiting a taut, funky edge, and others, such as the sea-themed "Shall I See Waves" and "Sneaky Seagulls", a much more reflective, almost classical style. For both Figarova and Sarabski, the ability to glide from a classical, pianistic aesthetic into something vernacular and folky, or in Sarabski's case, a Neil Cowley-esque jazz-rock melodic climax, was a crucial feature of their original sound.
Sarabski's trio played as if the whole of jazz history was available for experimentation
In Figarova's band, trumpeter Köster, in particular, stood out with some very flamboyant – almost more than the pieces could bear, on occasion – passages of growling, note-splitting soloistic panache. Fingers slipped in a few of the most frenetic passages, but his charismatic tone was never in doubt. Powerful, but different, was Platteau's sharp-tongued flute-playing, biting the rhythm to ensure the flute's sound carried. Saxophonist Mueller, meanwhile, was the gentlest of the three soloists – definitely a Young, not a Parker – coaxing a cool, downy, tone from his instrument that contrasted effectively with the edge of the other two wind instruments. The structure of Figarova's pieces sometimes felt a little rigid, as if the roster of solos were planned well in advance, but the musicianship was at times extraordinary, and the combination of a cool jazz aesthetic with aspects of Azeri folk a refreshing one.
25-year-old pianist Isfar Sarabski has already made a splash at the Montreux Jazz Festival, winning the Jazz Solo competition in 2009, but the ripples of that success have only lapped gently at the fringes of the British jazz scene thus far. Greater recognition cannot be far behind. His trio – Sarabski himself driving everything forcefully, with the skilful Russian support of Alexander Mashin on drums and Makar Novikov on bass – played as if the whole of jazz history was available for experimentation.
Beginning with a pounding jazz-rock melody, followed by a swirling folk tune that had touches of first EST, then the sonic landscapes of Michel Portal, Sarabski led his band on a panoramic tour of jazz tradition. It was an astonishing display of musical shape-shifting, as if Sarabski's perspective from outside the Western jazz mainstream, enables him to blend everything from quasi-classical sonata piano, via Nymanesque minimalism, to stride piano, then back to jazz fusion, with complete freedom. His trio also knows how to swing, and they got the club stomping with a couple of riotous hot jazz arrangements. Both as a generic pioneer – even more than Figarova, he used his outsider's status to objective effect – or as a fire-starting party band, Sarabski excelled. We'll certainly be hearing more.