The Jesus & Mary Chain, Brighton Dome |

reviews, news & interviews
The Jesus & Mary Chain, Brighton Dome
The Jesus & Mary Chain, Brighton Dome
Alternative Eighties noise-meisters tour their well-loved debut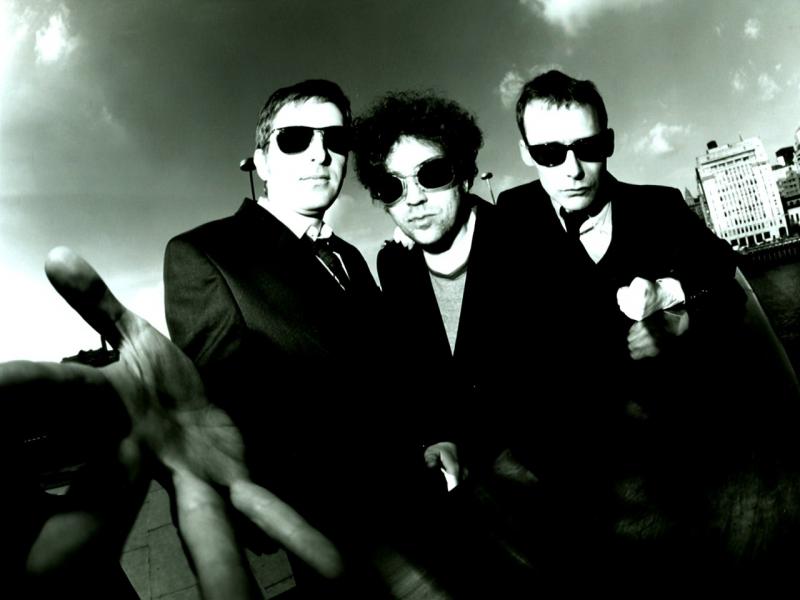 21st Century Mary Chain, older but no quieter
"The Sun comes up, another day begins/And I don't even worry 'bout the state I'm in." One of the great opening lines in rock and a motto to live by. The Jesus & Mary Chain lay into their second single, "Never Understand", with deadpan gusto, their soundman pushing the decibels up. Murky silhouettes amid dry ice under an array of strobing lights, they hammer it home. Jim Reid is at the microphone, clad in a box jacket and jeans, looking much as he ever did but with cropped monkish hair.
His brother William, belly pushing at his "1972" tee-shirt, his trademark flourish of once-black hair now grey, crouches into the amp, ensuring feedback washes over us. Halfway through
Psychocandy
, the album they're here to play, the Jesus & Mary Chain have a capacity crowd of 40-somethings, the black-clad folk who rejected the shoulder-padded Eighties you see on retro TV, nodding with wild intent, faces urgent.
Once upon a time the Jesus & Mary Chain were the big, bad ugly, touted as the new Sex Pistols even, making a glorious outsider noise at a time when the Top 40 was a corporate pop hellhole. Where Radio 1 was filled with Baltimora and Go West, Rick Astley and Foreigner, their 1985 album Psychocandy sounded like the apocalypse. It is rightly regarded as a classic for it was not wilfully obtuse noise but music in the tradition of the Velvet Underground, delicious, sweet songs swathed in walls of feedback, with dead-eyed lyrics about there being "something dead inside my hole" and the like.
Today they offered up a preamble of their few low level chart hits, mostly dating circa Darklands, their contentious, enjoyably morose second album which divides fans. They have to restart "Some Candy Talking" after messing up the intro. It's a passable rather than rousing start. They only truly hit their stride, just before a very brief interval, with the two-pronged attack of "Reverence", a BBC-banned blasphemous single from 1992, and their awesomely raucous debut "Upside Down", both delivered venomously loud and driven.
It remains one of the most potent, visceral nights out I've ever had
After the break it's time for the iconoclastic Psychocandy and it doesn't disappoint (although it could surely be louder?). Songs such as "The Taste of Cindy", "In a Hole", "You Trip Me Up" and "The Hardest Walk" retain a gloomy, battering, self-involved bile and bite, wrapped in a mess of melody. The double-headed assault of "Never Understand" and "Inside Me" offer a climactic moment but the grungey psychedelic riffage of the final pair, "Something's Wrong" and "It's So Hard", accompanied by simple trashy visuals, also have a purposefully crude MC5 power.
On Thursday 8th May 1986 I saw the Jesus & Mary Chain at the Hammersmith Palais and that gig revved me to a place I'd never been before. It remains one of the most potent, visceral nights out I've ever had. I saw them a few times after that but they were never as great again. In truth, with the fickleness of youth, I moved on after their Barbed Wire Kisses compilation in 1988. Rave was calling (although I did have one final flirtation when I heard their 1992 version of Jerry Reed's "Guitar Man"). I am ashamed to admit it was only when all their albums were reissued on CD in 2011 that I found out their final album, 1998's Munki, was another rock'n'roll triumph.
Tonight they lay into their calling-card album, not perhaps as loud in Brighton as at other venues on this tour but loud enough. It's a sterling racket. Does it make a difference that they know exactly what's going to happen this time round, rather than the noise hailing from narcotic, booze-fuelled mayhem? Possibly. But we cannot travel backwards and recapture what's gone. What remains is this startling tumultuous music, presented with a stern attitude that's admirable; the way there isn't an encore; meagre audience interaction; even a vague sense that they're letting rip begrudgingly, as if they have to wrench it out of themselves. The Jesus & Mary Chain remain enjoyably one of a kind.
Overleaf: Watch the video for "Never Understand"
What remains is this startling tumultuous music, presented with a stern attitude that's admirable
rating
Share this article