The War on Drugs, O2 Academy Brixton |

reviews, news & interviews
The War on Drugs, O2 Academy Brixton
The War on Drugs, O2 Academy Brixton
Philadelphia's finest prove themselves to be more than the sum of their influences
Wednesday, 25 February 2015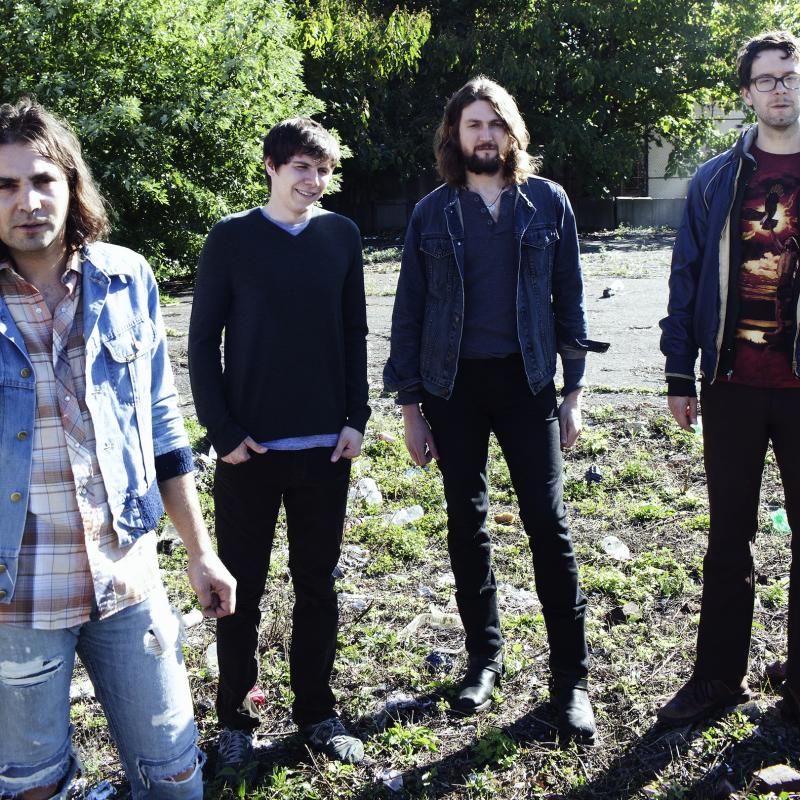 The War on Drugs: bringing boots on the ground to London
It would probably be best to start this review with a mention of the band, The War on Drugs, whose 2014 LP, Lost in the Dream, saw them realise their potential in a flurry of "Best Of" lists and almost unbelievable hyperbole. However, before we get fully into that, I should state, for the record, that I've always hated Brixton Academy.
The rake plays havoc with my calves and the beer tastes homeopathically weak, while sound spirals and muddies as it travels into the gods before falling back to earth like a plague of shit brown noise. This is why the support band suffered dreadfully last night – lost in an audio cloud of open vowels and unresolved chords.
When Adam Granduciel led Philadelphia's finest to the stage however, it was a different matter – there's more of them for a start – and instead of being bullied by the space, they fill it, every corner of it. Their sound is huge and it's what differentiates them from their pack of peers and influences alike.
Regarding those influences, I should also add at this point that I'm indifferent to Tom Petty, actively dislike Bruce Springsteen and only regularly listen to three Bob Dylan albums. So what, you may well ask, am I doing at the Brixton Academy reviewing a band who sound like the Traveling Wilburys fed through Sonic Boom's pedal board?
It helps that the band providing this noise look more like the NME subs' desk than the E Street Band
The answer, my friend, is not blowing in the wind, but being carried on a wave of glorious noise that starts with the rousing "Under the Pressure". It is, on the surface, a convincingly conventional piece of American pop, doing the right things at the right time, but there's something more, something that's difficult at first to grasp, but that becomes clearer over time. As "Baby Missiles" (from 2011's Slave Ambient), "An Ocean Between the Waves", "Eyes to the Wind" and "Red Eyes" rush past, one thing becomes clear: it's all about the sound. We get a massive compressed 80s snare sound, later-era Simple Minds guitar tropes, Bruce Hornsby's piano and, as you may expect, the songcraft of Petty voiced by Dylan mimicking Orbison's rhythms.
On paper, it sounds like a God-awful mess; live, it's thrilling. Yes, it helps that the band providing this combination look more like the NME subs' desk than the E Street Band but, crucially, they sound… well – better. There's a truly substantive difference that means this music couldn't come from any time but now. Dylan went electric, but he didn't go this eclectic. He couldn't have done – no one could. The reference books are simply bigger now, and the blueprints more numerous to follow. War on Drugs are following and trailblazing simultaneously – not merely recycling, but reinventing.
There's a heightened sense of musicality about everything, from the rich saxophone drones to the lush keyboard tones: the drums providing perfect percussive pointers for the melody – not just driving, but carrying the tunes to their conclusion. Plus, there's an audience hungry and rapt, thousands of faces pointed forward, all enjoying a personal communion. A good audience is essential for a great performance – and that's what War on Drugs both command and give.
It's enough to make you forget yourself. I did and, for one night at least, there was nowhere I'd rather have been than the Academy Brixton.
They sound like the Traveling Wilburys fed through Sonic Boom's pedal board
rating
Explore topics
Share this article