Brighton Festival: The Locations That Make the Festival |

reviews, news & interviews
Brighton Festival: The Locations That Make the Festival
Brighton Festival: The Locations That Make the Festival
A colourful guide to the 10 varied spaces inhabited by this year's eclectic festival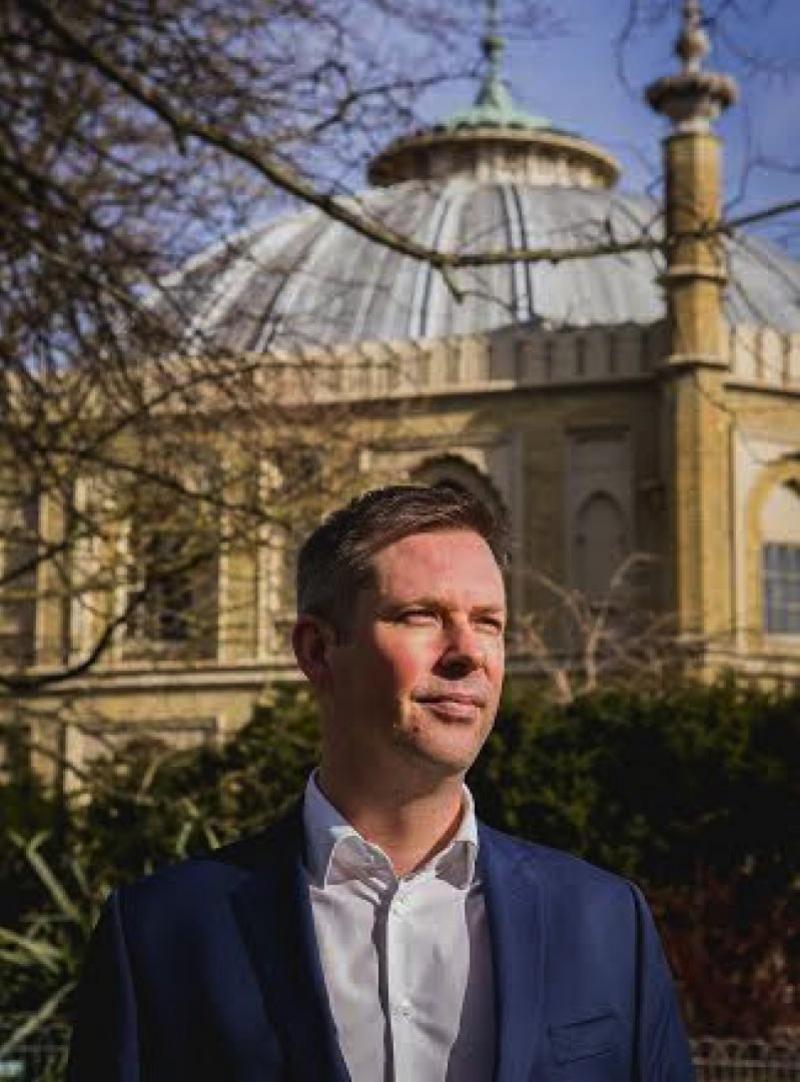 Brighton Festival's chief executive Andrew Comben in front of the Brighton Dome
Andrew Comben, CEO of the Brighton Festival, chooses ten locations that have resonance with the annual event. He talks about their past and future but, most particularly, what will be happening this May
"Brighton Festival is all about the spaces and people of the city," he explains, "Some of these spaces are especially evocative. They make artists think about doing things in different ways and make audiences respond accordingly. We have to strategise, sometimes taking over places that are used for other things most of the time. It's always an adventure."
Comben, 40, became the Festival's overall manager in 2008, having previously worked with Wigmore Hall and the Aldeburgh Festival. He also oversees the Brighton Dome complex of venues all year round, home to 90 full-time employees. Beside the curating aspect, he's in charge of the logistical and financial planning that goes alongside the artistic.
"These 10 spaces offer a snapshot of this year's Festival," he adds, "but what we must never ignore is the huge number of venues across the city that we use every year, and the huge range of partners who work in both traditional and unusual venues. Everywhere from Theatre Royal to Fabrica are incredibly important all year but when the Festival comes round they take on a new life. I hope we inspire new audiences to come to them."
Circus Street Fruit and Vegetable Market
The market is now part of a development plan with the Cathedral Group, Brighton & Hove City Council and the University of Brighton so it's soon to be no longer. It will be replaced by a very exciting development, including a new dance space for South East Dance, but for the last seven years we've had this extraordinary disused market available to us. Anish Kapoor's dismemberment of Jean D'Arc in 2009 had a big crater in the floor, mounds of earth, 40 long legs painted red, and 12,000 people came through it. Last year William Forsythe's Nowhere and Everywhere at Same Time had 400 pendulums and thousands of people danced between them, from four year olds to 84 year olds. This year it houses an installation called Gauge from two Australian artists, Madeleine Flynn and Tim Humphrey. It's based around water and weather, telling quite a particular story about Brighton - our water comes from a very particular source and the chalk aquifer is an incredible thing in itself.There will be music and it will be suitable for the family – they make clouds! - so it's pleasing to be doing this one last thing before we say goodbye to a fantastic space.
Woodingdean Central Park and Saltdean Oval
We're planning a number of pieces through our partnership with Without Walls, who commission outdoor work particularly. This year there's a range of performances that are both arty and engaging - Gandini Juggling is coming. It's part of our commitment to reaching places beyond the city centre every year, a symbol of how we spread work right across the city, particularly outdoor free family entertainment.
The Royal Pavilion
This year we're in the Music Room again. It was originally designed by the Prince Regent to house his woodwind band but we do everything in there from song recital to string quartets to harpsichord recitals. It's incredibly popular as you get extraordinary musicians in an exotic environment where you wouldn't normally have an opportunity to see concerts. It's also important to us because Brighton Dome, Brighton Festival and Brighton Museum are working together much more, across the whole estate. Last year we had students from Brighton Youth Orchestra performing a piece by Birtwhistle across the gardens. This year music students, including the Brighton Youth Orchestra, are performing in the gardens, the Museum, the Pavilion, New Road and the Dome, all on the first weekend. It's the start of a project that next year takes in all the buildings across the estate, which will include video projections and all sorts.
Brighton Dome and Corn Exchange
In many ways this is our bread and butter space, a place we present our most standard or traditional formats, but it's important to remember where they came from. The Dome concert hall was originally the stable block for the Royal Pavilion and had a fantastic refurbishment 14 years ago. Much of the work presented in there is not designed for that space so incredibly clever ways have to be worked out to put things on. Equally the Corn Exchange was originally the riding school and is almost like a found space. None of the rigging you see is permanent. It has huge internal volume and great depth but we have to be inventive about how we present things. This year we have Vincent Dance Theatre who are doing an immersive set of performances, not only in the Corn Exchange but in the Corn Exchange foyer, a performance that lasts for five hours. We're also presenting the Apple Family plays by Richard Nelson - four plays in quite a traditional format but with the audience surrounding the performance.
The Brighton Open Air Theatre
This new space is the brainchild of Adrian Bunting, a local playwright who died in 2013 and put money towards an open air theatre. It's being constructed now in Dyke Road Park. It's a great Brighton story and we're pleased the Festival is part of it. We open BOAT, as it will be called, with the Globe's performance of Romeo & Juliet. Presenting in interesting outdoor spaces is going to be incredibly important in future.
Regency Square
This year Regency Square stands in for all the squares we have in Brighton. We tend to use them, one way or another, every year. Regency Square is hosting Roundabout which is the special venue Paines Plough have constructed. They're a theatre company specialising in new writing, bringing a whole range of performances, but they have their own 168 seat space to do it in, highly energy efficient, all LED lighting. It will pop up in the middle of Regency Square and bring a new focus to that part of town. Also, in Brunswick Square there's the Regency Townhouse, a partly restored Georgian townhouse that will feature Nathan Coley's Portraits of Dissension installation.
The Seafront
We've worked on and with the Seafront in a huge number of ways over many years. We've had outdoor work at Black Rock and Hove Lawns and on the seafront itself. At the very first festival – I love this – they tried to dye the sea red and unfortunately it didn't entirely work. The dye drifted very quickly before anyone had a chance to see it and it all ended up at Newhaven. The West Pier, both when it was standing and now, is important. At the first Festival it saw the first performance of Birtwhistle's Down by Greenwood Side, which we celebrated the 50th anniversary of last year. It also saw performances of Edith Sitwell's Façade with Laurence Olivier, and William Walton performed. It has remained a Brighton icon even after its destruction, a skeleton on the skyline. We talked with [Festival Guest Director and novelist] Ali Smith from the word "go" about the murmuration of the starlings on the Pier, extraordinary displays, so we've asked a group of artists called And Now to recreate a murmuration under the title Fleeting. It will close the festival on the last day, an incredible display and a free community event. It also bids farewell to the West Pier because the i360 is being constructed facing the site of it.


ONCA Gallery
A special little space, a gallery dedicated to environmental work. Last year they had a special installation called Bring the Happy, all about collecting residents' and visitors' happiest memories and locating them. It had an installation which was a happiness map but, of course, when you ask questions about happiness its flipside is never far behind and that was the point of that project. It allowed people to deal with feelings that were not happy but profoundly sad or moving. For me, that connected to a wider agenda, an interest in works addressing issues around mental health; not just some pop-up, fly-by-night explosion in May but about the undercurrents of the city itself and the way it reacts to all sorts of events. This year we have an installation that's called A Mumuration. It plays to Ali Smith's central themes, around art and nature, particularly bird life. A Murmuration really looks at bird-watching but also at observation on a wider level, particularly the historical link between bird-watching and British spying and espionage which is incredibly well documented - a huge number of early MI5 and MI6 agents were also birdwatchers. It's a collaborative project between Sarah Wood, Lucy Harris Helen Macdonald and Olivia Laing, and a symbol of the Festival's tiny places. It's basically a shop front on London Road just by St Peters Church yet it offers something quite magical.
The South Downs
Sam Lee's Nightingale Walk is a small-scale event, 12 people at a time. He's a folk singer who's done the job of folk song collecting in an incredibly serious way but who communicates with audiences directly. He celebrates the beauty of the nightingale and its song with a woodland night walk. It's brilliant that the South Downs National Park is on our doorstep. Back in 2009 Anish Kapoor's Sea Curve at the Chattri Memorial attracted 12,000 people. Festival audiences are prepared to go where the work is, literally walking the extra mile in this case, to experience something different and out of the ordinary. The Downs give a sense of where we are, looking over Brighton. With regard to this location, we're looking towards next year's 50th Festival…
Preston Barracks
Opposite the University of Brightion, this is another derelict, shortly to be developed space, This year it will see a Without Walls commission from [theatre company] Periplum called 451, based on Ray Bradbury's novel Fahrenheit 451. It's a large scale outdoor piece that places all the sinister, dystopian tenets of that book and will be quite wonderful but disturbing. Preston Barracks will soon become a different kind of space but is currently weeded, overgrown and rubble-strewn and Periplum use it as part of the 451 experience.