10 Questions for Musician Ron Sexsmith |

reviews, news & interviews
10 Questions for Musician Ron Sexsmith
10 Questions for Musician Ron Sexsmith
Canadian songwriter talks yoga, dogs, hipsters and much more besides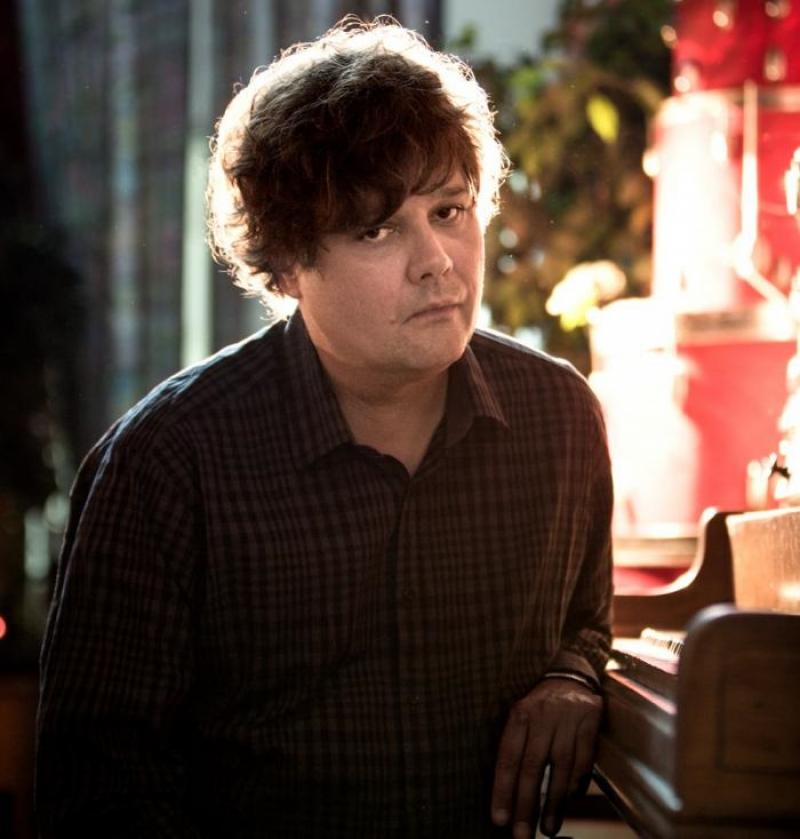 Ron Sexsmith: 'I look more miserable than I actually am'
Ron Sexsmith is a singer-songwriter who should, by rights, need no introduction: Critics and fellow musicians, after all, fall over themselves to praise the 51 year-old Canadian. Yet, despite a gorgeous back-catalogue and fans including Paul McCartney and Elvis Costello, widespread commercial success has, hitherto, largely eluded him. Still, the singer remains philosophical.
Sexsmith is in London to promote his new album Carousel One (pictured below). Initially he wanted to give the record a joke title. It was to be called "Featuring Pitbull" – Pitbull being one of America's most ubiquitous guest-rappers. After consultation with his label, however, Ron chose instead a title that alludes to his experiences travelling back and forth to LA for recording sessions. "The reference to the airport carousel seemed fitting," he tells me in a West London hotel bar, "as my life seems to go round and round and there's always tons of emotional baggage."
Ron has just come in from an afternoon constitutional in the sun. He's looking breezy in one of his famous blue patterned shirts and sporting a big smile. He looks younger than I expected. Fitter too.
Sexsmith's manner is thoughtful, charming and ever-so-slightly bumbling. He offers me a cup of tea and starts off on a meandering anecdote about his experiences doing promotion on UK radio shows over the weekend. One highlight, apparently, was meeting Noddy Holder on Radio 4's Loose Ends. As a teenager, he says, he loved to sing along to Slade Alive!
It's an unlikely influence, but then Ron is full of surprises. Over the next half hour the conversation moves between his experiences of yoga, favourite pets and what he thinks of hipster bands …
RUSS COFFEY: It's been a great year for you in terms of critical accolades. What's the best award, musical or otherwise, you've ever been given and why?
RON SEXSMITH: I won best songwriter one year at the Junos [Canadian music awards]. That was special because I had been nominated about five times prior to that. Nickleback beat me one year but I kept going and coming back empty handed so when I finally won, it was pretty big for me. I'm a songwriter so it's nice to win for what I do.
And recently I was given an honorary doctorate at my hometown university. Actually I felt a bit of a fraud giving a speech to all these people who really applied themselves. I didn't do very well academically at school so I didn't win much for anything other than soccer – most valuable player, that sort of thing. I guess the older you get they start giving you things: diplomas, and watches and stuff.
I think I haven't been too good with having my picture taken. I look more miserable than I actually am
You've described critical acclaim as a kind of compensation for commercial success. But the new album's cheery tone sounds like you're becoming more comfortable with being a cult artist?
Ha! I think the people around me have been more troubled by my lack of commercial success... in a way. You want your albums to do well so everyone's happy, the labels and stuff like that.
But other than that I mostly feel grateful. I was 30 when I got signed which is considered old in the music business, so I was just glad to get in the door and have a career. It never really bothered me. I never really expected to be filling stadiums or anything like that.
This albums definitely quite cheery but I also think I got painted with a brush early on in my career that I was melancholy. I think there has always been a lot of humour on my albums, I've always written a lot of uptempo numbers too. Maybe I haven't been too good with having my picture taken. I look more miserable than I actually am.
The record has quite a classic feel with hints of Ray Davies, soul, country and blues. What was the brief that you gave to producer Jim Scott?
Well I had so many songs – about 30 – I didn't know what kind of record I was going to make and I sent him all these demos and he came back to me with an A list and a B list. The ones he picked were initially a lot of the slower ballads. So there were also a bunch of tracks like "St Bernard" which I thought the record really needs. He was happy doing whatever I wanted to do, and we were recording within the first ten minutes of me walking in the door. He put this amazing band around me – these great session players. People who played with Lennon and Dylan, and Jackson Browne and people like that. It just felt really comfortable right from the get-go. It felt warm.
The song "St Bernard" is about a pet imaginary friend. Do you have a dog and, if not, what would be your fantasy pet?
That would be the St Bernard. I don't have a pet because I travel too much but that was always my dream dog. I always envisaged myself having one. I live in the city, but I always thought that maybe one day I will be in the country and I will have enough of a yard where I can have a St Bernard or something.
I'm thinking way down the road when I am really old and when all I want to do is go for walks. They don't live very long and I thought that if I could time it so we both die at the same time it would be great. I've always related to the St Bernard physically too. I always felt I looked a bit like one. It's almost my spirit animal.
Ron Sexsmith performs "St Bernard"
Does the structure of a song come instinctively to you or have you worked out a formula?
It's hard to explain but every song has its own particular set of circumstances. You get this idea – it could be musical or lyrical – and whatever it is you're left with it and it's up to you to walk around with it and live with it and try to develop it into a song.
I often hear things in passing – if I'm in a coffee shop or somewhere like that. I get some of my lyrical ideas that way but other times it's just stuff that I'm thinking about. Sometimes I can be watching a movie and a character says something and a little lightbulb comes on over my head.
I learned a lot from Mitchell Froom who produced my first three records. He would say things to me like "can we get to the bridge faster?" or "is this verse important to you?" and how to self-edit and all that, and I'd work at it until it got to the point that I'd feel that I'd said all I wanted to say.
I work on songs over time. The ideas come relatively quickly but usually I just get a fragment of inspiration or whatever and then it could take weeks or months to finish. Some songs like "Secret Heart" – one of the first songs I wrote – took me half an hour but there are other songs that took me almost a year and a half to finish.
Feist's cover of "Secret Heart"
What are Ron's average days when he's not on the road?
I am very routine driven, I've sort of got a compulsive disorder. I get up and do the same walk every day. I get a coffee and I do this walk to the swimming pool where I swim and I come home and I play the piano a bit, and lately I have been trying to do yoga every day because I am always trying to lose weight but it never seems to happen.
When I'm home I am really home. I see my kids but they're adults now – my son's 30 and my daughter's 25 so I don't have to take them to the park any more – so the family time is just when they're not too busy to see their dad.
But I just like walking around because that's where I do most of my writing. Otherwise I'm trying to work out or exercise. I am trying to work out a yoga system to do on the road. That's when my health goes out of the window. When you're touring you are eating badly and drinking a lot. So I've got a little half hour routine I have worked out, but it's hard to do in tiny hotel rooms. I'm always knocking things over!
You have collaborated with many fine singers, such as Leonard Cohen, Chris Martin and Engelbert Humperdinck. Who was the most fun and why?
Good question! I spent a day with Ray Davies at his studio once – he was recording a duet of his song "Misfits". I was so excited to be there. I am a big Kinks fan and I'd met him a few times. But to actually spend a day with him was really interesting; intimidating too. At one point I was doing the vocal and his face was like right there like watching me, standing very close while I was trying to sing the song. But I just love him so much and he's been very sweet to me and certainly didn't have to be. I think when you meet someone who you know is a really big fan of yours it can be a bit awkward and I didn't want to weird him out but certainly he's the guy that more than anyone made me want to be a songwriter.
Also I got to sing with Paul McCartney in 1996 at his house, just around the kitchen table. I wish someone had recorded that! There were dogs running around and Linda was still there, and some of his kids were there. For the first half hour I just looked at my tea: I was too afraid to look up at him. It was just crazy. It was a Sunday morning, and they were all in their pyjamas. I sang "Listen to What the Man Said" – I was too afraid to play him one of my songs – and he was singing harmonies with me. I could have died that day. It was just so surreal.
Ron Sexsmith sings "Listen to What the Man Said"
Your wife Colleen is the source of much of your material. What does she make of it?
It's hard to be married to a songwriter, I think, because so much of everyday life becomes material. Randy Newman had a line, "I would sell my soul and your soul for a song". If you have an argument it's always going to be an outlet. Sometimes I'll be playing a song and I'll try not to enunciate so Colleen can't hear what I'm singing. Then and I'll hear her from upstairs – "what did you say? What are you writing about?" Oftentimes though she doesn't even know about the lyrics until it comes out on a record and she can actually go through the lyric book.
But most of the songs that have been written for her have been very romantic. "Getaway Car" is about the kind of psychic thing that you can have with your partner where they can tell when their other half is uncomfortable or wants to be rescued from a situation. Like in this song, it's about some folks I was having a hard time with. In general she's ok with whatever I have to say I think.
I always felt the best way to listen to an album is with headphones, on CD or vinyl. With headphones it will always sound closer to how I heard it in the studioOne song is "Nothing Feels the Same Anymore". What doesn't feel the same anymore?
I grew up at a time when the music to my ears just sounded very melodic. You didn't even need to know what the singer looked like you just heard their voice. As a kid, artists like Bill Withers just sounded great to me.
Recently, I kept hearing commercials with these girls that all sound the same. There'd be a ukulele and a xylophone or something and it was almost like they had a whole army of these girls trying to sound like Feist or Adele – that indie thing. But when when I was a kid Karen Carpenter didn't sound anything like Dionne Warwick and she didn't sound anything like Dusty Springfield.
At the time I wrote the song I'd also picked up Phoebe Snow's first album which I'd never heard before. She'd just died about a year earlier. I'd always liked her voice as a kid. And it kind of made me sad because here I am hearing this woman whose got this completely unique voice, she's writing these great poetic songs and playing this amazing guitar – a fully realised artist, not someone who has a committee of people writing their songs. There was this and the indie girl thing on all the commercials, and they sort of came together as I was writing that song.
You don't have a mobile phone or an iPod. So what's the best way to listen to a Ron Sexsmith album and do you, in fact, have anything against MP3's?
I always felt the best way to listen to an album is with headphones, either on a CD or vinyl. I'm not really sure how people listen to music now. I imagine MP3's sound ok but with headphones it will always sound closer to how I heard it when it was in the studio. The voice will have a point to it. Not like for instance when you are in the kitchen and the speakers are in the living room.
Vinyl albums also have a certain fatness to them. A warmth, like layers of sound. I listen mostly records at home, and I have a really nice stereo system. But my second favourite thing is my CD Walkman. I can be on the plane and listen to complete albums. And I hear everything. I hear the bass and I hear the vocals. It's the next best thing to listening to vinyl.
Ron Sexsmith performs "Getaway Car" on the Andrew Marr show
I never really expected to be filling stadiums or anything like that. I just wanted to have a body of work
Explore topics
Share this article