Far From the Madding Crowd |

reviews, news & interviews
Far From the Madding Crowd
Far From the Madding Crowd
Superb interpretation of Thomas Hardy's novel by Thomas Vinterberg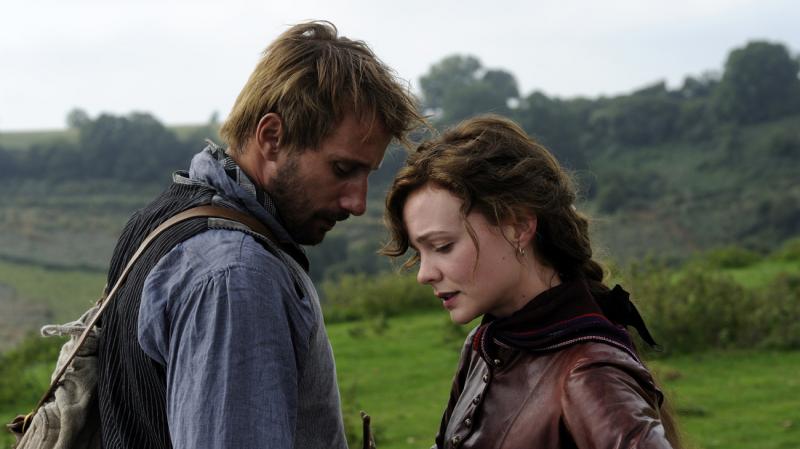 Battle of wills: steadfast Gabriel Oak (Matthias Schoenaerts) and headstrong Bathsheba Everdene (Carey Mulligan)
The arrival of Thomas Vinterberg's new treatment of Thomas Hardy's novel has triggered a retro-wallow in John Schlesinger's 1967 version, but happily, that was long enough ago to allow Vinterberg's vision to resonate in its own space. My expectations weren't high, but more fool me. This Madding Crowd rocks.
Maybe Vinterberg's Danish perspective was just what the project needed, because the director has adhered to the logic of place and period but skilfully sidesteps the fussy dressing-up and anodyne wallpaper-scenery familiar from too many home-grown costume romps. The 1880s rural Dorset depicted here feels authentically dependent on the often harsh rotation of the seasons, while its farmers, workers and landowners share a continuum with land and livestock. Absurd "oo-arr" accents have also been mercifully suppressed. Matthias Schoenaerts, Belgium's greatest export since Stella Artois, brilliantly imbues the shepherd Gabriel Oak with all the stoicism and strength none too subtly implied by his surname. After he battles back from the freakish twist of fate that sent his entire flock of sheep plunging over a cliff, it's he who becomes the rock on which the tale is built.
But it's Carey Mulligan's Bathsheba Everdene who throws dramatic new light across the West Country woods and wolds, as she takes charge of the farm she has inherited from her uncle. Galloping into the story on horseback, in a rather sexy wine-coloured leather jacket, Bathsheba is bold, headstrong and confoundingly modern. "It is my intention to astound you all," she announces to her farm employees, rolling up her sleeves and preparing to extract top dollar for her produce at the local market. Acknowledging that she's in a world designed by and for men, she nonetheless flies daringly in its face, toying with a queue of suitors with a scintillating (though surely anachronistic) insouciance. Some clue about the forces that have shaped Bathsheba's personality might have been interesting, but Vinterberg and screenwriter David Nicholls don't go there. (Michael Sheen as William Boldwood, pictured above)
Nonetheless, Mulligan's performance is subtly all-consuming enough to bring Bathsheba to three-dimensional, high-definition life. Vinterberg's camera seems as awestruck as the local menfolk as it stands and gazes at the emotions playing across her face. Mulligan has commented how in Hardy's novel there are "lovely descriptions of how she just can't hide anything," and she lets that all flow through her on the screen.
The male of the species can barely lay a hand on her, as she skips winsomely out of reach and declares that she will be no man's possession. We sense that Gabriel, an emblem of elemental fortitude and also a dab hand at fire-fighting, curing poisoned sheep and saving hay-ricks from thunderstorms, may ultimately triumph in the long game. But poor Mr Boldwood, the wealthy middle-aged landowner yearning for a wife and companion, is too agonisingly decent, too cripplingly reticent to close the deal. The delicacy with which Michael Sheen catches the love-struck pathos of the character provides several of the film's most affecting scenes.
It's the third contender, the raffish Sergeant Troy (an eminently slappable Tom Sturridge, pictured below with Mulligan), who comes perilously close to being Bathsheba's undoing. However, that's not so much because he's a dissolute cad and feckless waster hell-bent on spending all her money, but because he's the one major faultline in a narrative which otherwise flies with the certainty of an arrow fired from a longbow.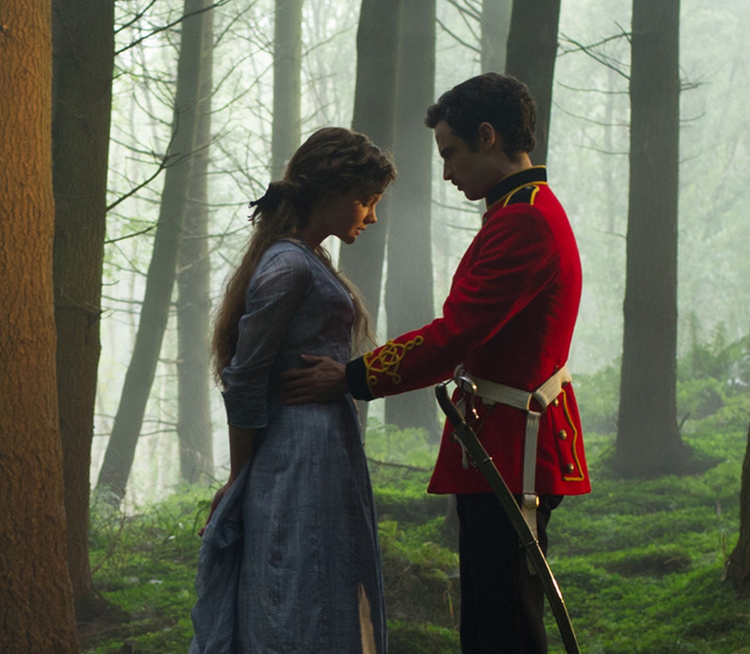 Having witnessed elsewhere the steely expertise with which Bathsheba dances around the notion of marital entanglement, to see her suddenly fling herself at the feet of this boastful charlatan in his crimson uniform makes you wonder if this is the earliest appearance of Rohypnol-fuelled date rape in English literature. It simply defies belief, and the fact that she later gets a little speech saying in effect "how on earth did I fall for that" only makes it worse.
Otherwise this is a fine story splendidly designed, performed and shot, and it will be fascinating to see who emerges clutching what on Oscar night. Anybody complacently assuming that Scandinavians can only do serial-killer noir had better look out.
Overleaf: watch featurette about Far From the Madding Crowd
Vinterberg's camera seems as awestruck as the local menfolk as it gazes at the emotions playing across Mulligan's face
rating
Explore topics
Share this article