Beyond Caring, National Theatre |

reviews, news & interviews
Beyond Caring, National Theatre
Beyond Caring, National Theatre
New play about zero-hour contracts is powerfully authentic, but depressingly unentertaining
Table talk: Sean O'Callaghan and Janet Etuk in 'Beyond Caring'
Recent plays with the verb "to care" in their titles – another is Michael Wynne's Who Cares – suggests that the inequalities of life in Britain today can no longer be treated with our habitual indifference.
This transfer of
Alexander Zeldin
's devised drama from the Yard Theatre in London's East End looks at the infamous zero-hours contracts, which have been much debated in recent months. As such, it is a rare representation of working-class life today.
Staged in the National Theatre's small temporary space, which has been effectively transformed into the storage area of a meat factory, with ghastly neon lighting shining as much on the audience as on the actors, the play starts with the arrival of three agency workers. Called Becky, Susan and Grace, they are employed on zero-hours contracts to clean the floors, walls and machinery of the factory. As the evening progresses, each of them is individualized in highly committed performances by a cast which has researched and developed the characters.
The result feels true and
well researched
Becky (Victoria Moseley) is a mouthy Liverpudlian who is unable to get a Saturday off to see her young daughter; Susan (Kristin Hutchinson) is a 48-year-old who has very little to eat and who often tries to sleep in the factory (presumably because it's cheaper than renting a place); Grace (Janet Etuk) has rheumatoid arthritis, but has lost her disability benefits and needs to work. These newcomers join the old hands: the taciturn fiftysomething Phil (Sean O'Callaghan), who is a permanent member of staff, and 27-year-old Ian (Luke Clarke, pictured below with Moseley), who supervises their work.
Ian is the jobsworth mini-Hitler who rules over these workers, showing them how to use an industrial cleaning machine or holding evaluations and team meetings that would be comic if the work was not so gruelling and relentless. In this atmosphere of compulsion and uncertain work, Phil tries to connect with Grace, while Becky resents the fact that he prefers to read a Dick Francis novel to talking with her. Ian circles around the women, a slightly sinister presence. Two sexual incidents – one a lonley wank; the other a sad coupling – are moments of rawness in a universe of dull aches.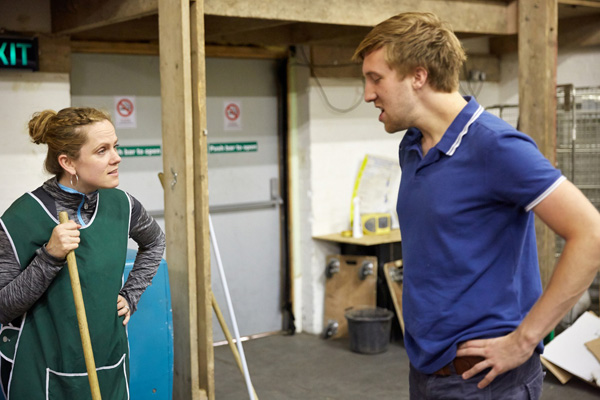 Zeldin has devised and directed the show by fully collaborating with his cast, and the result feels true and well researched. At first, however, it is as boring to watch people clean as it is to watch the proverbial paint dry, and it takes a while for this 90-minute piece to warm up. Frankly, there is no plot to speak of, and only rare incidents and rare moments of revealing dialogue. Although the lighting is suitably oppressive and the machinery stinks of meat, the play never really finds a metaphor for work that is stronger than the dirt that the characters have to clean up.
Yes, it's a shit world full of shit jobs. For while much of Beyond Caring has the quiet power of suffering humanity, only those with very little imagination will be shocked by the dreadful working conditions illustrated here. Since the play offers no real solutions to the situation it so strongly represents it ends on a note of depressing desperation. While Zeldin and his cast successfully create a relentless image of alienation, it is not enough. As one bearded radical once almost said: "Theatre people have hitherto only interpreted the world in various ways; the point is to change it."
The play never really finds a metaphor for work that is stronger than the dirt that the characters have to clean up
rating
Share this article