Girlhood |

reviews, news & interviews
Girlhood
Girlhood
Céline Sciamma takes a sympathetic and spirited look at marginalised teens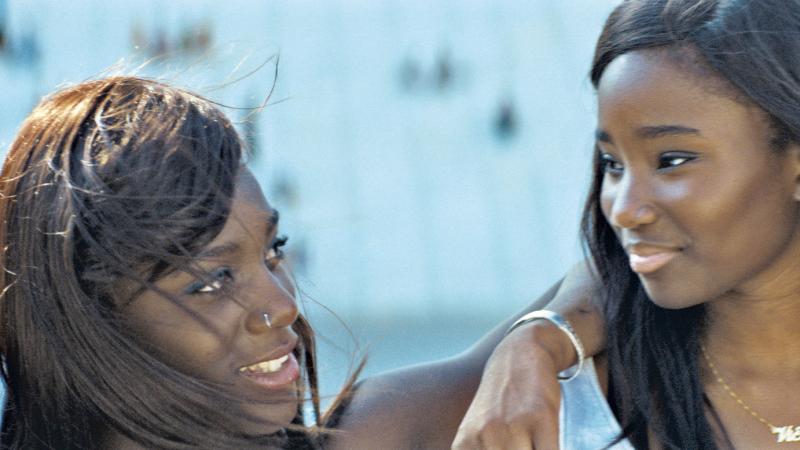 Best friends forever? Assa Sylla and Karidja Touré in 'Girlhood'
Confounding expectations from the first frames, Girlhood is the endearingly scrappy and staggeringly beautiful third film from French writer-director Céline Sciamma (Tomboy) and no relation to Boyhood. Intimate and exuberant, it's a coming-of-age story that takes us into the company and confidences of a quartet of teenage girls.
They're part of a community of marginalised minorities living in the rundown Parisian suburbs, and have forged their own alternative family unit as a sanctuary from and defence against domestic abuse, poor prospects, societal assumptions and criminal opportunists.
Although its French title, Bande de filles, roughly translates as "girl gang", Sciamma's film is nowhere near as aggressive as that suggests, yet it does have a certain swagger. Opening with young black women running out to take their place on an American football field, the pulsing synth of Light Asylum's "Dark Allies" - complete with Shannon Funchess's moody, defiant vocals - is a perfect fit for the girls' non-conformist bravado.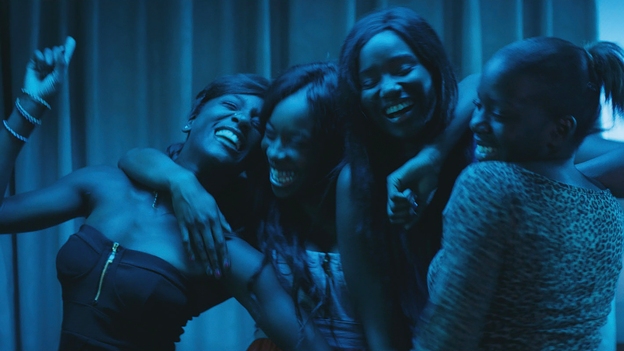 As they head home to their adjoining estates, their post-match exhilaration is extinguished by the sudden male presence. When the girls disperse we're left with just one, our 16-year-old protagonist Marieme (the captivating Karidja Touré), a shy, initially enigmatic teen with a disarming smile. Like many of her peers she has a difficult home life; her mother is mostly absent due to her night-shifts as an office cleaner and she's bullied and beaten by her older brother. Thankfully her affectionate relationship with her two younger sisters acts as a salve.
Unable to continue her education due to inadequate grades, Marieme quickly falls in with a tight-knit trio: the self-named "Lady" (Assa Sylla), Adiatou (Lindsay Karamoh) and Fily (Mariétou Touré). They're a sometimes volatile clique, who carry knives and are known for facing off against their peers but they're also loyal, silly, and nowhere near as bad-ass as they seem (best illustrated when one turns on the waterworks during a fraught game of mini-golf). A sequence where they dance and lip-synch to Rihanna's "Diamonds" (pictured above) captures the fleeting, hedonistic highs of youth and the sweet sincerity of their bond; as their posturing, self-preserving fronts fall away they collapse into giggles and later sleep in a contented tangle.
As a certain section of the media become ever more appalling at reducing teenagers to "hoodies" or listless layabouts (not to mention their sickening stance on immigrants), cinema continues to play a valuable part in fleshing out stereotypes and sympathetically exploring the disaffection and turmoil of adolescent outcasts. This week also sees the release of the similarly themed and equivalently important British film Honeytrap and it's hugely heartening to see these stories about young women of colour making it to the big screen. Girlhood is both realistic about the difficulty of breaking free from your lot, and hopeful regarding Marieme's determination to seek out a better life.
It's also warm, vital and highly entertaining. Sciamma's regular cinematographer Crystel Fournier gives proceedings a lustre that befits these luminous young women, the four non-professional leads have great chemistry and credibility, and the film offers an alternative view of "antisocial" behaviour, with the girls' public transport dance routines and bouts of fisticuffs presented as integral to their bond, encouraging us to understand and even revel in their antics, not judge. And, if we're in no doubt that their time as friends must pass, Girlhood captures how wonderful it is to even briefly belong.
Overleaf: watch the trailer for Girlhood
The four non-professional leads have great chemistry and credibility
rating
Explore topics
Share this article