Amy |

reviews, news & interviews
Amy
Amy
Profoundly depressing scrutiny of the ascent and decline of Amy Winehouse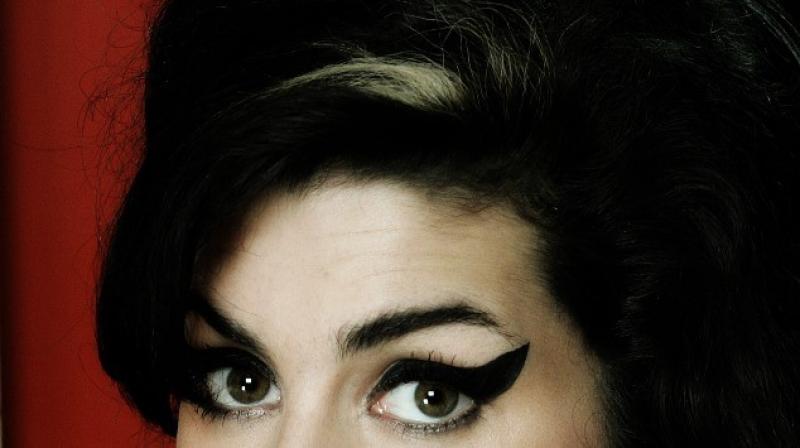 The eyes have it: Amy Winehouse weighs up where fate will take her
"I don't think I could handle it, I think I'd go mad." It's the sort of answer given by anyone asked how they'd react to fame. With the possibility looming of recognition beyond jazz circles, Amy Winehouse, who was then not so well-known, responded with something which could have appeared trite; the humble words of an aspirant not wanting to seem too big for her boots.
What came later is well known. Winehouse died of alcohol poisoning on 23 July 2011 after a too public decline which seemingly realised her prediction. Those off-the-cuff words in an interview took on a resonance few would have appreciated before her rise to global fame. And anyway, she was mad. Graham Norton said so: the parade of sickening clips in Amy includes one of the BBC TV host saying to camera, "Amy Winehouse, now she's a mad person." It doesn't stop there: on US national television, Jay Leno made fun of her bulimia.
The hyped Amy is uncomfortable to watch. Very depressing, too. The second half is harrowing. Not only does the documentary capture Winehouse's ascent and subsequent decline in the most direct and succinct manner so far, London director Asif Kapadia has made a film with the ring of truth. He interviewed and re-interviewed Winehouse's family, friends and associates, and drills down to what appear to be the essentials. There are no talking heads, just voiceovers from his interviewees and archive clips of Winehouse and those close to her. As with his previous film Senna, Kapadia uses any media which advances the narrative: sequences of paparazzi photos, mobile phone film, television appearances, anything which adds to the diarised envisioning. (Above right, before the fall: Amy Winehouse during the good times.)
Early on in the film, Winehouse is funny, intelligent and magnetic. She knows how to charm people. A hilarious holiday video attests to her cleverness and sense of fun. But life is seen to be sucked from her, as if she is surrounded by vampires. People fail her, support is lacking. She is known to be frail, dependent on alcohol and drugs, and needy. Yet she is continually pushed. While asleep on a sofa, she was picked up, put in a car, driven to an airport to awake in a private plane on the way to what proved to be her final live dates. Witnesses are heard saying she did not want to play them. Her then-manager says she did. Conflict and contradiction are rife in Amy. Kapadia allows viewers to be the jury.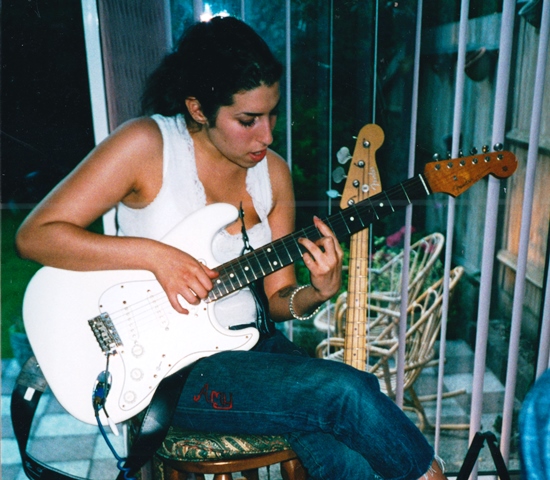 Although a childhood friend says things started changing from the time when, on the cusp of fame, Winehouse moved to Camden from her family home, Kapadia shows that cracks were always there. Her parents separated when she was nine. Winehouse was on anti-depressants at age 14 and bulimic as a teenager. Leaving the family home was a liberation as it allowed her to smoke weed all day. It also freed her to hang out at the pubs and clubs frequented by the then-hip indie bands The Libertines and The Kills, their followers and hangers-on, including Blake Fielder-Civil, the man with whom she took crack and heroin after they married. Her father Mitchell Winehouse re-entered the picture. Of her childhood with him, she is heard saying: "When my dad was there, he was never there. He said he was working." The film pointedly does not note Mitchell Winehouse's ambitions to be a singer.(Above left, Amy Winehouse alone with her music.)
Many heard speaking were entranced by her and her talent. Friends from childhood loved her. Yasiin Bey (formerly known as Mos Def) and Tony Bennett were in awe. Her father, though, arrived at a private holiday with a camera crew in tow and then belittled her in front of the crew, friends and strangers. At another point, he is heard saying, "We did everything within our power to help Amy, [but] it was Amy's responsibility." Mitchell Winehouse decided she did not need to go to rehab, a decison noted in her song of the same name. In a TV clip from after their split, her former husband Fielder-Civil demeans Winehouse in a disgusting fashion while boasting of his good looks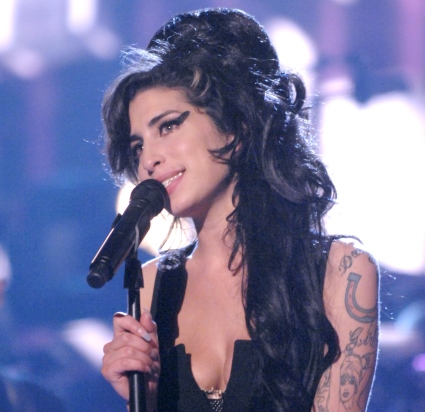 Amy follows the template set by Kapadia in Senna, a documentary technique he has dubbed "true fiction" and, stylistically, it will be no surprise for anyone who saw his previous film. But that relied on its originality to attract an audience – the racing driver Ayrton Senna was not a true mass-media figure. Winehouse was and Amy is assured a wide audience. (Pictured right, Amy Winehouse in classic live stance.)
As well as Senna, Amy also stands comparison with the recent, unsatisfying Kurt Cobain bio-doc Kurt Cobain: Montage of Heck, a film bulked out with confabulations (mainly in cartoon form) which was concerned with propagating the Cobain legacy. Family-sanctioned, it drew on material supplied to the director; one of its producers was Cobain's daughter. The assured and nuanced Amy has no such ties and presents its material in a matter-of-fact, take it or leave it, basis.
Inevitably, Amy is, in large part, an evidence-based psychological portrait of Winehouse. But it is not strictly about the mind behind the persona, these records, these songs and what was revealed in public. The nature of the transmutation of inspiration into finished song remains indeterminate. Winehouse is caught on camera writing and honing her compositions, but what was in her head at those moments? Only she knew. The film draws on what she said, and what was caught on camera or tape – the various forms of material record. Yet the less tangible remains elusive.
As concerned with perceptions as it is a cautionary tale about the nature of modern fame, the profoundly depressing Amy is not the last word on Amy Winehouse but, for now, it is hard to see how it could be bettered.
Overleaf: watch the trailer for Amy
Watch the trailer for AMY
Life is seen to be sucked from Amy Winehouse, as if she is surrounded by vampires
rating
Share this article