theartsdesk at Love Supreme: Van Morrison & Dianne Reeves |

reviews, news & interviews
theartsdesk at Love Supreme: Van Morrison & Dianne Reeves
theartsdesk at Love Supreme: Van Morrison & Dianne Reeves
The programme stays in the middle of the road, but UK's only outdoor jazz festival still grooves nicely
Dianne Reeves: shivers your spine, then knocks you flat
Love Supreme, now in its third year, feels like the best of both worlds. Set in the spectacularly rolling scenery of Glynde Place, outside Lewes, it's only a champagne cork's flight from Glyndebourne opera house, and if you're not camping you can share the train home with the penguin-suited picnickers. Yet the format and layout are every bit greenfield rock festival, albeit – how posh is this – with flushing toilets.
It's billed as a jazz festival, but the headline acts are largely from the worlds of funk and R&B, so fans of serious improvisation, it's also safe to take the whole family: there's only a bit of what Andy Kershaw once so rudely called the "fire in a pet shop" school of experimental jazz.
If you come here used to Glastonbury or Latitude, it feels quite small, which means you never have to queue or schlep for long, and with only three stages of substance, the Big Top, Arena and main stage, getting your head round the programme is a breeze. Essentially, the Big Top was for jazz, the Arena hosted varieties of fusion band, and the main stage the funky, rhythmic tunesmiths.
Leafing through the programme did leave me with a slightly claustrophobic sense of the programming. Partisans and the Elliot Galvin Trio are both excellent bands, but anyone frequenting the London jazz scene will have seen them many times. There were a few interesting American visitors – Dianne Reeves and Ambrose Akinmusire were both on excellent form – and a spattering from outside London, such as the also excellent Submotion Orchestra, but of the vibrant European scene, apart from Spanish prodigy Andrea Motis, there wasn't a whimper.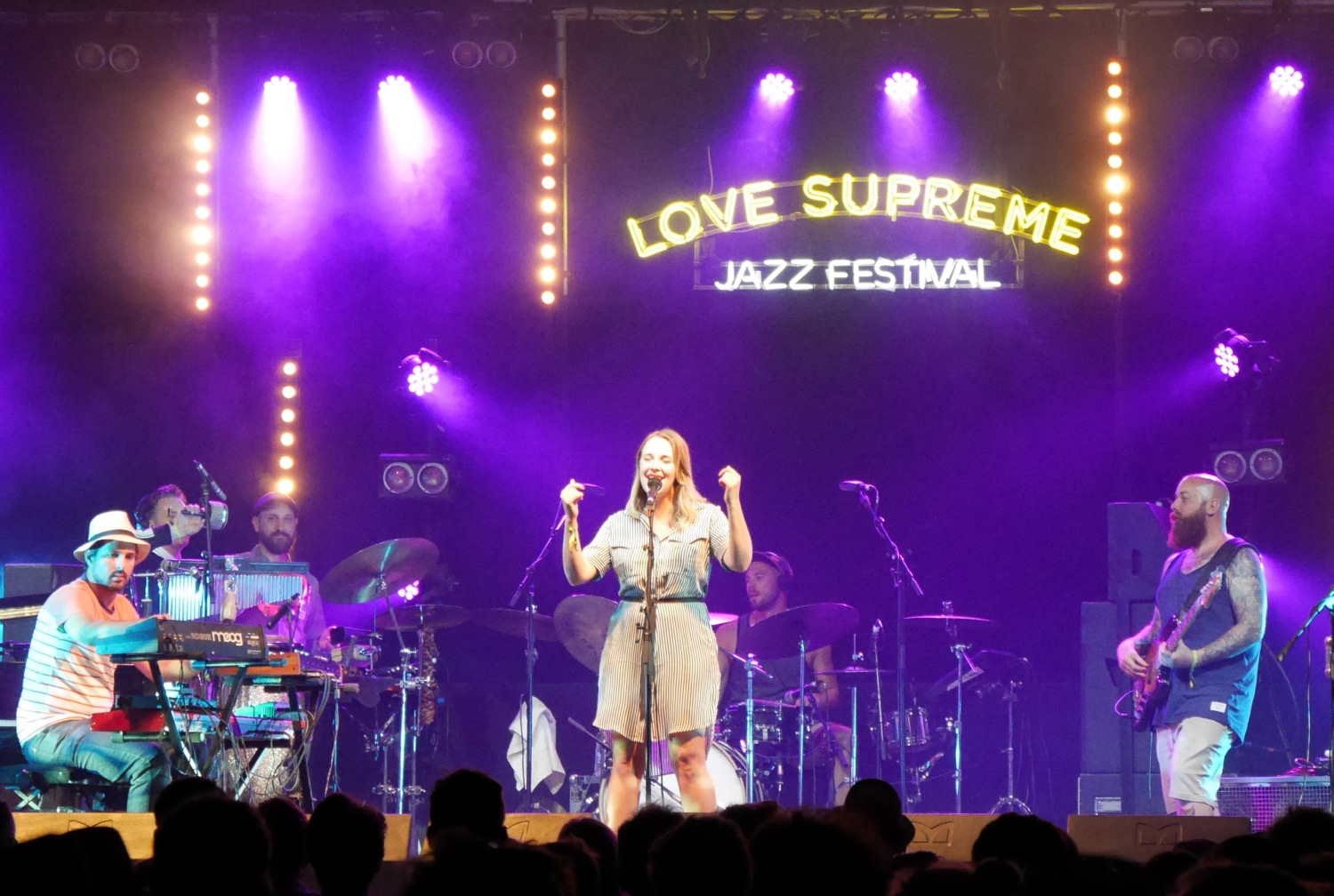 The Arena was the festival's melting pot, the place to go to hear the newest genre mixes and most unexpected sounds. I haven't always been convinced by GoGo Penguin in the past, their looping, minimalist dance grooves played by an acoustic jazz trio tending to sound a little too samey to make much impression in a jazz club, especially when partnered with another band's richer harmonic textures, as happened two London jazz festivals ago with Jaimeo Brown. However, the more relaxed festival vibe suited their blend of airy piano melody, soothingly repetitive (if rather over-amplified) rhythms and fat slugs of bowed bass, offering pleasingly simple contrasting textures. With a programme of new pieces and songs from their last album v2.0, It was effective acoustic chill-out, and on that close evening calmed the mood and atmosphere.
Leeds-based Submotion Orchestra (pictured above) mixed it up more radically, yet remained accessible and appealing, their blend of dub, electronica, jazz and soul stimulating dance moves and tingling the mind in equal measure. Songwriter and vocalist Ruby Wood is at the centre, visually and musically, of this contemporary melange of sounds, though Bobby Beddoe, playing trumpet and operating the mixing desk, also summed up their dovetailing of the traditional, soul/funk end of Submotion's offering with the urban and electronic. By the end of their set the audience had thinned substantially, seduced by the arrival of Chaka Khan on the main stage. A poor choice, I suggest: both Larry Graham and Graham Central Station and Chaka Khan, consecutive main stage Saturday night acts, pushed amplified funk beyond the comfort zone. Those explosive, brassy beats, so exhilarating in a good acoustic, sounded a little too much like the pulse you get during a bad hangover, fuzzy, repetitive and dull, played through the festival's main PA.
The osteopath would probably not recommend 'making love in the green grass' any more
On Sunday, the role of genre-bending was passed on to Kneebody, a Californian fusion quintet who set out to ask questions about style. Using the instrumental techniques of post-bop jazz, with the compositional structures of minimalism, especially from keys player Adam Benjamin, saxophonist Ben Wendel and trumpeter Shane Endsley (pictured below), their pieces featured intricate, overlapping phrases – put together in a way that sounded almost like simultaneous improvisation – that swirled and blended in an increasingly manic and compelling crescendo of virtuosic, funky energy. Writing duties, shared among the band, included wry cultural allusions in pieces such as "Anti-hero", for Walter White, the meth-cooking maths teacher in cult TV series Breaking Bad. For a snapshot of the faultlines of contemporary jazz, Kneebody were one of the unmissable acts, all the more so for the fact that compared to the rest of the weekend's line-up, they are relatively hard to find in the UK.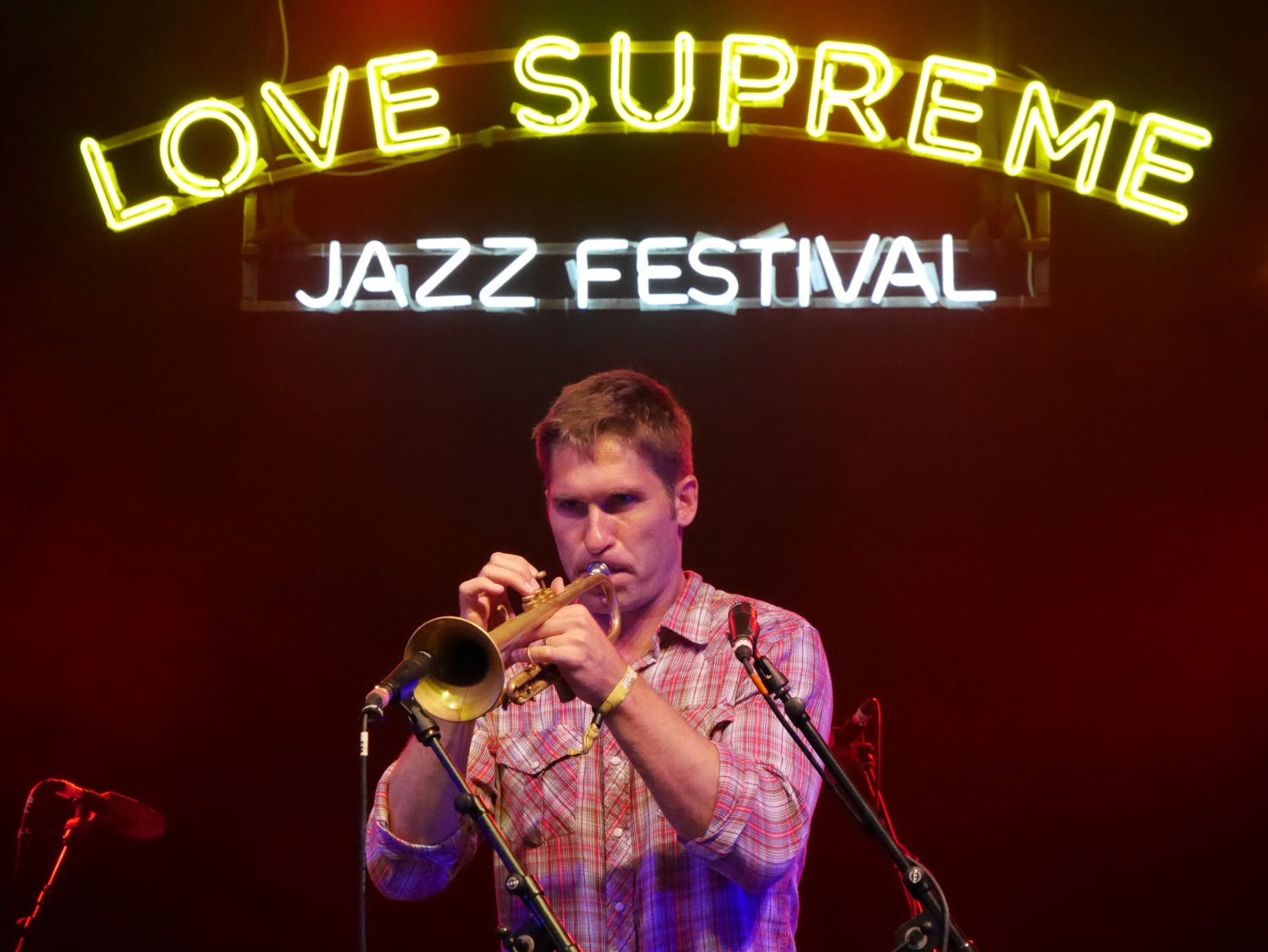 Dianne Reeves started from a more traditional generic position than the Arena bands, and still has a more conventional jazz sound, but was the star of the Big Top, with an extraordinary, explosive set that had its roots in jazz, but wandered into salsa, and West African compositions, an incredible range spliced together in an utterly convincing, organic combination. Reeves' voice has a massive bottom register that even in the breezy and unhelpful acoustic space of a tent made the ground shake, and she built from door-stop bass notes to an irresistible momentum of swing that had a full house in ecstasies. Playing with the extraordinary Brazilian guitarist Romero Lubambo, whose acoustic often had the ethereal, transcendent sound of the kora, she combined original compositions with an unstoppable cover of "One For My Baby". One of the great sets of the weekend.
Ambrose Akinmusire, preceding Reeves in the Big Top, was the jazz purists' choice (of the foreign bands, at least). A player whose originality lies in their precision and virtuosity, Akinmusire has a breathtaking command of trumpet technique, with slides, half-notes and slithering ribbons of delicate sound emerging from an instrument usually known for its explosive clean sounds. His pieces have an uncanny combination of fast pulse and spacious, slow-paced development, in which his own intense, angular, post-bop sound has space to breathe, and the spare, extended harmonies of his original compositions contrast intriguingly with the frenetic, anxious rhythm of his drummer Justin Brown (pictured below, with Akinmusire). Playing in a quartet with his accompanists drummer Brown and regular bassist Harish Raghavan, alongside pianist Sam Harris, his set featured new and existing compositions such as "Regret No Man", "As We Fight" and "Brooklyn".
Now he's a knight, "Van the Man" feels almost an impertinence, though Van Morrison's closing headline set, after a slightly restrained start, created such an intimate and good-humoured mood, it felt appropriate. He's 70, too, next month, and, dare one say it, a little portly. The osteopath would probably not recommend "making love in the green grass" any more. But he still plays convincing sax, harmonica and guitar, and his voice, though perhaps just a little dry and stiff at times, had enough elasticity to make the most of a warm, eclectic selection of songs, which as well as the obvious, included "Jackie Wilson Said", "Wild Night" and "Moondance". The sense of wonder about a special lover that his best-loved songs create still conjured an appealing and evocative sense of faraway yearning and romance. His sound worked better than Chaka Khan's in the open space, and though by Sunday evening, with the morning's rain gone, and the audience savouring a weekend's generally excellent music, you sensed that even a bunch of shoegazing miserablists could have signed off the festival on a euphoric note, Van Morrison was still an inspiring choice.
Though it's billed as such in some quarters, Glastonbury, or even a jazzers' Glastonbury, this ain't. It doesn't have the scale, the edge, or the atmosphere. It's not, in some ways, as much fun as the more idiosyncratic settings and programmes of European jazz-blues festivals like Inntöne, with both a template and line-up that feel just a little bit second-hand. And you could find a musically riskier, more experimental jazz line-up at, say, the BBC Late Junction stage at Latitude.
But, but, but. There haven't been outdoor jazz festivals in the UK on this scale for more than 50 years. It shows that, even allowing for a healthy dose of funk and R&B, jazz can still be a popular music. The location is gorgeous, the organisation good. If you want your rhythms as stirring and fruity as your Pimms, it's the place to come.
If you want your rhythms as stirring and fruity as your Pimms, it's the place to come
rating
Explore topics
Share this article