Prom 16: Late Night with Radio 1, Pete Tong |

reviews, news & interviews
Prom 16: Late Night with Radio 1, Pete Tong
Prom 16: Late Night with Radio 1, Pete Tong
Euphoric celebration of dance music let down by strange orchestration and sound issues
Shaking Albert's booty
After years of pussyfooting around pop, hoping the Pet Shop Boys will write something in a passable classical idiom, the Proms has embraced the most euphoric popular genre of all - dance - to its bosom.
Pete Tong, long-standing Radio 1 presenter and DJ, is probably the high priest of this music, and under his guidance last night, Radio 1 and the Heritage Orchestra, conducted by Jules Buckley, brought a near-capacity Proms crowd to a booming climax in way that's quite possibly never happened before.
It never seemed likely the sedately seated rows would stay put once the dance beats were properly bouncing, and within a few minutes the hall was on its feet, fingers raised, bodies pulsing. This was a younger Proms crowd than usual, most of whom appeared to be veterans of the dance scene from some point in the last 20 years. There were some rather touching scenes of parent and child enjoying a communal dance in a way they might have felt less comfortable about in a club. Literally, the room moved, so much so it was uncomfortable to remain sitting.
You'd be forgiven for thinking you were listening to a dance track via the hi-fi of an old car driving through an underpassJudged more narrowly for musical content rather than cultural symbolism, it was a lot less satisfying. The Heritage Orchestra was bolstered with extra brass, guitars, and backing singers, and because acoustic instruments can't really produce that deep electronic bass that powers the dance beat, there was heavy-duty support from the mixing desk. The acoustic in the Royal Albert Hall isn't known for its clarity at the best of times, and there was just too much going on. Definition was lost, for long passages most of the orchestra was inaudible over the electronic bass beat – strings in particular were reduced to a background squelch – and the combined sound from the amplifiers was sometimes tinny and coarse. At a couple of points you'd be forgiven for thinking you were listening to a dance track via the hi-fi of an old car driving through an underpass.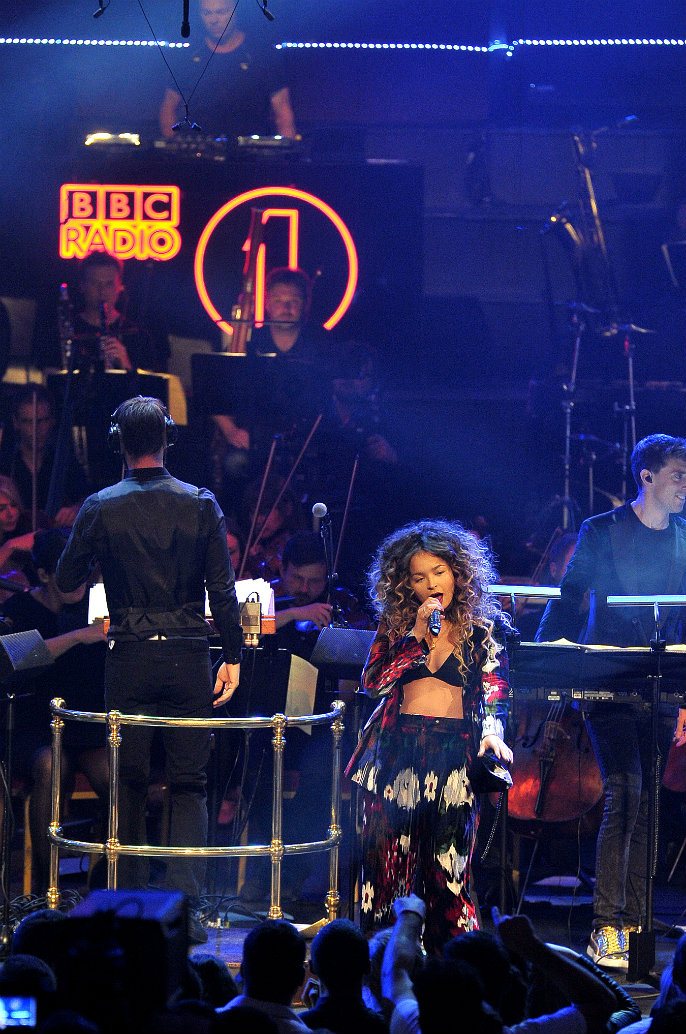 The Heritage Orchestra is a good idea dressed in some distracting bureaucratese ("challenging orchestral stereotypes"...blah), and they began the set with what was essentially – quaintly, even – an orchestral medley of dance tunes, as if Sir Henry Wood's Fantasia on British Sea Songs were relocated to Ibiza circa 1998. The effect was similarly rousing, and all around me were the incredulous faces of ravers who, like me, never thought they'd be doing this in the Royal Albert Hall.
Solo performances came from Ella Eyre (pictured) and John Newman. Eyre had too subtle a voice for this environment, and much of her first song "Good Life", just disappeared. Her second, "Waiting All Night" was more audible, but it was at this point that the sound quality nosedived, and it may be that it was amplified too far. Newman, the more robust performer, fared better with "Feel The Love".
The Proms team is right to celebrate a landmark in popular music culture, introducing what may, to a traditional Proms audience, seem like an exotic and alien music. However, the use of a large orchestra to play quintessentially electronic music felt like tokenism, and didn't work in this space. The solution already exists, which is to use a space better suited to the music, as the chamber music Proms do, and the Electric Proms, held at the Roundhouse but cut in 2011, used to. Even this muddled arrangement created an ecstatic, entrancing atmosphere; how much more exciting would that be if the music sounded good, too?
Within a few minutes the hall was on its feet, fingers raised, bodies pulsing
rating
Explore topics
Share this article