CD: Public Enemy – Man Plans God Laughs |

reviews, news & interviews
CD: Public Enemy – Man Plans God Laughs
CD: Public Enemy – Man Plans God Laughs
Hip Hop's grand masters produce their best in almost a decade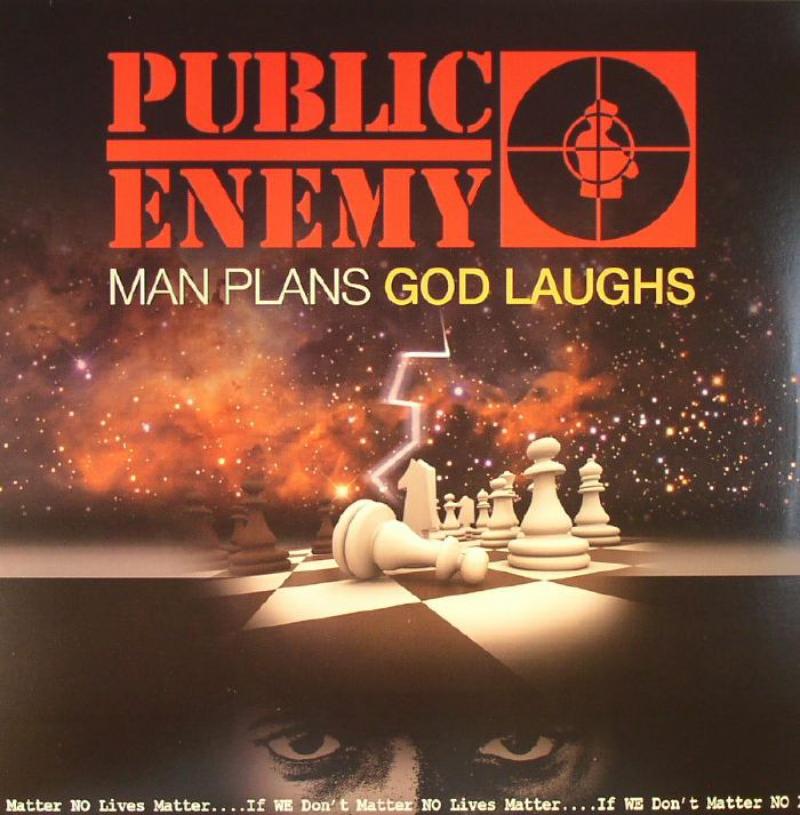 The best laid plans…
Billed as the hardest hitting Public Enemy album for years, Man Plans God Laughs has a lot to live up to; as far as sonic sledghammers go PE have more than their fair share. However, with lone Bomb Squad member Gary G-Wiz at the controls and the current socio-political climate in America built on the twin foundations of despair and anger, the stage is well-set for Chuck D to lay down the law at his direct, sloganeering best.
"No Sympathy from the Devil" sees him dive right in, and just as well – the album clocks in at less than half an hour long so there's no time to waste. Occasionally, his flow feels a little too halting, like he's excitedly saying what he sees on cue cards, randomly offered up before him. Elsewhere however, on "Me to We", "Those Who Know Know Who" and "Mine Again" the deep baritone bark seems to bear a more fluid and coherent message. While it lacks the sophistication of, say, Kanye's "New Slaves", there's no doubting the passion. There never is.
Musically, the album is a curious mix of the old and the new. Despite the lone producer at the controls, it feels occasionally schizophrenic, sometimes within the space of one song. So we have occasional pop rap tendencies sitting side-by-side with more familiar, self-referential motifs. In fact, the biggest sample source throughout seems to be Public Enemy themselves, with numerous flashes that leave the listener in a state of joyous, grinning déjà vu. Meanwhile, the heavy, dense sample patchwork of "Lost in Space" acts both as a reminder of just how influential PE were musically and a prompt to check on the progress of the new Avalanches album.
This isn't about past glories though – far from it. Despite the lumpen, dreary mess of the ill-conceived Rolling Stones dig "Honkey Tonk Rules" and the lyrically trite and insubstantial "Earthizen", this is a solid, and at times inspired, collection of songs that is certainly their best since 2007's How You Sell Soul to a Soulless People Who Sold Their Soul???