Edinburgh Fringe 2015: The Kinsey Sicks/ Minor Delays/ Rhys James |

reviews, news & interviews
Edinburgh Fringe 2015: The Kinsey Sicks/ Minor Delays/ Rhys James
Edinburgh Fringe 2015: The Kinsey Sicks/ Minor Delays/ Rhys James
More from the world's biggest and best arts festival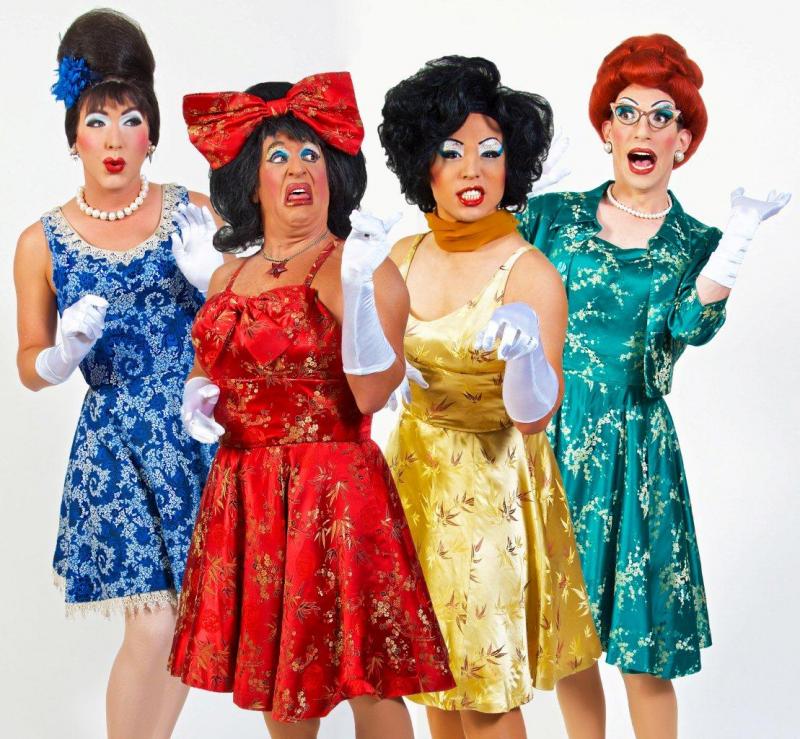 The Kinsey Sicks, from left: Trampolina, Rachel, Trixie and Winnie
The Kinsey Sicks, Gilded Balloon ****
The Kinsey Sicks, a four-piece drag a cappella act, were formed in 1993 and have played off-Broadway and Las Vegas; this is their UK debut. Their name is a play on Kinsey 6, the point in the scale of sexual attraction as exclusively homosexual, and they bill themselves as "Barbarella meets beautyshop", or "chicks with shticks".
The set-up for the story is that they are taking part in a television reality show - America's Next Top Bachelor Housewife Celebrity Hoarder Makeover Star Gone Wild!, as the show title has it - where they are all girly smiles, but backstage they all hate each other and want to leave the group to achieve their own solo dreams. Winnie (Nathan Marken) is the geeky leader, who starts each song with the pitch pipe around her neck; Trampolina (Spencer Brown) is sweet and slutty; Rachel (Ben Schatz) is an angry feminist; and Trixie (Jeff Manabat) is a glamour puss.
They perform parodies of well-known songs; "Putting on the Ritz", for example becomes "Putin on the Ritz", in which Trampolina declares her attraction for the Russian President, while "Mamma Mia!" is an ode about gonorrhoea and "Sweet Talking Guy" here is rendered as a paean to bestiality as "Sheep-Fucking Guy". It's good honest filth.
A cappella (and drag, for that matter) is an acquired taste, but the foursome inject a lot of silliness as well as some subtle political comment, and the hour speeds by.
Until 31 August
Minor Delays, Gilded Balloon ****
Joe Barnes, Harry Michell and Abi Tedder are Minor Delays, a very fine sketch group with an original approach to the form; they sit or stand before their chairs, use no props and a bell marks the end of each sketch. It's pared down sketchery, and works extremely well.
They love skewering the smug middle class; a swingers couple, a man so concerned about the world's woes that he can take no joy in happy events in his own life, and people so eager to call out racism in others that they can't see it in themselves. The best running gag, meanwhile, involves a horribly precocious seven-year-old (Michell) far outstripping his classmates (played by Barnes), to the increasing irritation of Tedder's teacher.
They run through an astonishing 30-odd sketches and almost all hit the mark, with an economy both of words and action, and some nicely delayed payoffs. A hit.
Until 30 August
Rhys James, Pleasance Courtyard ****
Rhys James, who made his debut last year, returns with another finely crafted show in Remains, this one about how he – a white, male middle-class comic who has never had to struggle - might leave his mark on the world.
Last messages on Twitter (the one from Jesus is particularly amusing), the right trainers to wear and why, and numpty police support officers all come in for withering comment, while James also goes to his "poetry mic" to deliver some decent raps about lad culture and being successful.
This is all performed straight-faced, and with a breezy confidence that could mean James is lumped among the many twentysomething male comics at this year's Fringe, but his accomplishments as a writer and performer make him stand out from the crowd.
There is less of the clever wordplay that so delighted last year – James's best effort here is telling us about the friend who gave him a thesaurus, "an absolute myth" - but there's much to enjoy in the hour, and the short film at the end nicely ties up all the show's strands.
Until 30 August
They bill themselves as Barbarella meets beautyshop, or chicks with shticks
Explore topics
Share this article