Edinburgh Fringe 2015: Nish Kumar/ Adam Hess/ Dial Medicine for Murder/ Larry Dean |

reviews, news & interviews
Edinburgh Fringe 2015: Nish Kumar/ Adam Hess/ Dial Medicine for Murder/ Larry Dean
Edinburgh Fringe 2015: Nish Kumar/ Adam Hess/ Dial Medicine for Murder/ Larry Dean
Counting down at the world's biggest and best arts festival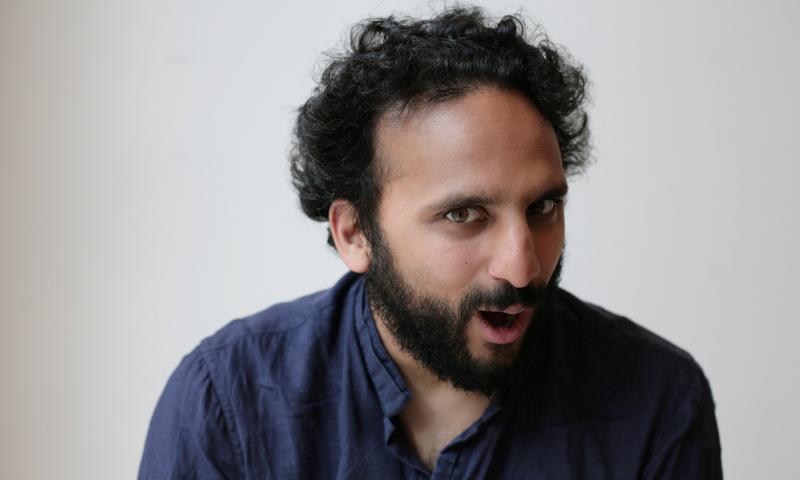 Nish Kumar's show is full of up-to-the-minute political comedy
Nish Kumar, Pleasance Courtyard ★★★★
There's been so little out-and-out political comedy at this year's Fringe that it's a real joy to find a stand-up so engaged with politics as Nish Kumar.
Kumar lays out his stall early on. The issue of diversity in the arts is, he says, "a subject very close to my face". He goes on to discuss why men still dominate everything, and the reasons why Jeremy Corbyn is popular. Full marks for being bang up to date.
Although he also talks engagingly about seemingly trite subjects including the board game Monopoly and the American Pie and James Bond franchises, these are used as pathways to discussing more weighty subjects such as capitalism and race. And as the title Long Word... Long Word... Blah Blah Blah... I'm So Clever suggests, Kumar does a fine line in irony, and much of this show is a deconstruction of what went just before.
This shtick, interrupting the flow of the show to tell us how smart he is or how he researched that gag, can become slightly tiresome, but there are some very fine set pieces, particularly those on how the Left in this country has lost its way and why we should be careful of the language we use to talk about jihadism. A strong hour.
Until 30 August
Adam Hess, Heroes @ The Hives ★★★
Adam Hess talks at a mile a minute, and so packs a lot in his debut hour. He talks about how he lies all the time, his parents, his schooldays, getting drunk with his mates and splitting up with his girlfriend. And all his friends are comics, so he's "emotionally dead", he says.
The show, his debut hour, is called Salmon, and there's sense that he is always swimming against the stream, whether with girlfriends who dump him, or being pranked by his mates, or having to grow up. Hess has a toy music-box on stage with him, which he says is from his childhood – but he lies all the time, so who knows? – and he uses it throughout the set to invoke his childhood, with which he seems rather obsessed.
Hess is likeable and his material rattles along, but the problem with delivering so much at breakneck speed is that it doesn't allow much time for laughs.
Until 31 August
Dial Medicine For Murder, Gilded Balloon ★★★
This is one of those unexpected pleasures the Fringe is good at producing. Two doctors – Harry Brunjes (no longer practising, and now a businessman who is chairman of ENO) and Andrew Johns, a forensic psychologist – talk about two notorious members of their profession.
They tell the stories of two murderous medics – John Bodkin Adams, who was a GP in post-war Eastbourne, and Harold Shipman (at whose trial Johns gave evidence as an expert witness), whose murders took place in the latter part of the 20th century.
Bodkin Adams was acquitted of murder in 1957 and lived to a great age, while Shipman was convicted in 2000 and later hanged himself in prison. Brunjes and Johns interweave the two murderers' histories and draw interesting parallels between their crimes and personalities.
Neither man is a natural performer but they tell the facts with humour and efficiency, and this is a pleasant and enlightening hour.
Until 31 August
Larry Dean, Pleasance Courtyard ★★★
Glaswegian comic Larry Dean tells us he only recently lost his virginity, at the age of 23 – to a rather fierce girl from Govan. Only Dean is gay, and this odd juxtaposition is just one of many in Out Now! as he tells his story about how he decided to come out on stage two years ago at a comedy club.
He grew up in a Catholic household and his brother is an ex-priest who isn't exactly supportive of his sexuality, which he kept hidden for years. In fact, Dean's friends call him "a stealth gay". But now, the fresh-faced stand-up, making his Fringe debut, says he looks the part – or at least "like a lesbian rapper, Feminem".
Much of this is told with enormous charm, but some of it with startling crassness. Just because you're homosexual yourself doesn't make it funny to do a camp moue or a limp wrist to suggest gayness, and a joke about it making him good at interior decor was surely hack before he was even born.
Dean is a bright and confident comic and one we'll be seeing a lot more of – but let's hope he bins the stereotypes.
Until 30 August
There's been so little out-and-out political comedy at this year's Fringe
Explore topics
Share this article