theartsdesk in Paris: Peregrinations on the Pigalle |

reviews, news & interviews
theartsdesk in Paris: Peregrinations on the Pigalle
theartsdesk in Paris: Peregrinations on the Pigalle
Assorted flavours of France's music stimulate at the MaMA Festival
Wednesday, 04 November 2015
The Pigalle's Moulin Rouge: the landmark looming over the MaMA Festival
Sometimes appearances can be deceptive. The frontman on stage looks as generic it gets. His scruffy beard, retro specs, baseball hat, shapeless jeans and the bulging outline of a mobile phone stuffed in his trouser pocket don't add up to suggest that his band Tahiti Boy & the Palmtree Family are going to be anything distinctive. But the studied casualness belies what actually takes place musically. This is exceptional.
The all-purpose hipster is multi-instrumentalist/singer David Sztanke (pictured below, photo © Johanna Cafaro), who has also played as a sideman with Lenny Kravitz, Iggy Pop and Os Mutantes. As Tahiti Boy and with his band the Palmtree Family, the groove he ploughs is impossible to resist. His hat gives a broad hint where he is coming from: it's emblazoned with the logo adopted by Motown in the Seventies. Three female backing singers further suggest this might be a French take on soul music.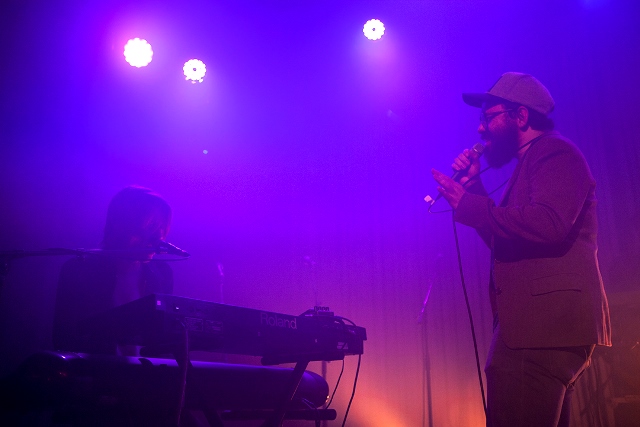 In practice, Tahiti Boy & the Palmtree Family deal in a deconstructed, melodic and sharp-edged soul which audaciously chucks the pomp of Queen and the balladry of Billy Joel into the mix. Fans of Dirty Projectors will think they've gone to heaven if they see this live. Sztanke is a great, sometimes George Michael-ish, singer with idiomatic English. His drummer and bassist are funk tight. In its live rendition, penultimate song "All That You Are" marries a post-punk take on disco to the pop nous of the best of the Nineties' French Touch bands. For this alone, Paris' MaMA makes its case for taking the Eurostar to the French capital for the festival.
MaMA is France's showcase festival. Three days of music-biz conferences, debates and pitching sessions for an endless succession of apps are accompanied by what actually matters: taking in the music itself. What's playing ranges through the festival's choice of the best of the current crop and the up-and-coming. The venues used by MaMA line, or are off the strip stretching east from Pigalle, along the Boulevards de Clichy and de Rochechouart – the southern boundary of Montmartre. This is where Edith Piaf was discovered, and where the blood-red pall cast by the ever-looming Moulin Rouge brings the night-time impression that this is an outdoor photographic darkroom. It's a mood quickly dispelled by repeated tugs on a sleeve from some persistent tout for a "private show." The Pigalle can't escape being defined by its seedy peep shows, sex shops and strip joints.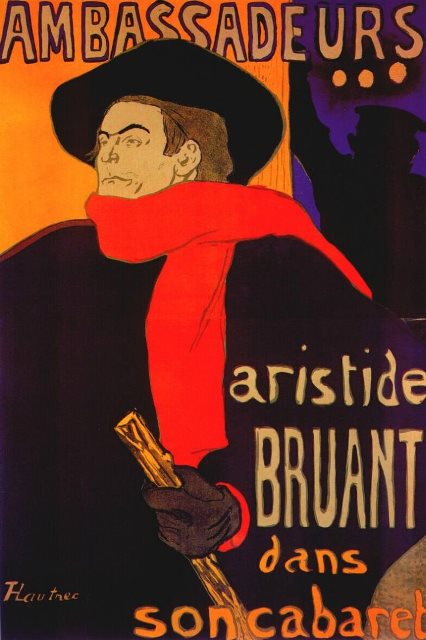 Amidst the foothills of Montmartre, this was where France evolved its unique contribution to modern popular music: chanson. In the 1880s, Aristide Bruant began performing at Le Chat Noir and helped popularise a lyric-centred style in which what was sung and how it was sung was more critical than the music itself (pictured left, Toulouse-Lautrec's 1892 poster for Aristide Bruant in cabaret). The Moulin Rouge opened the same decade.
Tahiti Boy & the Palmtree Family were playing Le Divan du Monde, a theatre built in the early 19th century which hosted the cabaret singer Yvette Guilbert (also a Moulin Rouge regular) in the 1890s. The first supposedly naked woman (her top was see-through) to take the Paris stage was seen there in 1894. Strip-tease followed on its boards in 1897. The music and carnival of carnal commerce were, as they still are on the boulevards themselves, integral. Plus ça change.
For MaMA, the history is incidental. The proliferation of proximate venues is what matters. According to the festival's bumph "MaMA is devoted to innovation." "Forward-looking" is the buzz clause. Yet France's own music, the music drawing on its own musical heritage is here. On stage at the Bus Palladium – which opened in 1965, was frequented by Mick Jagger and name-checked by Serge Gainsbourg in his trend-satirising "Qui est in qui est out " – Tim Dup sits behind a keyboard. Despite performing one Antony Hegarty-tinged song in English, Dup is through-and-through French. His florid keyboard phrasing and baroque vocal delivery evoke the late Sixties, when French pop found its own chanson-derived voice in Julien Clerc and Michel Polnareff. A local delicacy perhaps, but Dup's refined music shows France retaining its individuality. Innovation in the form of an absorbing performance can be rooted in local traditions.
Even better is Laura Cahen (pictured right, photo © Wallendorff), another musician steeped in the chanson tradition. She uses it to underpin her own take on song and the closest comparison is Françoiz Breut, whose downbeat acoustic-centred chanson-pop is as much about mood as the lyrics. Cahen, though, has an electric guitar, a clear familiarity with jazz and a band which sensitively delineates the dark edges of her moody songs. Her assured performance marks her as one to watch.
Chapelier Fou (pictured below left, photo © Laetitia Ropp) are as French, but better known. In the past, seeing them live has sometimes been as enlivening as watching a cake bake. But at La Cigalle, they brought off a performance which validated their longevity. Since 2008, their leader Louis Warynski's goal has been to marry electronica with the traditional, especially the gypsy. Not as a fusion, but by using violins, cello and flute to overlay a bubbling hybrid of smoothed-out techno and Balearic beats. In effect, taking a non-improvisatory Yann Tiersen to the dance floor. At MaMA it gelled winningly, suggesting Chapelier Fou have become more than the sum of their parts.
Yet Chapelier Fou are – like Tahiti Boy & the Palmtree Family – a bricolage band. Some bands take recognisable constituent elements and concentrate them as an exhilarating whole to produce something new. Others do so with woeful results. Although they went down like billy-o, Last Train are so unimaginative that non-Gallic audiences would be perplexed by the reaction. Their's is a marriage of Oasis and Queens of the Stone Age: their singer must have practised very hard to acquire his Manchester accent. Last Train's absurdity was enhanced by dropping the word "fuck" into their English-language lyrics and then addressing the crowd in French. The roustabout pop trio I Me Mine were much, much more enjoyable, obviously nod Beatle-wards and come over like Dodgy when they were hit-makers.
Of the other concept-based bands drawing from Anglo-Saxon at MaMA, Bristol (pictured below, photo © Jean-Philippe Robin) were an intriguing proposition. Formed by Nouvelle Vague co-founder Marc Collin, their mission is to cover trip-hop songs, just as Nouvelle Vague have covered new wave and other genres on their stylistically thematic albums. Bristol are great on stage, hugely energetic and the live band brings out the gospel and blues angle to what is being covered, but afterwards it's hard to escape thoughts that Collin is taking the easy way when not working on film soundtracks: why is he shy of revealing his own voice?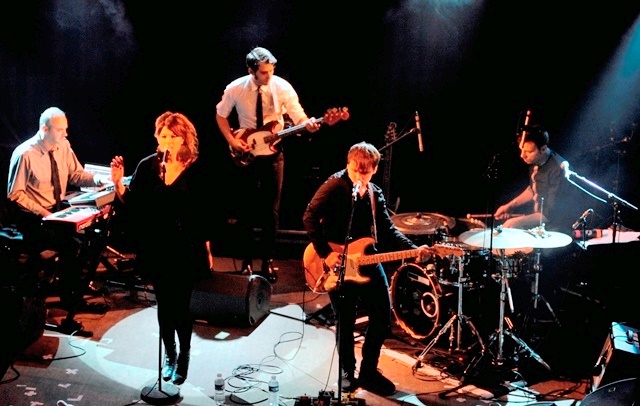 MaMA's highlights raise questions, especially on the tensions between local and imported styles. How much Frenchness is needed to make the connection with an audience? Can a band which draws entirely from non-French influences cut it when compared with the well it is drawing from?
Last Train's audience loves them, yet it's unlikely they are exportable. Tahiti Boy & the Palmtree Family have such aplomb and imagination, the opposite is the case. Each band, though, could have developed anywhere. The avowedly French Tim Dup and Laura Cahen are steeped in, but not in awe of, what evolved along and off the streets where MaMA is held. With its pick 'n' mix approach, MaMA showcases the assorted tastes of France's music. This, then, is why the festival fascinates and stimulates. Just don't expect everything to have a local flavour.
Overleaf: watch the videos for Tahiti Boy & the Palmtree Family's "All That You Are" and Laura Cahen's "Réverbère"
Watch the video for Tahiti Boy & the Palmtree Family's "All That You Are"
Watch the video for Laura Cahen's "Réverbère"