Sunset Song |

reviews, news & interviews
Sunset Song
Sunset Song
Visually stunning, emotionally devastating hymn to rural life from Terence Davies
Thursday, 03 December 2015
Model-turned-actress Agyness Deyn: both determined and vulnerable in Davies's almost mythic drama
There's been a hugely protracted production history behind Sunset Song. Terence Davies first mooted a screen adaptation of Lewis Grassic Gibbon's 1932 novel of northern Scottish farming folk way back in 2000, soon after the success of his Edith Wharton pic The House of Mirth.
But what's emerged, at long last, is classic Davies through and through – luminous and lyrical, sorrowful and celebratory, and, most impressive of all, shot through with an intense compassion for its characters, good and bad alike.
In many ways it's a pretty radical rethink of Gibbon's novel, which charts the fortunes of hardy heroine Chris Guthrie, an independent-minded young woman in what's now Aberdeenshire, from school through to love, marriage and beyond, taking in an abusive father, a mother's suicide and, crucially, her unbreakable connection with the rural landscape she inhabits.
Gibbon is revered for challenging cosy, romanticised depictions of Scotland with his harsh, unforgiving (some might say miserabilist) portrayal of Scottish rural life. Yet Davies remoulds the story into something altogether more symbolic, almost mythic. There's a sense of inevitability to Davies's gently unfolding storytelling, as though what he's showing us is one of the world's great epic stories. But behind it all lies a taut structure and careful pacing. Sunset Song feels every minute of the 135 it lasts, but Davies plays a remarkable Tardis-like time trick: a deceptively slow-moving plot with a huge amount of narrative packed into it.
Model-turned-actress Agyness Deyn is strong, if occasionally a little unreadable, in the central role, combining determination and vulnerability to eminently watchable effect. But it's Scottish actor Kevin Guthrie (pictured above), as Chris's suitor Ewan Tavendale, who sparks the movie into dramatic life. He doesn't appear until an hour or so in – introduced in a solid close-up that tells us everything we need to know about his imminent importance – but his sensitive, (literally) wide-eyed performance is heartbreakingly tender. The film's second act, focusing on Chris and Ewan's idyllic relationship, is its magical, glowing heart, and it comes after the horrifying, mundane violence doled out by Chris's religious-obsessed father. Although whether we really need yet another mad-dad offering from Peter Mullan (pictured below) – strong though he is here – is probably debatable.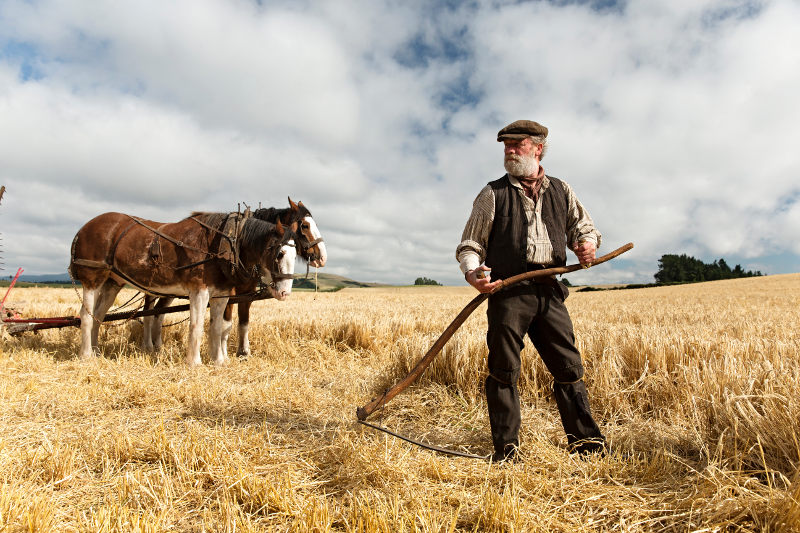 Where the film falls down, however, is in its third act, when the horrors of the First World War intrude on Chris and Ewan's rural idyll. Ewan's return from the trenches brutalised almost beyond recognition strikes a horribly jarring note. And despite the poetry of Davies's slowly moving aerial shot of the war zone – at once beautiful and appalling – his final sequence feels unnecessarily manipulative – in fact, simply unnecessary, since by then we know the facts already.
That said, it's hard not to be swept along by the sheer painterly beauty and emotional intensity of Davies's achievement, conveyed in the visual grandeur of Michael McDonough's remarkable cinematography. It's all a bit too good to be true – as in endless scenes of sun-drenched rippling wheat fields, or a heart-swelling flirtation scene with Chris and Ewan magically surrounded by a scampering flock of sheep. But it's proud of its artifice, and achingly beautiful at the same time.
Sunset Song is quietly devastating in its emotional impact, but its passions are held firmly in check. And Davies's masterful exploration of his underlying themes – the strength of the human spirit, the wonders of nature, even the brutality and fickleness of fate – sweeps everything before them.
Overleaf: watch the trailer for Sunset Song