Toast of London, Channel 4 |

reviews, news & interviews
Toast of London, Channel 4
Toast of London, Channel 4
Jon Hamm and Brian Blessed add more delicious layers to Matt Berry's knowing comedy
Thursday, 03 December 2015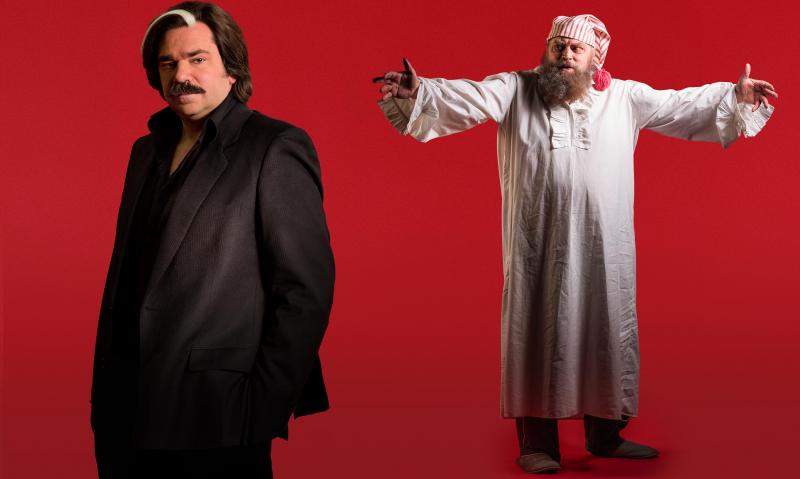 Steven Toast (Matt Berry) and his father (Brian Blessed)
Jon Hamm, Mad Men's swooningly handsome Don Draper, is not only a fine celebrity catch for a series rapidly gathering comic momentum. Since nothing in Toast of London is ever to be taken at face value, Hamm is also two kinds of puns: ham on toast, the snack, and ham, the exaggerated style of acting much in evidence during the show. It all added up to another delicious episode of this extravagantly multi-layered show.
Steven Toast spends much of this episode with a bandage on his head, having fallen through the staircase of Ed's house, which has succumbed to dry rot. It would be a good metaphor for what this show does to its fourth wall: it's not so much subtly flouted, as completely obliterated by the linguistic and narrative games on show here. "Meta" hardly begins to describe it.
Hamm is more than just a useful name here, though: he sends the randy Toast, usually to be found squiring Mrs Purchase (Tracy-Ann Oberman), the wife of his bitter enemy Ray, into a bewildering homoerotic crush, so strong that he spurns the fluttering advances of the comely "model and actress" Pooky Hook. Toast is, of course, the person to understand Hamm's appeal, and scorns agent Jane Plough's warning, until he meets him and is smitten.
The intensity and restlessness of the narrative is distinctive and fresh
As if a pun-led piece of celebrity casting were not enough non-naturalism for one show, the Hammy nature of proceedings in enhanced with a cameo from Brian Blessed as Toast's dying father. For a man quickly fading away, Blessed plays him as both robust of voice and gesture, somewhere between the singer Pavarotti and the late Ian Paisley in a particularly frothy bout of anti-papist outrage.
Though this show has clear, near relatives in recent comedy – Alan Partridge, several Ricky Gervais shows especially Extras, and Radio 4's Ed Reardon just for starters – the intensity and restlessness of the narrative is distinctive and fresh. The characterisation is often somewhere between obvious and offensively stereotypical, but that's not the point. If an episode works – and they don't all come off to the same degree – it's because the writers have managed to make the balance of gags work, and get the timing perfect. If it's not deliciously meta, it will have failed.
You have to be in the mood for a switchback ride to enjoy this. The audience is never given time to settle, with jokes are firing on so many levels, from pantomimic physical comedy to cerebral narrative-level wordplay, at once.
Jon Hamm was a brilliant straight man, the change required in Toast's character deliciously bizarre and unexpected. The effect was nearly spoiled by Blessed's two minutes as the character he always plays, a shouty weirdo. Blessed's role had no meta function: he was just pantomime, though Adrian Lukis just about held everything together as Captain Blair Toast, Steven's entirely Blackadderesque older brother. In the end, it was lovely. Heads up next week for an entirely different kind of disorientation, courtesy of the reincarnated Bob Monkhouse and his ghoulish wife.
The audience is never given time to settle, with jokes are firing on so many levels
rating
Explore topics
Share this article