Classical CDs Weekly: Handel, Reicha, Stravinsky |

reviews, news & interviews
Classical CDs Weekly: Handel, Reicha, Stravinsky
Classical CDs Weekly: Handel, Reicha, Stravinsky
Baroque vocal music, wind quintets and a rare piano sonata from a 20th century giant
Saturday, 20 February 2016
The Thalia Ensemble
Handel: Duetti e Terzetti italiani Roberto Invernizzi (soprano), La Risonanza/Fabio Bonizzoni (Glossa)
Handel's brief Italian period was crucial to his musical development, lasting from 1706 to 1710, just before his arrival in London. Stefano Russomanno's booklet essay to this superb anthology suggests that the combined influences of Italian music, landscape and culture "operated inside him like a kind of baker's yeast", and it's not too fanciful to think that these duets and trios represent a neat melding of Northern European compositional rigour with sunny Mediterranean sensuality. You can't imagine them being better performed than they are here; sopranos Roberta Invernizzi and Silvia Frigato are immaculately matched in the pair of duets they share. Amor gioie mi porge is a warm bath of sound, Va, speme infida's bitterness a stark contrast.
Those particular duets aren't typical; more often Handel prefers to exploit timbral differences, mixing high and low voices. Giù nei tartarei regni teams Invernessi with baritone Thomas Bauer, the pair sinking musically ever lower into the abyss. Handel's settings have an extraordinary vivacity and zest, prompting smiles even when the texts are gloomy. And who needs an orchestra when Fabio Bonizoni's stripped-down, three-person La Risonanza provide such lively backing? Terrific stuff, replete with full texts, and captured in glowing sound.
Reicha: Wind Quintets Thalia Ensemble (Linn)
Antoine Reicha's influence has been more potent than his music. Born in Prague in 1770, his career took in spells based in Hamburg, Vienna and Paris. He was a close friend of Beethoven and his composition pupils included Liszt, Berlioz and Franck. And, unless you're a wind player, you probably won't have heard of him. Nielsen's Quintet is almost a repertory work, but Reicha's 24 wind quintets, much loved by those who've blasted through them, remain concert hall rarities. A flautist, Reicha believed that there was "a dearth of good music for wind instruments" and wanted to give them a body of work as substantial as that available to string players. His quintets, mostly written for the same group of individual players, aren't profound music, but they're great fun. Reicha knew firsthand what each instrument was capable of, the music's technical demands evolving in tandem with the development of the instruments: valves began to appear on natural horns and mechanical keys enabled greater flexibility on flutes and clarinets.
The youthful Thalia Ensemble gives us two of the quintets, dating from 1818 and 1821. Hearing these pieces played on period instruments brings them to vivid life; Reicha's perky flute and oboe lines ring out with pleasing clarity, and the bassoon's bass lines have plenty of wheezy bite. What on paper might look like bland classical noodling sounds witty and colourful. The B flat Quintet's first movement is a case in point, the fast section kicking off with a delectable bassoon solo before the chugging quavers begin. The earlier G major Quintet's Andante has a Mozartian elegance. Reicha's oboist Gustave Vogt was a renowned cor anglais player, and we get as a bonus an attractive operatic slow movement written for him. It's beautifully performed here by Sarah Aßmann. Reicha died in Paris in 1836, his wind music falling out of popularity as the instruments continued to be upgraded. Do your bit for Reicha, and kick-start his revival by buying this charming disc.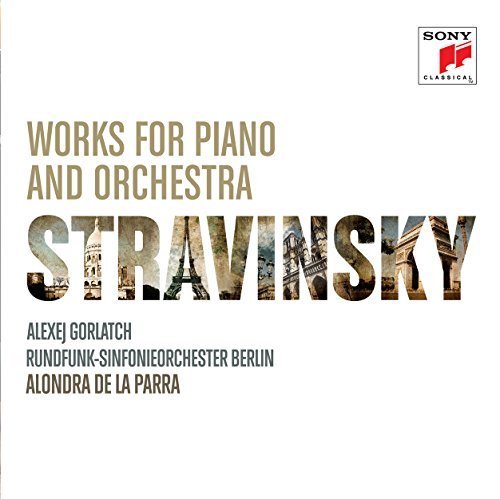 Stravinsky: Works for Piano and Orchestra Alexej Gorlatch (piano), Rundfunk-Sinfonieorchester Berlin/Alondra de la Parra (Sony)
The title of this useful disc is misleading; you won't find Stravinsky's late, dessicated Movements for Piano and Orchestra here, though it could easily have been squeezed in. But Alexej Gorlatch does include the posthumously published Sonata in F-sharp minor. Written in 1904, Stravinsky assumed (and hoped) that the manuscript was lost, and it eventually turned up in a St Petersburg library in 1962. It doesn't sound much like mature Stravinsky, but on its own terms it's a pretty convincing 27-minute work. Tchaikovsky is an obvious influence on the balletic scherzo, and the last movement's clattering close is fun. Alexej Gorlatch's muscular, elegant playing serves the sonata well, his articulation dazzlingly clear.
Stravinsky's Concerto for Piano and Winds is more accomplished, but a harder piece to love; the effervescence that lights up so many of his neoclassical scores is largely absent and the music often feels as if it's going through the motions. But Gorlatch, given idiomatic backing by Alondra de la Parra's Berlin players, is persuasive. The opening wind and brass chords have a pleasing weight, and the fast main section is perfectly paced, its syncopations registering like sharp jabs. Gorlatch's slow, sustained Largo is unusually affecting, the last movement's surprising close a delight. Still more enjoyable is Stravinsky's sparky Capriccio, full of nervy high spirits and not a million miles from Poulenc's Double Concerto. Again, it's phenomenally played, Gorlatch's technical brilliance never obscuring the work's musical substance.
Stravinsky assumed (and hoped) that the manuscript was lost
Explore topics
Share this article