Cleansed, National Theatre |

reviews, news & interviews
Cleansed, National Theatre
Cleansed, National Theatre
Katie Mitchell's revival of Sarah Kane's 1998 play sees it as a ghastly nightmare
Wednesday, 24 February 2016
Realistic atrocities: Peter Hobday and Tom Mothersdale in 'Cleansed'
Although everyone agrees that Sarah Kane was one of the most influential British playwrights of the 1990s, revivals of her work have been few and far between. Now, at last, some 17 years after her suicide at the age of 28 in 1999, our flagship National Theatre has finally decided to stage one of her best works (artistic director Rufus Norris, thank you).
But although she became infamous for the media-fuelled scandal and atrocity-fest aspects of her work, subsequent reconsideration suggests that her main theme was nothing less than romantic love. Now revived by star director Katie Mitchell (thank you once more, Rufus Norris), how does
Cleansed
measure up?
Intensity of feeling, whether of hatred or love, is always uncomfortable
Set in a university that has been converted into a concentration camp and place of torture (surely an ironic joke about our higher education system), the play has four storylines. In the first, Grace, a young woman, searches for her brother Graham, an inmate who has been killed by Tinker, a sadistic camp doctor. In the second, two men – Carl and Rod – explore and test the limits of their love. In the third, Robin, a disturbed youngster, falls in love with Grace when she tries to teach him to read. In the final story, Tinker pays to watch a dancer in a peepshow, and then falls for her.
This highly symbolic drama ranges over both the nature of individual identity (clothes are exchanged, there is cross-dressing and gender reassignment) and the limits of love (would you betray your lover if you had to suffer torture for your love?). At one point, Rod says to Carl, "I love you now. I'm with you now. I'll do my best, moment to moment, not to betray you." In its honest simplicity, it's one of the most moving avowals of love in contemporary British theatre. It also precedes some of the most distressing atrocities you are ever likely to witness.
In the first Royal Court production, directed by James Macdonald, the symbolic nature of the play's situations – influenced by Kane's reading not only of Georg Büchner's Woyzeck, but also of Roland Barthes's A Lover's Discourse and John Ford's 'Tis Pity She's a Whore – was conveyed by an equally symbolic and expressionistic staging. The rush of flowers demanded by the text arrived like darts from above, while blood was represented by crimson ribbons. By contrast, Mitchell adopts a much more literal approach: blood spurts, blood pours, blood trickles. Yes, blood does a lot of work during the evening. Yet Mitchell also focuses on the emotions of torture, with the result that there have been walk-outs and people fainting at some performances. Intensity of feeling, whether of hatred or love, is always uncomfortable.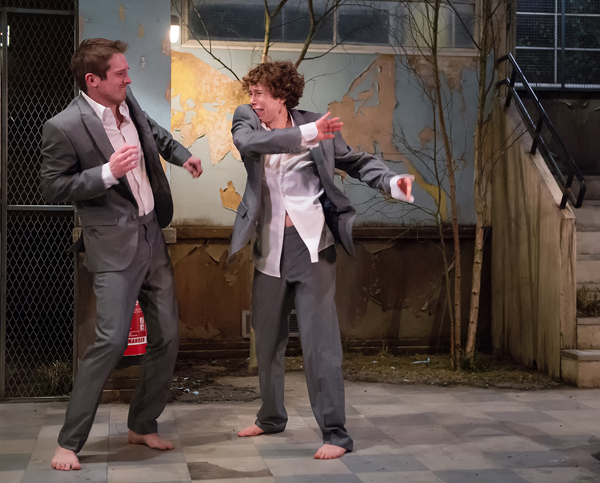 On designer Alex Eales's set, which looks like a distressed hospital, Mitchell explores the feelings of Kane's characters by the bold stroke of making the play take place inside Grace's head. It's a dream of longing, and a nightmare. Michelle Terry, who plays her, gives a very brave and intense reading of her agonised character. She's on stage for all of the 100-minute show, and, along with Graham Butler (Graham) and Tom Mothersdale (Tinker), she powers the story forward. Peter Hobday and George Taylor as Carl and Rod, suffer convincingly, while both Matthew Tennyson (Robin) and Natalie Kramer (dancer) give their characters an appealingly naive and youthful edge.
The stage representation of extreme emotions always forces you to confront your own feelings, your own frailties and your own fears, especially those of the body. A play such as Cleansed also solicits compassion in its portrayal of the victims of violence, and in this Mitchell is successful. But, with its upsetting nakedness and overt acts of brutality, this remains a hard watch. Some of the more frenetic scenes have a woeful lack of subtlety, and Mitchell often prefers to use a sledgehammer when a nutcracker would have done the trick. What gets lost is much of Kane's bleak humour, and some of the redemptive quality of the play.
This production is described as "unflinching" in its publicity materials. Well, if you don't flinch during some of the most acute scenes you need to have your central nervous system examined. I spent most of the vile torture scenes with eyes firmly closed, and many of Mitchell's additions to the text – ringing bells, cinematic music, slow-motion dark-hooded figures, black umbrella dance moves – struck me as unnecessary. The strongest moments are the brief gestures of tenderness, and the wilder explosions of feeling (Michelle Terry, pictured above). And Mitchell's production is at its very best when it conveys a desolate kind of beauty and a vivid picture of emotional extremity.
If you don't flinch during the torture scenes you need to have your central nervous system examined
rating
Explore topics
Share this article