theartsdesk at WOMADelaide |

reviews, news & interviews
theartsdesk at WOMADelaide
theartsdesk at WOMADelaide
Adelaide edition of the world music festival has its own distinct atmosphere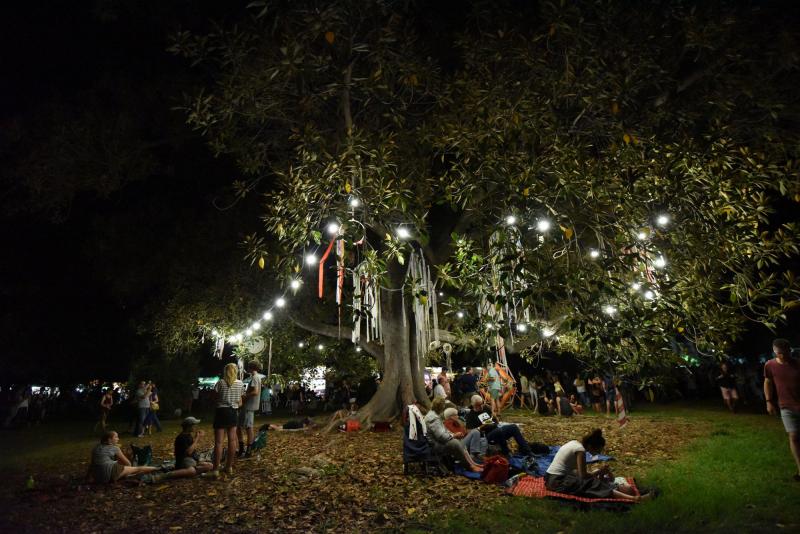 WOMADelaide at Botanic Park, a better setting than UK's Charlton Park
Since its UK debut in 1982, the WOMAD festival (World Of Music, Arts & Dance) followed its uncertain first steps and early threat of bankruptcy with a swift consolidation and expansion. By the time its first decade had passed, WOMAD was busy spreading around the globe, spawning alternative manifestations in Spain, Italy, New Zealand and the UAE.
Not all of these were successful: attempts to colonise the USA eventually failed (Seattle, San Francisco), but along with the long-established twin Spanish weekenders, they have enjoyed a remarkable longevity with WOMADelaide, the Australian version, now running vigorously since 1992. It's a significant part of the general Adelaide Festival Of Arts.
As a veteran of the UK foundation event, I couldn't help making comparisons. The WOMADelaide performance programme isn't as hardcore as Charlton Park, with fewer live act stages and more repetitions over its four days. This is no real disadvantage, though, and still presents difficult choices when faced with clashes made by acts only giving a single performance. In a few cases, there's the opportunity to catch a band twice, but this can lead to an exciting difference of mood, comparing a sunny afternoon set with a night-time showing, artists usually choosing to play largely different material. Also, the fourth day of the Adelaide incarnation features a full Friday night programme, as opposed to the sparser opening Thursday evening at Charlton Park. WOMADelaide runs from Friday through to the Adelaide Cup holiday Monday.
The setting of the Botanic Park is superior to Charlton Park. Here, there's an abundance of looming trees and well-groomed grass. Indeed, the crowds themselves appear equally tidy, as this is not a camping weekender. The grounds lie just on the edge of the city centre, easily accessible for walkers, although the scale of WOMADelaide does tend to attract visitors from the rest of Australia. If we miss the grubby abandonment of Charlton Park, we can also note that many folks are garbed as if for a normal gig rather than a festival. This doesn't impede the family instinct to stake out a permanent rug-sprawl for the weekend, and WOMADelaide's strict rules on standing or sitting performances tend to impose an unwanted control element. "Don't tread on my child!" was the most memorable cry of the festival. And so, to the music itself…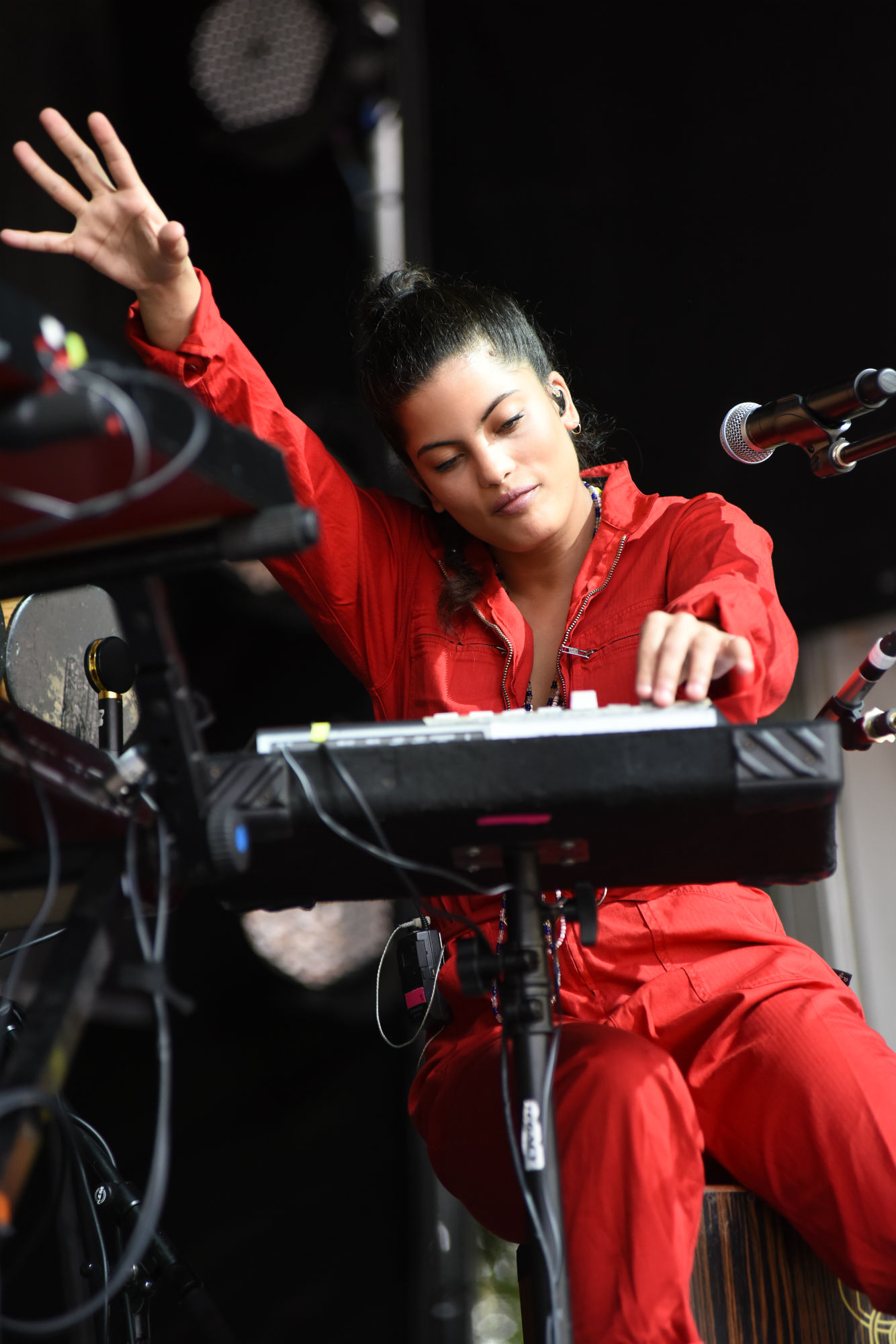 A pair of Stateside outfits stand out on Stage 2, both veterans of between two and three decades, still retaining their ample powers. Chief songsmith Gordon Gano and bassman Brian Ritchie have reconvened the Violent Femmes, sadly without original drummer Victor DeLorenzo. They've all had harsh battles in the past, but that hasn't prevented Gano and Ritchie getting back together again. John Sparrow has been sitting on the drum stool for only a few months.
In keeping with the WOMAD ethno-ethic, both the Femmes and Calexico filter rootsy styles through their rock visors. The snarling, punky Femmes might be descended from the Velvet Underground, but there are also large dollops of gospel and country present in their sound. It takes them a while to get heated, being virtually the festival's opening act, but by the time they reach "Add It Up", the energies have become quite demented. "He looks just like an American tourist," I hear one girl observe with wonderment, as if puzzled how Gano could be making such threateningly nihilistic music whilst sporting a floppy hat and surfer shirt
Calexico mash across the border, twisting rock'n'roll up with Mariachi, surf-twang with Tex-Mex, lounge exotica with Southern Rock. Although singer and guitarist Joey Burns is usually centre stage, fellow axeman Paul Niehaus has grown into a formidable foil, his solos frequently igniting a song, booting it heavenwards. The twin trumpet section (one of them doubling on vibraphone) step forward for spotlight moments, with lead vocals also being shared out, maintaining a constant dynamism within the band. Their afternoon Saturday set was fine, but the darker Sunday performance had the edge, stinging into the night, prompting more dancing from a crowd that had now fully immersed itself in the festival experience.
French-Cuban twin sisters Ibeyi (pictured above right) had an early Sunday afternoon set on Stage 2, hyper-boisterous and dedicated to livening up the crowd, prancing around in their red boiler suits, not unlike CocoRosie. Ibeyi's rapport is now refined, both between each other and the audience. Their voices combine in joyous harmony, united by keyboards, minimal Latin percussion, triggered electro-beats and laptoppery. The speaker stacks chew up their bass content and spit it out beautifully low, mixing up organic content with a synthetic foundation, the relationship perfectly judged.
Clustered fruitbats hung upside down, squeaking en masse – either in pain or in sympathy with the sonics, who could tell? St. Germain (otherwise known as Ludovic Navarre) is beginning a fresh phase in his career, following a hiatus studying West African music. The Frenchman's new ensemble features a spread of players, nearly all of them hailing from different African nations, adding the embellishments of electric kora, saxophone, percussion and guitars to Navarre's substantial beat-pulse base. Initially, it's all very arresting, plump with Afro-jazz deep house power, but over the course of the set, some impetus is lost, with the hooks and momentum sometimes sailing adrift. Nevertheless, this is a worthy climax to the Sunday night, and the extensive summer touring to come will doubtless strengthen this band/project.
The weekend's best folksters arrived from England and Canada, in the shape of Spiro and The Jerry Cans, the latter combining fiddle and accordion jumpers, descended from Celtic traditions, with the Inuit throat-singing of Nancy Mike, many of the songs delivered in the Inuktitut tongue. She also plays accordion, and is married to the thrusting singer-guitarist frontman Andrew Morrison. The intense Australian heat is difficult to handle when you've travelled right down from Nunavut, in the Canadian Arctic, but this energised crew manage to prompt equally lively dancing amongst the crowd.
Spiro, from Bristol (pictured below), also took advantage of double-set syndrome, their early showing on the main Foundation Stage not coincidentally concentrating on the slower, atmospheric side of their repertoire, soothing the stretched-out picnic punters. The previous day, in the early evening, sprinting, dense numbers were given full rein, the interplay between their fiddle and acoustic guitar possessing a heightened, accelerated folk form, surely a result of the band members being avid Steve Reich listeners. It's as if a purist English tradition had become intensified by a diet of systems music, perhaps a natural result of this foursome knitting together on such a regular basis.
The leaders in the tranquility stakes were Indian slide guitarist Debashish Bhattacharya and the Gyuto Monks Of Tibet. Bhattacharya played two sets, and relaxing though the first night's late show was, the final day's 3pm performance was truly masterful. Again, these extended pieces are often calming, but then sneakily, Bhattacharya escalates into a virtuoso speeding up of runs, often staggering in their intricacy. At times it's approaching prog-Indian, a heightened manifestation of the customary raga experience.
Is it appropriate to applaud a ritual? The end-of-night Gyuto Monks set on Saturday follows on from St Germain, in the secluded extremity of Stage 3, the audience mostly seated, and in this case, naturally, without strict orders. The rough-throated, multiphonic chanting would be perceived as out-there extremity in other situations, but as part of a meditation, folks are drawn inside a soundworld that they might otherwise reject. There's the occasional big-horn blast, but this performance is mostly devoted to vocal chanting, and provides an affectingly tranquil way to prepare for the homeward drift.
Afrobeat champion Seun Kati doesn't mince words during his lengthy between-songs lectures We will call this the 'fuck section' of the review. For some mysterious reason, the final Monday evening featured a run of artists who were determined to ignore the family-friendly nature of the weekender, liberally cussing throughout their sets. Perhaps this was deliberate, or maybe they'd just emerged, blinking, from their tour buses, and hadn't wandered around absorbing the general vibrations.
John Grant's perverse personality becomes apparent when witnessing his live performance stance, crammed with twitchy individuality and anti-rockstar moves, like a roadie let loose, although the end result is to make him into an actual exaggeration of a rock star, open and uncaring about what folks think of him. Grant comes across as a general communicator, marrying old-fashioned pop-penner qualities with disruptive electro-earthshock quaking. His humour jags from dark to chirpy, his songs gripping and stroking the underbelly in turn.
Grant is somewhat political, but in a personal way. Nigerian Afrobeat champion Seun Kuti is more concerned with the politics of colonialism and capitalism, not mincing words during his lengthy between-song lectures, although these haven't changed much over the past five years or so, and neither has his repertoire. Even so, the sprawling Egypt 80 assist Kuti in steadily building up the energy, shedding his impressive blue-and-yellow patterned outfit and eventually reaching trance blowout proportions, via insistent choruses and searing alto saxophone soloing.
New York sleaze-blues outfit Hazmat Modine were playing on the Novatech Stage, which benefited from being right beside a cluster of tall trees where clustered fruitbats hung upside down from the branches, squeaking en masse – either in pain or in sympathy with the sonics, who could tell? Founder Wade Schuman funnels all the energy through his rustily amplified harmonica, and since I last caught this combo, he's added violinist and singer Mazz Swift, who adds significantly to the spread of guitar, saxophone, drums and old hand tubaman Joe Daley. Their bluesy core is surrounded by vintage jazz, funk, gospel and New Orleans parading, imparting a cellar dive vibe on the be-batted glade.
Asian Dub Foundation weren't overly interested in cussing, even though this might be expected. Their throoming drum'n'bass'n'punk'n'rap lies midway between retro and still-radical, but their sonic assault spreads dancing all around the Foundation Stage, providing a suitably bombastic finish to the weekend. The most unusual move is to highlight Nathan Lee's flute, a 'soft' instrument found in a hard context, harsh overblowing creating a mixture of breathy and beatboxing sounds.
WOMADelaide is an excellent festival experience. Though fundamentally akin to the UK WOMAD originator, its verdant setting and non-camping nature means it possesses an atmosphere that's distinctly its own.
John Grant marries old-fashioned pop-penner qualities with disruptive electro-earthshock quaking
Explore topics
Share this article