Dutch Flowers, National Gallery |

reviews, news & interviews
Dutch Flowers, National Gallery
Dutch Flowers, National Gallery
Paintings that capture the dramas and anxieties of an age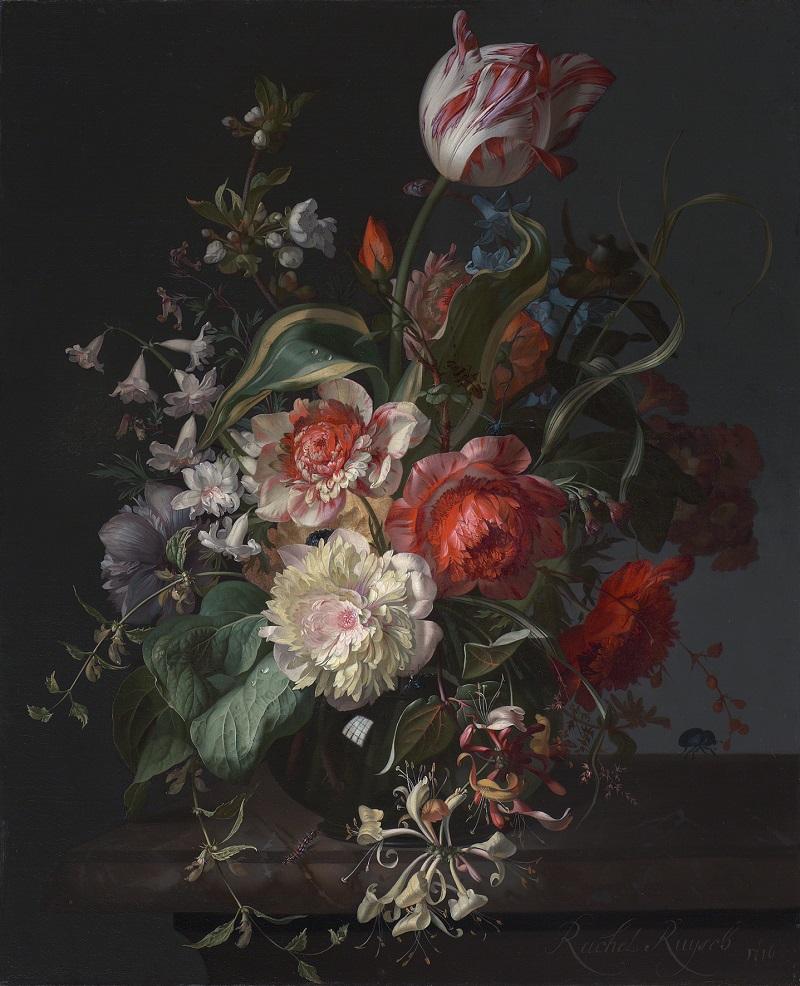 Rachel Ruysch, 'Flowers in a Glass Vase with a Tulip', 1716
This exquisite exhibition reminds one of the sheer pleasure of looking. It is small – just 22 works in all – but it presents UK audiences, for the first time in almost a generation, with an opportunity to explore the art of Dutch flower painting, spanning nearly 200 years. In our everyday lives we enjoy flowers for their prettiness, their freshness and graceful fragility, but here we can be exhilarated and enraptured by them as well.
These works show how gorgeous and profound Dutch flower painting can be. For the great art historian Ernst Gombrich, each picture was a vanitas – a meditation on youthful beauty, the brevity of life and the inevitability of death and decay. Some of these vases of flowers seem to represent complete parables in themselves. Indeed, these pictures can be viewed on many levels – from the perspective of the gardener, the botanist, the historian, the theologian, the economist, the art historian, and the painter. But perhaps the most powerful contemporary sentiment they convey is the idea of art conquering time: making something beautiful, that is prone to withering, last for ever.
The exhibition traces the origins of the genre from the early 17th century, through its great flowering in the Dutch Golden Age, to its more swaggering incarnation in the late 18th century. A little under half of the works on display are from private collections – many being shown for the first time. The earliest examples are small enough to be handled like a miniature, and are made to be looked at closely. Some are painted on copper panel, the smoothness of surface ensuring that no painted detail, including the fine brushwork, is lost to the eye.
And how this close study is rewarded! We see every variety of flower, every petal, every drop of dew, every blemish, every variety of moss or feather in a bird's nest, and every insect (from industrious bees and tiny ants, to spiders and caterpillars dangling by a thread). We also see windows reflected in the convexity of the translucent glass vases – intended to mirror the interior in which the picture was to be hung.
Jan Brueghel the Elder, Ambrosius Bosschaert and Roelandt Savery are all featured here: they were among the first artists to produce paintings that exclusively depicted flowers (pictured above right: Ambrosius Bosschaert the Elder, Vase with Flowers in a Niche, about 1615). This innovation is directly linked to a scientific interest in botany and horticulture, and a new booming international trade in exotic cultivated flowers. Jan Brueghel's beautiful Still life with Tulips, Chrysanthemums, Narcissi, Roses and Irises and other Flowers, 1608-10 – on loan from a Hong Kong private collection – was painted for a Cardinal in Milan (pictured below left).
We know from the Cardinal's correspondence that what he loved about this painting was the fact that it provided him with an opulent, everlasting garden, even when the snow fell outside. The display is completely unnatural, with flowers from many different seasons presented symmetrically, and the most noble given prominence. But each is minutely studied from nature, a mark of their rarity and expense (many flowers were recent imports to the Netherlands, and the tulip – grown from seeds, introduced to Western Europe from Istanbul – was so desirable that it inspired 'tulipmania' and horticultural crime). These flowers represented capital: a rare tulip bulb could cost two times a master carpenter's salary. "The excitement and passion that flowers could arouse," writes Paul Taylor in his fascinating book on the genre, was therefore "of a wholly different order to any floral emotion which exists today."
From these hieratic displays, brilliantly coloured against black backgrounds, we move on to works like those of Jan Davidtz de Heem and Rachel Ruysch, which are more illusionistic, elegant and sinuous, with their flowers overlapping. The real revelation are Ruysch's works, which have depth, movement, sensuality, and a dramatic play of light and dark shadow: flowers like the brightly lit honeysuckle and white apple blossom stand forward, others bend backwards so that they round out the bouquet in space (main picture: Rachel Ruysch, Flowers in a Glass Vase with a Tulip, 1716).
As we approach the 18th century, we can follow the evolution in taste for different flowers, from prize tulips and irises, and cultivated roses, to double hyacinths and exotic fruits like pineapples (cultivated from the last quarter of the 17th century). The heady luxury of these lighter, more decorative 18th century panels presents us with a vision of hospitality and abundance. Jan Van Os's delicious pictures of fruit and flowers of the 1770s are almost too much: he could perhaps be described as the Quentin Tarantino of flower painting, showing us luscious fruits displaying their innards, rotting plums and tumescent melons.
The only quibble with the exhibition is the lack of accompanying materials – a booklet or an audio guide (the information desk therefore describes it as a display). While there is a website feature, this is not enough for the many visitors who will want to have an informative souvenir of a beautiful exhibition, which, even though it is timed to coincide with the Hampton Court and Chelsea Flower Shows, is about so much more than horticulture.
The Quentin Tarantino of flower painting shows us luscious fruits displaying their innards, rotting plums and tumescent melons
rating
Share this article