Everybody Wants Some!! |

reviews, news & interviews
Everybody Wants Some!!
Everybody Wants Some!!
'Dazed and Confused' director subverts the campus sex comedy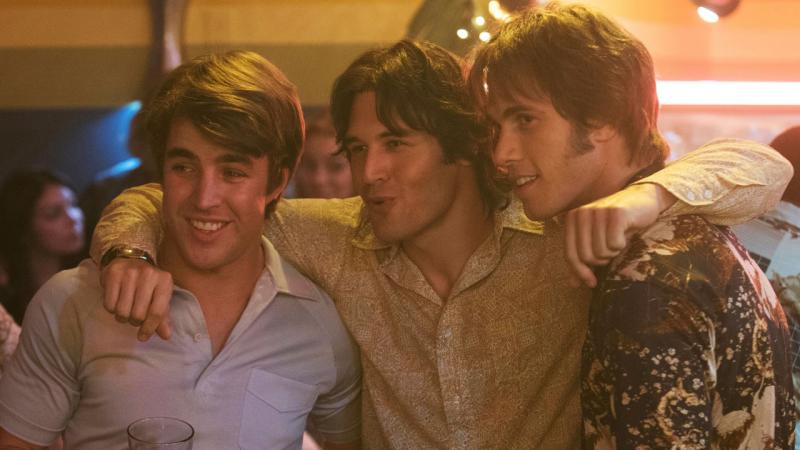 Where the girls are: Plummer (Temple Baker), Roper (Ryan Guzman) and Jake (Blake Jenner) inspect their options
After Dazed and Confused, college days. This successor to Richard Linklater's 1993 cult favourite about high school hedonism in 1976 moves on to the start of a 1980 college term. Everybody Wants Some!! is named after a Van Halen song instead of the earlier film's Led Zeppelin but, with the Reagan years yet to kick in, little culturally essential has changed. The pursuit of sex, drugs and rock'n'roll remains these American kids' inalienable right.
Linklater has observed that, as well as being a "spiritual sequel" to Dazed and Confused, this starts where the Oscar-winning Boyhood ends, with a boy's first weekend at college. Jake (Blake Jenner) is the high school baseball star moving into the college team's off-campus house, days before his first class. His new teammates range from naive fellow freshmen to mature stoner Willoughby (Wyatt Russell), maniac pitcher Jay (Juston Street) and slippery, articulate Finnegan (Glen Powell, pictured below, right).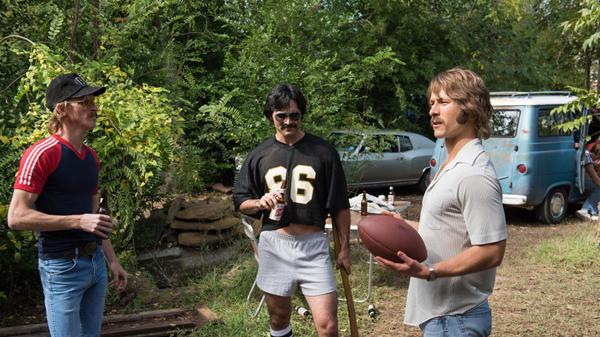 The constant quest to get laid leads them from a disco to a country bar, punk club and arts ball, where Jake romances performing arts major Beverly (Zooey Deutsch, pictured below with Blake Jenner). Everyone's searching for their place as much as sex. The brief barings of tits and ass which the male-gazing protagonists obsessively pursue recall Animal House and other rude, crude campus comedies. But the supposed jocks here are as sensitive as anyone else, discussing feelings and hopes in between boisterously sexist chat which would get them non-platformed at 21st-century colleges. The elite baseball milieu also means these aren't "loser" heroes, but would-be American winners.
Comparisons to Dazed and Confused, though, do the new film few favours with audiences, as the pungent, rock'n'roll-infused atmosphere of its 1976 Texan town isn't recreated in anonymous college dorms and bars. Everybody Wants Some!!'s young cast may well break out as Ben Affleck, Matthew McConaughaney, Milla Jovovich, Parker Posey and Renée Zellweger did from Dazed and Confused, but Jenner's Jake is more casually confident in his first hours on campus than I can remember anyone being, and Deutsch's Beverly is bland as the film's sole female character.
Linklater has been an innovator since Slacker (1991) caught a time of work-ethic resistance among his languid peers, with the semi-animated Waking Life, real-time, single-set Tape and 12-year-shoot of Boyhood among later experiments. Linklater the nuanced populist of School of Rock and nuanced romantic of the Before Sunrise trilogy are other sides of a director who's forged an observational, often autobiographical, humanist path in a Hollywood which still doesn't trust him (Everybody Wants Some!! took 10 years to make and was barely released in the US). All those strands are picked up to some extent here. Because this assumes the shape of a film of familiar, immediate pleasures, watching its quiet, rambling progress wrong-foots and underwhelms. Linklater's non-judgemental observations of thoughtfully unpredictable characters do, though, make it linger in the mind.