Mustang |

reviews, news & interviews
Mustang
Mustang
Riveting drama about five Turkish sisters under house arrest
Sisters in distress: from left to right, Selma, Nur, Ece, Sonay, and Lale
Teenage girls in the West who routinely abuse their parents for imposing midnight curfews, cancelling suspicious sleepovers, and insisting bra straps be concealed should hope that they are not suddenly dragged along to see Mustang.
The discerning among them would likely be bowled over by the outstanding feature debut of the Ankara-born, French-educated filmmaker Deniz Gamze Ergüven. On the other hand, our daughters would be irked by having no grounds to complain about anything again after realising how fortunate they are not to be subjected to the restrictions imposed on high-school girls raised in ultra-conservative rural Turkey.
The role played by fundamentalism in their lives is vague; the tone is more secular than religious
Co-written by Ergüven and Augustine director Alice Winocour and a prizewinner at Cannes last year, Mustang is like a Turkish The Virgin Suicides with only a fifth of the carnage. It tells the story of five adolescent sisters – Sonay, Selma, Ece, Nur, and Lale – who were orphaned 10 years previously. After Lale (Güneş Sensoy), the barely pubescent protagonist and retrospective rueful narrator, sorrowfully parts from the Istanbul-bound teacher who's her de facto mother, the girls scandalise the narrow-minded locals by romping innocently with some boys in the Black Sea surf. Why not? School's out for summer.
As a result, their grandmother (Nihal G. Koldas) and her ill-tempered surviving son Erol (Ayberk Pekcan) virtually imprison them at home, which they fortify to stop them escaping, though that doesn't stop Sonay (Ilayda Akdogan), the assertive eldest, sneaking out to have sex (at no cost to her virginity) with the boy she loves. When the girls are allowed out in their grandmother's company, they are forced to wear "shapeless, shit-coloured dresses". A succession of aunts is imported to teach them to cook as the house becomes, in Lale's words, a "wife factory".
These aunts, doubtless disempowered emotionally and physically when they themselves were young, are more sympathetic than the grandmother, a careworn woman grieving for Erol's dead brothers and desperate to marry off the female charges she inherited reluctantly. One aunt makes Lale smile when she shows her how to make chewing gum. When football-mad Lale leads her sisters on a POW-camp-style breakout, so they can go and watch Trabzonspor play Galatasaray in a match from which male supporters have been banned, the TV cameras pick up the ecstatic girls in the crowd causing the grandmother, alerted at home, to faint. But another aunt heroically sabotages the house's electric circuit and then the village's so Erol and his mates never spot the AWOL sibs.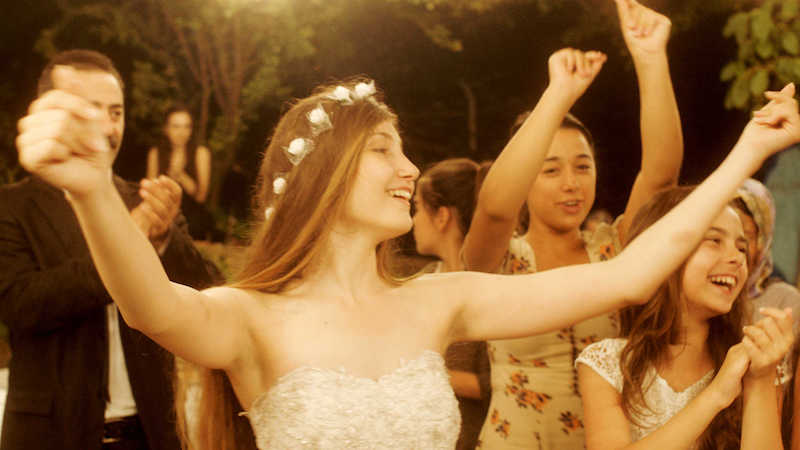 This is lovely comedy, but the mood turns harrowing when it becomes clear most of the sisters will be forced to become the servile wives of older men, equally powerless and unenthusiastic, whom they neither know nor love. The exception is Sonay, who insists on marrying her boyfriend. On the day she does, Selma (Tugba Sunguroglu) is hitched to an unsmiling twentysomething with zero personality or interest in her. As the delighted Sonay dances (Ilayda Akdogan pictured above), Selma cynically drains as many discarded liquor glasses she can find, an indication of what her future holds. Sexual abuse meted out to Ece (Elit Iscan) and then to Nur (Doga Zeynep Doguslu) prompts Lale to take action on the eve of Nur's wedding, bringing about a siege that briefly turns the house into a haven, and then a chase in darkness that was confusingly staged.
Mustang is an immersive experience but not quite a powerful movie. Beyond the fact that the girls are oppressed, the role played by fundamentalism in their lives is vague; the tone is more secular than religious because Turkey is a secular country. Shorn of such context, the film seems insular and unworldly. It neeed a subplot, possibly, to shed philosophical or sociopolitical light on the girls' predicament.
A potent storyteller, nonetheless, Ergüven dexterously harnesses the hand-held camerawork and the throbbing low-mixed score to steer the film into sinisterness. She is blessed by her five young actresses, especially Sensoy – whose refusal as Lale to be tamed gives the film its name – and Sunguroglu as Selma. She suffers the indignity of being probed by a doctor who is called in her suspicious husband and in-laws after she fails to bleed on her wedding night. "I slept with the entire world," she beautifully deadpans.
One of Mustang's grace notes is a mostly silent montage that enfolds the fretting grandmother, Lale escaping to the roof of the house to survey the countryside she's forbidden from exploring, and Nur being prepped for marriage. It captures the sense of drift and hopelessness that characterises the gradually emptying home from which Lale knows she will soon be ejected into some unfeeling stranger's bed and kitchen. There awaits for her, though, the gleaming Bosphorus, a symbol of hope not as distant as it seems.
Overleaf: watch the trailer to Mustang