CD: Leyla McCalla – A Day For The Hunter, A Day For The Prey |

reviews, news & interviews
CD: Leyla McCalla – A Day For The Hunter, A Day For The Prey
CD: Leyla McCalla – A Day For The Hunter, A Day For The Prey
A Haitian-American singer-songwriter with a unique sonic signature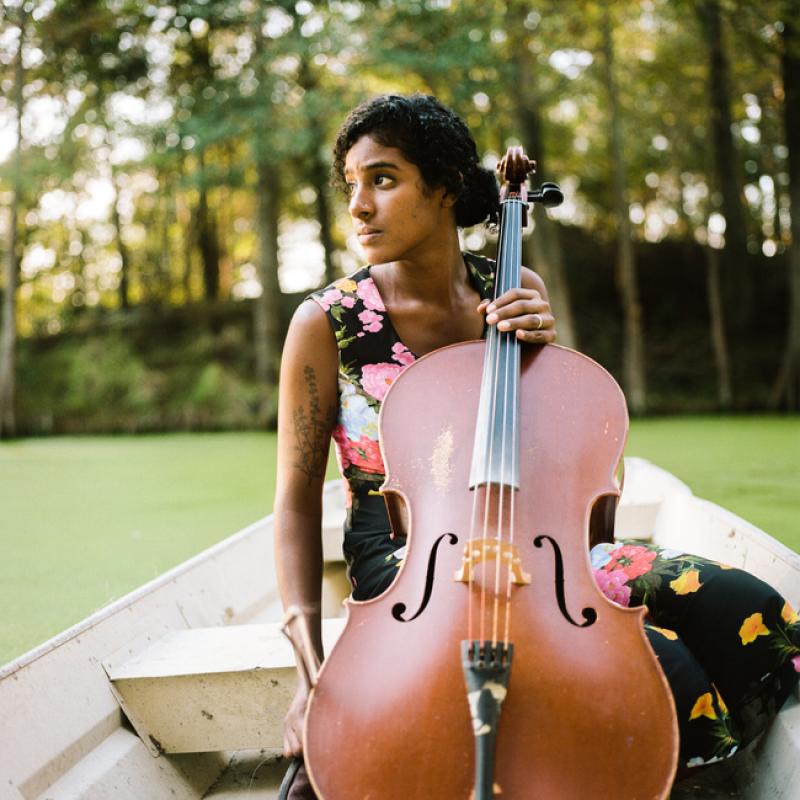 'Laidback yet sensuous delivery': Leyla McCalla
Brave is the songwriter who sets a piece of classic poetry to music, never mind creates almost a whole album of such Frankenstein creations. Poetry is meant to work against silence, not compete for attention with melody and rhythm. Yet miraculously this New York-born Hiatian-American singer-songwriter granted new life to a number of Langston Hughes poems on her haunting 2013 debut album Vari-Coloured Songs by bringing light (in both senses of the word) to weightiness.
The languid melancholy "Heart of Gold", in particular, would surely have delighted Hughes with its indearing oddball charm.
McCalla's aesthetic has changed little for album number two, but that's no bad thing. The arrangements are still sturdy but simple, exploiting the beautiful tone and physical presence of a handful of instruments she clearly loves; cello perhaps first and foremost but also acoustic guitar, banjo, viola and fiddle. One imagines the title track growing like an oak from an acorn, from the bouncing of the bow on those rope-like cello strings, until a melody and lyrics presented themselves like manna from Heaven.
The songwriting is stronger here, too, perhaps due to the fact that McCalla has relieved herself of the heavy responsibility of doing justice to the words of a 20th-century literary great. Instead she delves more deeply into her Haitian background with covers of traditional songs as well as originals. Tom Waits's old sideman Mark Ribot delivers his standard angular guitar solo to the tradition Haitian song "Peze Café", and Rhiannon Giddens of the wonderful Carolina Chocolate Drops (who McCalla also performs with) adds perfect vocal harmonies on the lovely Manno Charlemagne song "Maman".
But let's not forget to talk about that voice. There's something deeply reassuring about McCalla's effortless laidback yet sensuous delivery, with the timbre reminiscent here and there of the sadly missed Lhasa (who died in 2010), but with more warmth and less tension in the delivery. I was a latecomer to the porch party, only hearing the first album once I'd been made aware of this new one, and only seeing her delightfully unaffected live show for the first time just a couple of weeks ago, but all in all I suspect this highly original songwriter and musician will end up my personal discovery of the year.
One imagines the title track growing, like an oak from an acorn, from the bouncing of the bow on those rope-like cello strings
rating
Explore topics
Share this article