Cameron and Farage: Live, ITV |

reviews, news & interviews
Cameron and Farage: Live, ITV
Cameron and Farage: Live, ITV
The big hitters from either side of the referendum debate lost to an impressive audience
Outie and Innie launch their ill-advised comedy double act
Never in the field of human voting has so much been demanded of so many by so few... Triggered by a moment of prime ministerial hubris and made reality by a Tory leadership bid and the relentless UKIP catcalls, the referendum is putting control of our EU membership into the hands of a British public who are heavy on emotion, but light on facts.
Not that this is surprising. When predicting the future, points tend to be moot, and this has meant that both campaigns have been based largely on fear and self-interest. The one thing that has shone through so far is a horrible disregard for the British public – the racist language and spurious figures tossed about have given the impression that both camps are relying on a rich seam of votes from spiteful, ill-informed little Englanders.
Chair Julie Etchingham had to steer Farage away, like a put-upon landlady ushering a drunk from an empty argument
So expectation going into this "audience with" style questioning of David Cameron and Nigel Farage (oddly referred to as a debate, despite being nothing of the sort) was not high. The balance in two rabid libertarians disagreeing on how best the land would lie for them to realise a laissez faire dystopia, was hard to see. And, in any case, if this is the choice on offer, is there not a Bully's special prize? A gamble where we simply hand these two back in the hope that, behind a spinning backdrop of Winston Churchill, we'll find a blister pack of sleeping pills and a half-decent bottle of scotch?
Whether prearranged or decided on the toss of a coin (which will, given current exchange rates, have lost half its value while in the air) Farage was first up, his trademark pint replaced by a glass of water. Actually, given his unfathomable accusation, during one spectacularly off-message segment, that the biggest crime of Big Pharma was to leave alternative therapies out in the cold, it could have been homeopathic beer.
This could have also explained the jaw-dropping moment when, cornered by an impressively dogged questioner on his remarks linking the rape of women to migrants, an under-pressure Farage ordered her to "calm down" before choosing to dismiss the topic as a "tiddly little issue". I'm sure I could hear the entire Brexit PR team going into group seizure, yet he seemed to get away with it.
While undoubtedly good at holding a room, Farage obviously doesn't like being talked back to. His often boorish and hectoring approach left our chair for the evening, Julie Etchingham (pictured below with David Cameron), having to steer him away from a particular point, much like a put-upon landlady patiently ushering a drunk regular from yet another empty argument with weary resignation.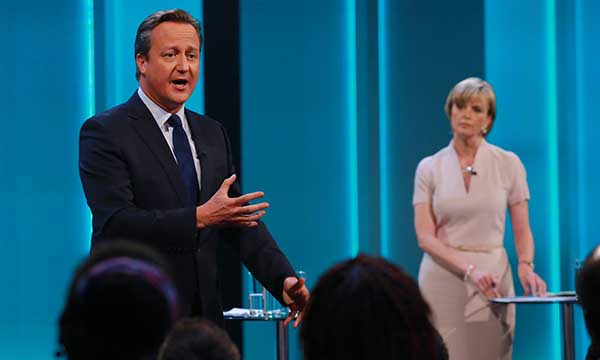 Cameron was up next, giving the electorate a choice in exactly the same way that slow asphyxiation is an alternative to a sudden heart attack. While the PM wanted to talk about the economy, the audience wanted to talk about immigration. Thankfully for Cameron, if he were an X-Man, rephrasing the question would be his mutant power, so although these questions were markedly tougher than anything he's had to face in PMQs for the last year or so, he didn't actually ever answer them. He just sounded like he did.
He'd clearly been briefed to use positive words. Thus we are, apparently, a nation of "leaders" and "winners". This doesn't extend, one assumes, to the steel industry, the last vestiges of which have probably been used to build a Faraday cage out the back of No.10 to protect Cameron and Osborne from the colossal shitstorm that will follow either outcome.
Cameron's strongest argument seemed to be that not liking something is not a reason to walk away from it. This is the thinking that has, for decades, been used by loveless couples as their broken marriages stagger resentfully on until the kids are at college. While not "quitters", I doubt either individual, at any point, feels much like a "leader" or a "winner" either.
Back in the studio, people want to know who won. The easy answer is the audience, whose considered questioning and occasionally dogged pursuit of a straight answer were genuinely refreshing and enlightening. For the most part, we're better than our politicians seem to believe and no matter what our status on June 24, the vast majority will still be eyeing Parliament with deep suspicion and mistrust. Good.