DVD/Blu-ray: Wim Wenders - The Road Trilogy |

reviews, news & interviews
DVD/Blu-ray: Wim Wenders - The Road Trilogy
DVD/Blu-ray: Wim Wenders - The Road Trilogy
Beloved wanderers of the New German Cinema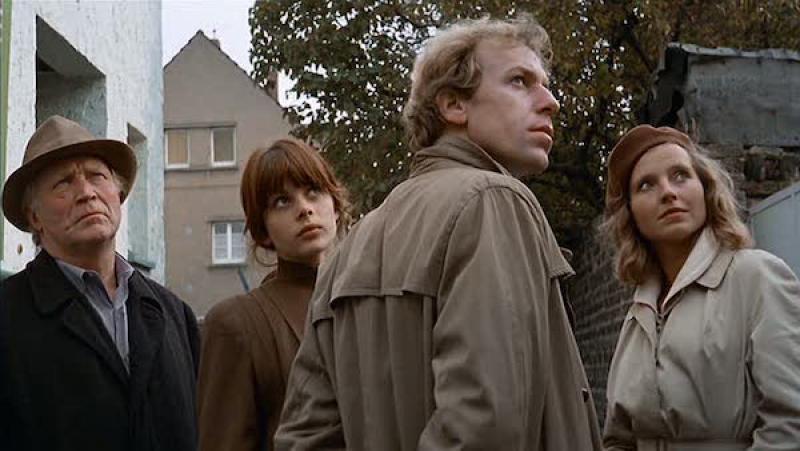 Something in the air: Hans Christian Blech, Nastassja Kinski, Rüdiger Vogler, and Hanna Schygulla in 'Wrong Move'.
In the mid 1970s, the German director Wim Wenders quickly and cheaply made three road movies that, taken together, can be considered the apogee of the genre. The Criterion Film Collection, which has released them in in the US as Blu-ray and Region 1 DVD sets supplemented with new interviews, outtakes, and two early Wenders shorts, has not yet added them to its UK release roster.
His British devotees now face the existential dilemma of whether to pay over the odds for the discs with the devalued pound – or to wait for a local street date.
Alice in the Cities, Wrong Move (the lone colour entry here), and Kings of the Road, all starring Rüdiger Vogler as a detached but empathetic traveller, weren't conceived by Wenders as a trilogy. However, the experience of watching one after the other reinforces their alienation theme exponentially – and, through the accumulation of small, insouciant acts of kindness and efforts to connect, emphasises the generosity of spirit that characterises later Wenders road movies like Paris, Texas and the underrated Land of Plenty and the angel diptych Wings of Desire and Faraway, So Close!
In Alice, Vogler plays the disaffected German journalist Philip Winter, who has failed to complete a writing assignment on the American landscape – Robby Müller's downbeat cinematography draws on photographer Robert Frank's The Americans, 1958 – and has alienated his New York girlfriend. Heading home, he is improbably trusted by a lovelorn young woman (Lisa Kreuzer, then Wenders' wife) to shepherd her nine-year-old daughter Alice (Yella Rottländer, an astonishing presence) to Amsterdam. Though it's Alice who controls their subsequent travels in northern Germany – the child leading the man – the touching father-daughter relationship they develop inevitably rejuvenates him. Their journey is filled with emotional grace notes and innumerable shots of West Germany's near-dystopic urban-industrial-pastoral chaos. (Pictured above: Rottländer, left, and Vogler.)
Vogler's character in False Move, adapted from a Goethe story by Peter Handke, is blocked writer and repressed bachelor Wilhelm who, on a train trip to find himself, teams up with a destitute former Nazi (Hans Christian Blech), his mute acrobat companion (12-year-old Nastassja Kinski in her debut), an actress (Hanna Schygulla), and an aspiring poet (Peter Kern). The movie traces the dissolution of their friendships – Wilhelm tragically failing to return the actress's love – against a scenic backdrop that might have been painted half-heartedly by Caspar David Friedrich, the 18th- and 19th-century Romantic artist whose epic landscapes, seascapes, and nature paintings were co-opted by Nazi propagandists. Wilhelm can escape neither his melancholy self-absorption nor the shadow of recent German history.
Kings of the Road, the finest of the three films and at three hours the longest, leisurely depicts the journey on the East-West German border of two laconic males: Vogler's earthy cinema projector repairman and Hanns Zischler's depressed child psychologist, who is given a ride in the former's truck – as well as dry clothes and coffee – after driving his Volkswagen into a river. They connect as best they can and one of them has a fling with another Lisa Kreuzer character; womanlessness and the prevailing social aridity define them individually and as temporary companions (pictured below: Zischler, left, and Vogler).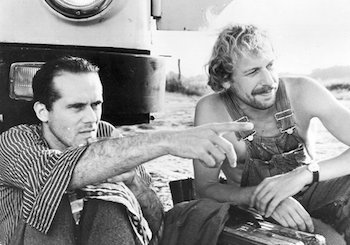 In making these three films, Wenders redefined the "road" – which also means airports, stations, motels, and pit stops – as a locus of drift and yearning contextualised by the morning after the dark night of the German soul. They reflect how the post-war Germany in which he grew up was culturally colonised by America – as cool as can be, the movies embrace Chuck Berry, Canned Heat, John Ford's Westerns, and jukeboxes. Wenders in turn Europeanised a genre associated, via Easy Rider, Five Easy Pieces, and Two-Lane Blacktop, with American counter-culturalism and earlier with film noir, the style of which was rooted in German Expressionism. The hipster films of Wenders' friend Jim Jarmusch are the chief legatees of this pop cultural vision; another is the British director Chris Petit's Radio On. Whether cultural colonisation or cross-pollination, the pattern of exchange is a gift that keeps on giving.
As cool as can be, these movies embrace Chuck Berry, Canned Heat, John Ford's Westerns, and jukeboxes
rating
Share this article