Labyrinth, Hampstead Theatre |

reviews, news & interviews
Labyrinth, Hampstead Theatre
Labyrinth, Hampstead Theatre
Drama about 1970s South American debt is too long, too derivative and too predictable
Thursday, 08 September 2016
Trading in debt: Tom Weston Jones in 'Labyrinth'.
Ever since Lucy Prebble's hit masterpiece, Enron, opened our eyes to the possibilities of staging plays about global finance in a thrillingly theatrical way, the hunt has been on for another story that can be as informative and as well staged. Step forward Beth Steel, whose Wonderland, her previous play at this address, looked at Yorkshire miners in the 1980s Miners Strike.
Now she travels across the pond in the late 1970s, to look at the similarly arcane activities of New York bankers. This time her characters are not the good sons of toil, but at the bad boys of spoil.
Sadly, much of the storytelling is banal and plodding
Beginning in 1978, Steel uses the familiar device of introducing a novice, name of John, who joins a bank and is inducted, by his mentor Charlie, into the practice of lending millions of dollars to the governments of South American countries, in order to fund various infrastructural projects such as power stations. The trouble is, as Charlie cheerfully admits, most of these projects won't ever get built, and most of the money will disappear into the pockets of the ruling elites. At first, the working-class and hardworking John is shocked – then he gets used to "the system".
As this epic story unfolds, years pass and John moves from one South American country to another, and the play jumps from Brazil to Argentina to Mexico and Central America. A large cast of characters, from other whiz-kid bankers to assorted government officials and International Monetary Fund dignitaries, cross and re-cross the traverse staging, which is decorated with labyrinthine lighting designs by Andrew D Edwards (pictured below). John's rather thin character, which is at first unconvincingly naive, is deepened by the inclusion of Howard, his big boss, and Frank, his father. We are told that Frank has died so his arrival on stage is presumably that of a ghost, or a figment of John's mind, which comes under increasing strain.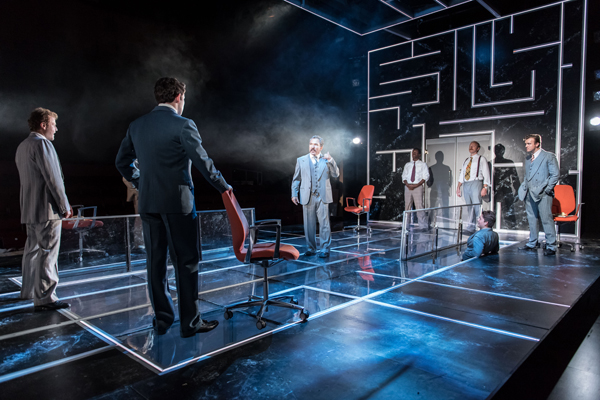 As John's mental equilibrium is unbalanced when the South American debt system hits the buffers, resulting in defaults, so the comparison between John's unethical activities and those of his father, who was a smalltime swindler, grows stronger. Like father, like son seems to be the message, and, in a play that lacks conflict, John has to grapple with Frank – since he has no other worthy antagonist. At moments, it seems that Grace, a financial journalist, might step up to the plate – but her intervention is morally mild and its effect disappointingly minimal. So despite a few striking passages, as when a waiter compares the effects of debt to that of a tsunami, the storytelling is banal and plodding.
As usual nowadays, the politics of the piece are not exactly very radical either. This is a story of how banks made millions in profits and then, when their system collapsed, they were bailed out by the IMF, and by the rich countries of the world. If you have ever felt helpless in the face of big finance, then this play will not help you either as a documentary or as an inspired call to arms. Steel's play ends with an explicit parallel between South America in the past and Greece today, a move that only proves that no change is possible — the most reactionary of messages. All that Labyrinth does is to confirm our feelings of hopelessness.
Anna Ledwich's free-flowing production has some good music, but cannot resist the temptation to give the show a pseudo-Enron sheen, despite some messy choreography. However, there is little joy, and less metaphorical oomph, in her visual imagination, and this becomes merely a play about boring but self-aggrandising men in suits. Of the large cast, Sean Delaney is the callow John, Tom Weston Jones the dynamic Charlie and Philip Bird an increasingly sinister Frank; they are well supported by Martin McDougall as Howard and Elena Saurel as Grace. But despite their good work they really cannot save a show that is too long, too derivative and too predictable.
Despite the good work of the actors, they really cannot save a show that is too long, too derivative and too predictable
rating
Share this article