Bridget Jones's Baby |

reviews, news & interviews
Bridget Jones's Baby
Bridget Jones's Baby
Renée Zellweger and Colin Firth star in a sparkling return to form for the franchise
Wednesday, 14 September 2016
'You need to get laid': Bridget Jones goes glamping
If you happened to catch the second part of the Bridget Jones story – Bridget Jones: The Edge of Reason (2004, directed by Beeban Kidron) - on terrestrial television recently, or have read the character's creator Helen Fielding's novel Mad About the Boy, you may be confused by the opening sequence of the third instalment in the film franchise, Bridget Jones's Baby.
It begins with Bridget, single and childless at 43, sitting alone in her flat on her birthday, with a glass of wine and a cake with a single candle, singing along to "All By Myself". Didn't Mark Darcy, the love of her life, propose to her in the second film, or isn't she his widow in that book?
Well forget all that, because Sharon Maguire (who directed the original movie Bridget Jones's Diary in 2001) is back as director and this is probably the sequel that had been planned all along, and it certainly makes more sense. In this world, the wedding to the dreamy but uptight Mark never happened, she no longer smokes, nor is obsessed with counting calories, and she has a responsible job in television, where she is a news producer. Those who found the original incarnation of the ditsy and dithering Bridget in Fielding's newspaper column tiresome (however much she defined the zeitgeist, or however brilliantly it spoofed feminism and the media) will love this version of her – happy in her skin, and played again with winning luminosity by Renée Zellweger.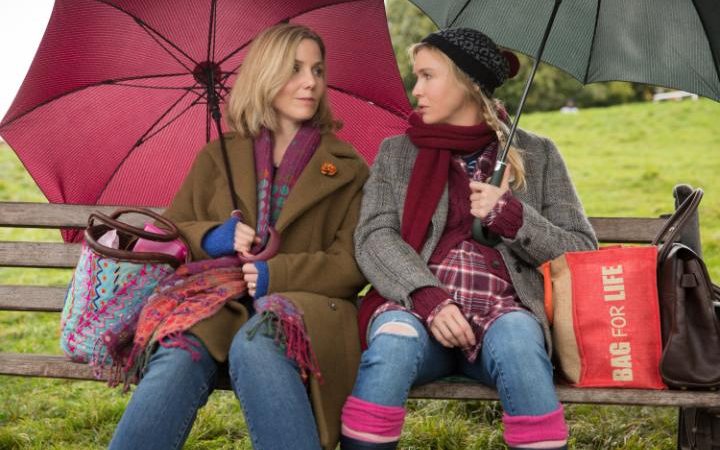 Enough of the meta-criticism, because this is a very entertaining film – and new fans can start here, even if there are some cracking in-jokes that can be fully appreciated only if you have seen the previous two movies. We move swiftly from Bridget's flat and workplace to a scene which explains the absence of bad boy and occasional love interest Daniel Cleaver (Hugh Grant, here in photographic form only), once memorably described as a "deceitful, sexist, disgusting specimen of humanity". In walks Mark (Colin Firth), with his soon-to-be ex-wife, which under the rules of romcom means that he and Bridget will, of course, bump bodies soon enough. The absence of Cleaver, meanwhile, creates a vacancy for a love rival...
Her friends now all having settled down and had children - even the once feckless Shazzer (Sally Phillips, pictured above with Zellweger) - Bridget also has a new set of younger friends from work, chief among them Miranda (Sarah Solemani, doing a winning turn as the news anchor on the show Bridget produces). "You need to get laid," she advises the birthday girl, as they head off to a music festival, where she meets single millionaire Jack (Patrick Dempsey), who has created a massively popular dating app. How apt...
Two one-night stands later, armed with only a decade-old packet of biodegradable eco-condoms (are they even a thing?), Bridget is pregnant, but who is the daddy? There follows male rivalry as much for paternal rights as for Bridget's heart.
The film follows the usual course of romcom – misunderstandings, thwarted love, elation and fallings-out – but it's in the surrounding stories that much of the comedy lies. Writers Fielding, Emma Thompson and Dan Mazer have lots of fun with the media's obsession with youth and shallowness (Bridget's new boss, surrounded by uniformly bearded acolytes, just wants scandal rather than news), and Thompson does a lovely turn as Bridget's seen-it-all obstetrician. Modern obsessions, such as Instagram and glamping, get a kicking too - "calling him Gladolf Hitler wouldn't suddenly make us forget all the unpleasantness".
There's a tiresome and overlong journey to the hospital when Bridget goes into labour, but it's the one major misfire in an otherwise tightly directed film. It ends – happily of course, but not necessarily ever after - on a colossally good sight gag, which neatly tees up part four in the franchise. Bring it on.
Overleaf: watch the trailer to Bridget Jones's Baby
Two one-night stands later Bridget is pregnant, but who is the daddy?
rating
Explore topics
Share this article