Beyond Caravaggio, National Gallery |

reviews, news & interviews
Beyond Caravaggio, National Gallery
Beyond Caravaggio, National Gallery
Blood, sweat and sex appeal: endlessly imitated, the Italian bad boy was in a league of his own
Wednesday, 12 October 2016
Michelangelo Merisi da Caravaggio, 'The Taking of Christ', 1602
Cheekily bottom-like, their downy skin blushing enticingly, these must be the sexiest apricots ever painted. If you held out your hand, you might just be able to touch them, there in the foreground of what is thought to be Caravaggio's earliest surviving painting. Echoing the skin tones of a boy absorbed in the act of peeling fruit, the light highlights his hands and his downcast eyes make us voyeurs in a scene of unexpected sensuality.
As setting the scene goes, it's an excellent choice, and its somewhat tentative attribution is fitting for an exhibition dominated by the work not of Caravaggio himself, but his followers and fans.
The painting (pictured below right) contains many of the elements that Caravaggio's patrons and fellow artists found so seductive, with dramatic lighting effects combining with subtle naturalism and compelling composition to implicate the viewer in tense, emotional encounters. The evocation of sensual experience, often through the inclusion of still life, recurs in various guises throughout his career and is one of his most powerful techniques for making us active participants in his paintings.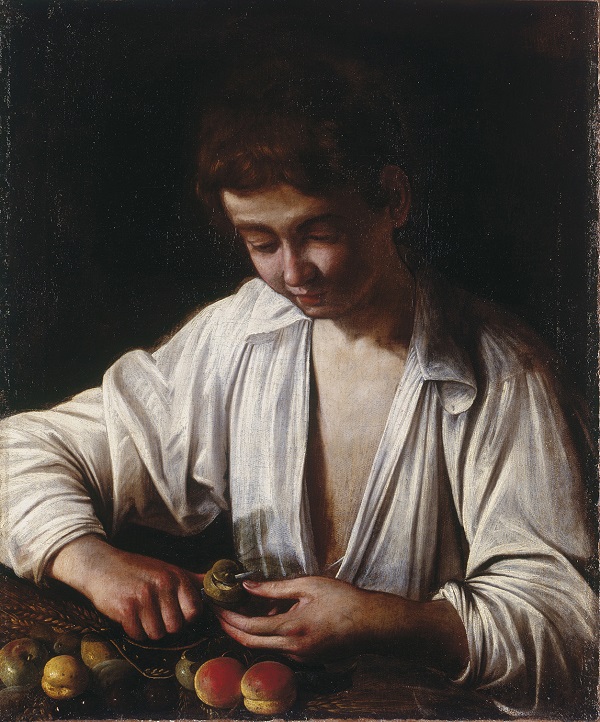 St John the Baptist's rough attire of animal skins has traditionally emphasised his poverty, but in Caravaggio's hands, beautifully rendered furs make looking at Saint John the Baptist in the Wilderness, 1603-4, a tactile, sensual encounter. Viewed in isolation, with no narrative context, the idealised body of the saint is an object not of religious contemplation, but of desire. Blatantly – surely almost blasphemously – sexualised, it is astonishing to think that it could ever have hung above an altar.
If looking at – and for Caravaggio, painting – beautiful young men equates to the act of touching them, he engages the viewer equally well by appealing to their senses in more subtle, less decadent ways. The Taking of Christ, 1602 (main picture), reunited here with The Supper at Emmaus, 1601, and two other paintings that in the 17th century were part of the same collection, throws us into a scene of noise and confusion. Close-cropped to push us up close to these rough, hairy soldiers, the painting is as tightly packed as the rush hour tube, and with all the leather, and armour and sweat, it might almost be as smelly. Placing the action close to the picture plane was a well-established compositional device, but here the close-framing of the action and the sense of a moment suspended, supplies the vivid immediacy of a pap shot: if any painter can be said to have anticipated photography, surely it was Caravaggio.
One of the few painters able to match this dynamic, compelling style was his friend Orazio Gentileschi, whose magnificent David and Goliath, about 1605-8, combines both elegance and violence. The unusual viewpoint is not only arresting to look at: in truly Carravagesque fashion we tower over the fallen figure of Goliath, granting vicarious access to David's moment of triumph, while simultaneously allowing us to enjoy the scene as onlookers.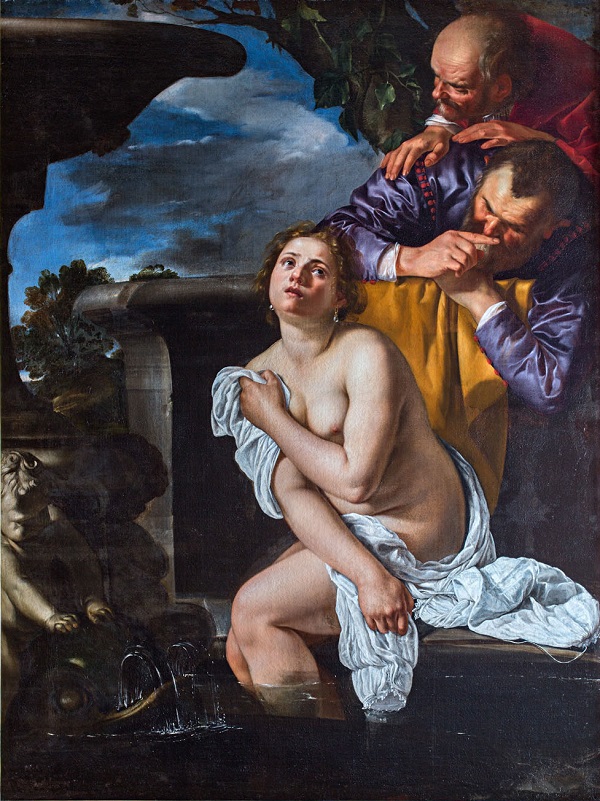 By providing so many examples, both good and bad, of works by Caravaggio's imitators, it is possible to analyse the qualities that make Caravaggio stand apart. Much as he was celebrated for his naturalism – which incidentally was beyond the pale for some, like Ruskin, who took exception to Caravaggio's depiction of roughnecks and lowlifes – in his figures, the naturalism is all in the faces, whose subtle facial expressions need more than just a glance to read. The dynamism of the paintings comes from bold, demonstrative gestures that articulate a fast-moving narrative, but also shape an overall visual scheme. The naturalism of the faces slows us down, because we need more time to read them, and the effect is of time suspended. Combining naturalism and artifice like this is no easy matter, and in the rooms of this exhibition you can see that the dramatic lighting that came to be synonymous with Carravaggio was by far the easiest aspect of his style to imitate.
One painter who managed to convey emotion and narrative through a combination of composition, lighting, narrative and naturalism was Artemisia Gentileschi, daughter of Orazio. Her painting Susannah and the Elders, 1622 (pictured above), depicts this Biblical subject from a female perspective, the composition implying that like Susannah, we too are in the water, subjected to the leering attentions of the men leaning over her.
Gentileschi – father and daughter both – were exceptional though, and so many of the paintings here are failed attempts to duplicate Caravaggio's naturalism and sensuality, the playful and the erotic so easily sliding into ludicrous parody.
If the emotional intensity of Caravaggio's paintings was rarely emulated successfully, his use of chiaroscuro, deploying strong contrasts of light and shade, was widely copied, in Italy and beyond. The exhibition conjures an evocative picture of Rome as a place bustling with artists from all over Europe, and it was the community of Dutch painters who would adapt Caravaggio's lighting effects into a genre of its own, with nocturnes, and candlelit scenes his principal legacy in the years after his early death.
The scene is as tightly packed as the rush hour tube, and almost as smelly
rating
Share this article