Rogue One: A Star Wars Story |

reviews, news & interviews
Rogue One: A Star Wars Story
Rogue One: A Star Wars Story
The Star Wars franchise detours down a side-turning to a raw new direction
Thursday, 15 December 2016
Daddy's girl: Jyn Erso (Felicity Jones) makes amends
Whether you use its optional subtitle A Star Wars Story or not, Rogue One arrives with a diminutive air.
Filling in some infamous but minor dopiness in the original
Star Wars
– why build the Death Star with such a fatal design flaw? – it's essentially
Episode IVa
, a footnote to the main event like
Caravan of Courage: An Ewok Adventure
or, more accurately, the numerous cartoons, novels and comic-books which have kept the franchise ticking during its core triple-trilogy's lifetime-spanning longueurs. In fact, director Gareth Edwards has expanded his story to its maximum while keeping it lean, raw and morally murky, outdoing
The Force Awakens
in the most satisfying instalment since
The Empire Strikes Back
.
Even this prologue has a prologue, recalling Tarantino's Inglorious Basterds opening as Imperial Director Krennic visits the windblown farm where his former, brilliant scientist employee Galen Erso (Mads Mikkelsen) has retreated from his noxious duties, to be with his wife and young daughter, Jyn. Galen's child watches as he's cruelly snatched back into decades of work on the Death Star, and the sense of flesh and bone in this chilly scene, building on the newly explicit Nazi-style oppression seen in The Force Awakens, is maintained for much of Rogue One.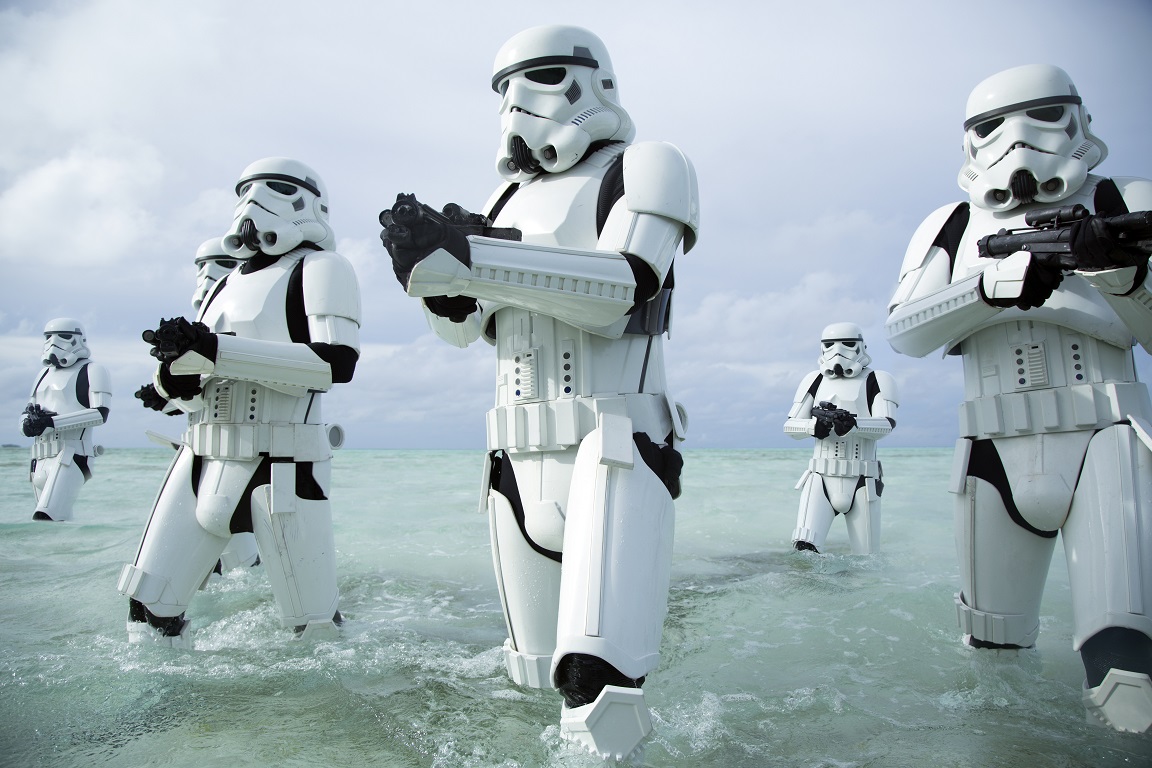 Chris Weitz and Tony Gilroy's sharp-witted screenplay also brings the Rebel Alliance nearer to such an organisation's reality, admitting the saboteurs, assassins, bomb-makers and killers of innocents with which the French Resistance functioned and, in the breakaway, black-cloaked wing led by Saw Gerrera (Forest Whitaker), their own mujahideen. The adult Jyn (Felicity Jones) is kidnapped by one of those ruthless Rebels, Cassian Andor (Diego Luna), so she can be exploited to get close to dad Galen, snuffing out him and his work on the rumoured, nightmarish Death Star. As in The Force Awakens, there is an Imperial pilot defector (played with quietly damaged, gradual heroism by Riz Ahmed). As with the dirty white armour of Stormtroopers on an occupied planet here, his moral grey is more matter of fact than the Force's former, conflicted white and black knights. With Donnie Yen's blind Jedi adherent Chirrut and Jiang Wen as his assassin companion, this film's ragtag, polyglot company also stand in happy contrast to the white Californian-looking humans of '77's Alliance.
Dirty realism only goes so far in Star Wars, of course. The final reel includes a series of epic, sometimes overlong space and land battles, from the rain-lashed planet where the Death Star has been researched to the beaches and forests of the planet where its secrets are filed, with Star Destroyers lumbering and fighter pilots darting in their hundreds overhead.
The film's timeframe and advances in technology allow old favourites' return, motion-capture presumably reanimating Peter Cushing's Grand Moff Tarkin – here a merciless bureaucrat in a turf war with Krennic, with the Death Star as an instrument of office politics – and Carrie Fisher's young Leia, alongside R2D2, C3PO and a Darth Vader whose two short scenes make him memorably Gothic, resting in a crepuscular castle, and slaughtering terrified, trapped Rebels like a rampaging Dracula. Ben Mendelsohn (above), the most reliably dangerous actor working, makes Krennic an earthier, striving, worried villain, rationalising oppression and seeing the beauty in an explosion killing millions. Luna gives this film's Han Solo, Cassian, a nervous, appealing edge. Jones matches him where she can as an underwritten but effectively tough, farm-girl heroine. Cleverly extrapolating from and fixing faults in the original Star Wars, our own digital present makes the physical nature of the Death Star's crucial plans seem equally odd. But this is still, self-consciously, science-fiction from 1977.
Probably the Proustian rush of John Williams's theme (held back here) will become threadbare, as the Star Wars universe competes annually with Marvel's for the box-office empire, until its simply effective DNA disintegrates. But not yet.