Best of 2016: Theatre |

reviews, news & interviews
Best of 2016: Theatre
Best of 2016: Theatre
Several National Theatre knock-outs, a corker or three at the Court, and Billie Piper packed a wallop
Tuesday, 27 December 2016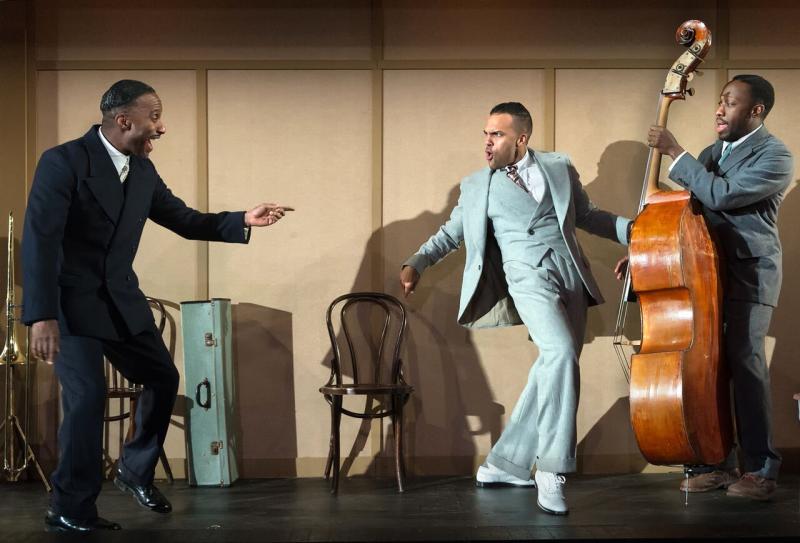 Overwhelming: O-T Fagbenle (centre) in `Ma Rainey's Black Bottom'
Life threw numerous, possibly irrevocable curveballs at us all during 2016, which in turn made one even more aware of how lucky we were to find ourselves in the midst of so much sustenance by way of art.
Time and again throughout the year, one applauded an unexpected casting choice that resulted in triumph (
Lucian Msamati's Salieri in Amadeus
, to name but one) or a return to the fold (Glenda Jackson's Lear) that made one wish that performer had never gone away. As ever, the willingness of major names to commit to the stage –
Mark Rylance
and
Ralph Fiennes
come to mind – kept star wattage burning bright, while the year also brought newcomers like
Tyrone Huntley
and
Anthony Boyle
to welcome, and much-deserved, attention. (The latter was the breakout star of the year's breakaway commercial hit, the richly entertaining Harry Potter diptych.)
In compiling the list below, one could have come up with another 10 to jostle at least half this line-up out of position, but one has to stop somewhere, much as one wishes to commend Ian McKellen's gleeful star turn in No Man's Land, the unbridled savagery of Ralph Fiennes's Richard III, the unfettered commitment of the director Phyllida Lloyd's all-female Shakespeares, and the microscopic intensity that writer-director Alexander Zeldin continues to refine into stinging results in his latest play, Love. From this list, the National's Ma Rainey remains a playgoing highlight of many a rewarding year, so gets ranked first, alongside nine others I shall not soon forget.
1. Ma Rainey's Black Bottom, National Theatre / Lyttelton
"Wow," a colleague seated several seats further along mouthed to me as the lights came up on the press night interval of Dominic Cooke's overwhelming revival of the late August Wilson's debut Broadway play. And, really, that exclamation said it all, enfolding in a single breath a level of achievement that deserved far broader exposure than its limited National Theatre run. (Denzel Washington has the same play on tap as part of his ongoing attention to Wilson's formidable corpus of work that includes the current film of Fences.) But with respect to the major artists who have intersected with this play over time, I can't imagine a team to better the company Cooke assembled to relate Wilson's immortally powerful dissection of racism turned inwards, as refracted through the story of the diva-ish 1920s blues singer Ma Rainey (the magisterial Sharon D Clarke, pictured above) and the band – the volatile trumpeter Levee (O-T Fagbenle, unforgettable) chief among them – who await her arrival during one long, loquacious Chicago recording session. The production won the 2016 Olivier Award for Best Revival but, truly, no kudos can be too great.
2. Cuttin' It, Young Vic/Royal Court Jerwood Theatre Upstairs
The title left little doubt as to the grim terrain encompassed by playwriting newcomer Charlene James's Evening Standard Theatre Award-winning two-hander about female genital mutilation, but what surprised moment to moment was the even-handedness – one might go so far as to say grace – with which James approached difficult territory in a play that was seen at multiple addresses during the year. James's contrapuntal monologues posit two Somali-born but London-based teenage girls on opposing sides (up to a point) of a debate that one might assume is all but closed. The effect, under Gbolahan Obisesan's acute direction, was to humanise the kind of choices that no one should ever have to make while allowing the young actresses Tsion Habte and Adelayo Adedayo to display the kind of onstage kinship that, at the Court performance I attended, found the audience rising as one to their feet at the curtain call.
3. Cyprus Avenue, Royal Court Jerwood Theatre Upstairs
This play from the aptly named author David Ireland – a co-venture with Dublin's Abbey Theatre – was the dramatic stealth bomb of the year: an unnerving portrait of bigotry that seems even more profound in retrospect as society at large seems increasingly willing to allow hatred its unfettered voice. Certainly there was no restraining the thoughts or actions of the truly gasp-inducing Eric (Stephen Rea, in the standout male performance of the year), a Belfast loyalist who gets it into his head that his infant granddaughter might just be Gerry Adams. What ensued coupled hilarity and horror with Martin McDonagh-esque ease, all the while granting Ireland a singularity of voice in one of two productions – Al Smith's Harrogate towards year's end was the other – that turned the Court's tiny studio theatre into the most terrifying place in town.
4. Escaped Alone, Royal Court Jerwood Theatre Downstairs
If Nero did indeed fiddle while Rome burned, why shouldn't the quartet of women in Caryl Churchill's characteristically startling play chat over tea while the world at large careers towards calamity? That was the prevailing conceit for this 50-minute work from easily the most audacious English playwright out there: that rare writer who breaks new formal and thematic ground every time she steps up to the plate. Consisting of quotidian conversation across a series of summer afternoons, the play allowed each of its sterling actresses their individual moments as dramatic soloist, the first among equals being that peerless Churchill veteran, Linda Bassett (pictured above), whose reports from the apocalyptic front line were ominous indeed. James Macdonald's production returns for a short run next month prior to a New York transfer: don't miss it.
5. Iphigenia in Splott, National Theatre / Temporary Theatre
It was 2015, not 2016, that gave the Greek canon London theatrical pride of place, and one can't imagine that the bolshie young Welshwoman, Effie, at the centre of Gary Owen's terrific solo play would pay the classics much mind in any case. But by the time the tornado of talent that is the actress Sophie Melville had spun Effie's narrative to its wounding conclusion, this modern-day, mouthy Iphigenia had more than earned her keep as a character who ranks aside many a notable forebear when it comes to encompassing fury and remorse, compassion and an overriding determination to charge fearlessly on. Rachel O'Riordan's production found a perfect London home in a venue, the National's Temporary space, that has since been dismantled: the play is much missed, and so is the playhouse.
6. A Midsummer Night's Dream, Shakespeare's Globe
An inaugural to celebrate, Emma Rice's debut production as the newly appointed artistic director of Shakespeare's Globe has since achieved added significance following the news that Rice is soon to relinquish a job she has barely started – the victim, it seems, of a reaction to the very innovations that made this Dream such a joy. Those included the use of amplification and proper stage lighting at an address that has done without, alongside an irreverence towards the letter of the text while at all times honouring its spirit. Indeed, and after two visits to this production (on both the opening and closing nights), I'm not sure I will easily readjust to seeing Helena played by a woman, so entirely sensible, and performed to perfection, was the male Helenus of the staging's discovery, Ankur Bahl (pictured above with Ncuti Gatwa: photo by Steve Tanner). The evening throughout was funny, provocative, and unexpectedly moving, its neon-lit epigraph, "Rock the ground", both a quotation from the play and a pithy emblem of the production's defining spirit.
7. Sheppey, Orange Tree Theatre
There's something especially satisfying that comes with finding an unfamiliar title from a well-known name, which meant that part of the revelation of Paul Miller's wonderful production of Sheppey was discovering, first off, that the Somerset Maugham play from 1933 even existed. And what a play: telling of a barber who comes into money but decides to give it not to his expectant wife and daughter but to non-family members who could use the cash far more, Maugham seemed to anticipate the better-known work of his fellow dramatist, JB Priestley, in his inquiry into the byways of charity and what it means to be socially engaged. And in the title role of the eponymous Sheppey, so named because he was born on the island of that same name off the coast of Kent, the sweet-faced John Ramm lifted the narrative to the level of near-allegory while ensuring that a three-act play lasting nearly as many hours sent one newly awakened out into the night.
8. Travesties, Menier Chocolate Factory
A memory play featuring an unreliable narrator and an unexpected collision of characters, Tom Stoppard's 1974 Travesties reemerged in a defining Menier Chocolate Factory production from the playwright Patrick Marber that managed to locate the tremulous pulse – and the odd musical interlude as well – from a play often relegated to the heady realm of a Stoppardian Mensa test. In fact, there was nothing forbidding on this occasion about a text that was gut-bustingly funny but ruminative and melancholic, too. Focusing on a motley assemblage of thinkers, artists, and politicos who happened to converge in Zurich in 1917, Travesties on this outing possessed the energising kick of a theatrical tonic that one would scarcely have expected from its last London appearance, in 1993. All credit, therefore, to a cast headed by Tom Hollander and Freddie Fox, both in career-best form, not to mention the magpie mind of a dramatist who keeps so much in the air simultaneously that a giddy audience felt as if they could spin their way home.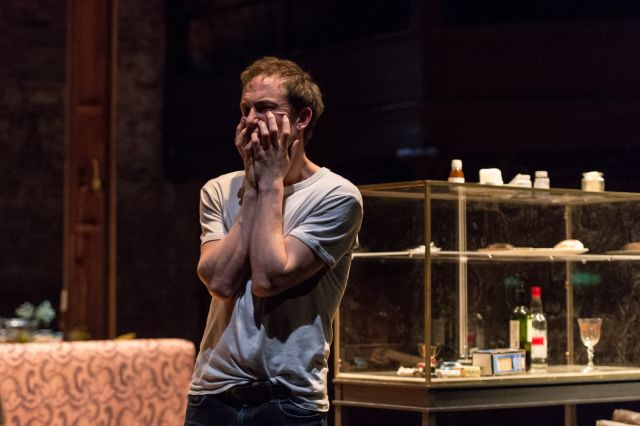 9. Uncle Vanya, Almeida Theatre
A busy year for Chekhov got off to a pace-setting start with Robert Icke's deliberately leisurely, entirely revelatory Almeida Theatre Uncle Vanya, a production that was arguably underappreciated by a critical community still dazzled by Icke's career-making Oresteia last year. Vanya was in its way as impressive if more emotional, as befits a play about a middle-aged man in meltdown, played here by Paul Rhys with a degree of psychic affinity that was nigh-on terrifying to behold. Performed on a gently revolving stage that allowed audiences to see the (largely Anglicised) characters quite literally in the round, Icke's production knew when to be clinical yet also compassionate and was acted with a furious integrity that extended throughout a cast that included Hilton McRae, Vanessa Kirby and, playing an Astrov (here referred to by his first name, Michael) virtually hollowed-out by his waning sense of self, the ever-excellent Tobias Menzies (pictured above by Manuel Harlan).
10. Yerma, Young Vic Theatre
The title of Australian writer-director Simon Stone's first original work for the UK may have co-opted Federico Garcia Lorca's 1934 masterwork, but in every other way that mattered, Stone's breathtaking Young Vic Yerma felt like a new play, and not only because it referenced Brexit and Kurt Cobain along the way. Telling of the desperation of the anonymously named Her to have a baby, this Yerma went on to anatomise a mind in fully communicated freefall that took the heroine's entire world down with her (or Her). That the lead was the ever-empathetic Billie Piper giving the sort of full-throttle performance one associates with the arrival of, say, the young Janet McTeer meant that we were never for a moment distanced from the gathering anguish of a woman keen to welcome new life even as she finds herself hurtling towards death. In an especially strong year for women further distinguished by lapsed MP Jackson's hypnotically feral Lear and Helen McCrory's Hester Collyer, a beyond-impassioned Piper existed a league apart.
Patrick Marber's production of Travesties managed to locate the tremulous pulse from a play often relegated to the heady realm of a Stoppardian Mensa test
Explore topics
Share this article