Storyville: Life, Animated, BBC Four |

reviews, news & interviews
Storyville: Life, Animated, BBC Four
Storyville: Life, Animated, BBC Four
Insightful documentary about an autistic young man connecting with the world through Disney animations
Tuesday, 21 February 2017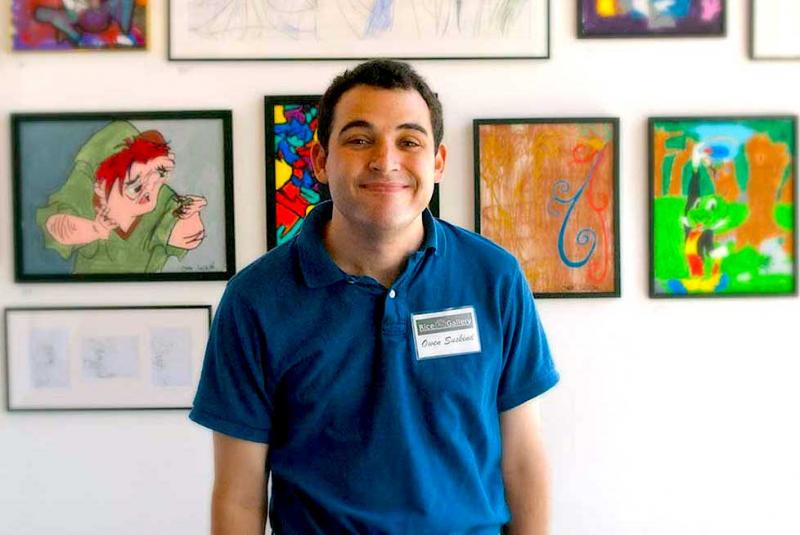 Owen Suskind with his own Disney-inspired drawings
Slipped out in the Storyville slot without much fanfare, Life, Animated is the Oscar-nominated documentary which won a theatrical release and rave reviews in the US and UK last year.
It's a horribly clichéd word, but heart-warming is the best way to describe this tale of a young autistic man, Owen Suskind, who learnt to speak via his passion for
Disney
animations.
We first see Owen in home movie footage, a chatty toddler play-acting Peter Pan with his dad. But soon after that footage was shot, he lost all his speech and began to display other worrying signs – problems with motor control, extreme anxiety, sleep difficulties. He received a diagnosis of autism just before his third birthday.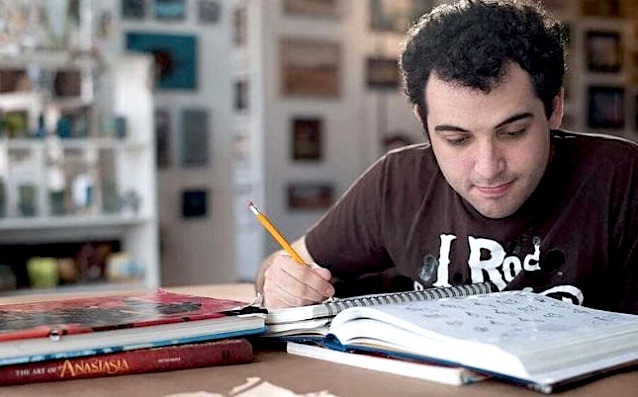 Based on the 2014 book of the same title which was written by Owen's political journalist father, Ron Suskind, the documentary only touches on the intense therapies and specialist schools which Owen experienced, focusing on his passion for Disney animation instead. His parents devoted a great deal of resources (both financial and their own time – his mother Cornelia Suskind gave up work as a journalist) to accompany Owen to therapy sessions and continue the advised techniques at home.
Where the book covers in exhausting detail the many interventions which Owen received (at one point Ron Suskind calculated the annual cost of Owen's therapies and education was $90,000), the film concentrates on what the family found to be the best way to engage with their son – through his passion for Disney animations. When Owen was around six, his family realised that he was using his favourite movies as a way to understand the world. Owen would watch the same films over and over again, rewinding favourite scenes obsessively and learning chunks of dialogue that he would repeat, sometimes using them to make insightful observations on himself and his brother.
While many autism experts would discourage this repetitive viewing as a harmful obsession allowing the autistic person to block off the world and retreat deep into themselves, the Suskinds had the good sense to see that if they joined in with Owen's passion, it could be harnessed to help him communicate and understand the world of relationships and people. The whole family would watch Disney movies together and act out scenes and then use them in social contexts to good effect, but there were some limitations. When Owen's first girlfriend dumped him, he was heartbroken. His older brother Walter (pictured above with Owen) comments ruefully that Disney's not much good when it comes to explaining the practicalities of sex.
Roger Ross Williams, who won an Oscar for his short documentary Music by Prudence, about disabled South African musicians, did an excellent job directing Life, Animated. He sensitively blended the Suskind's home movies with polished Disney clips, family interviews and specially commissioned animation sequences that recreate Owen's unhappy incidents from his childhood. Ross Williams doesn't just adapt Suskind's book, he spent over a year filming in an observational style with Owen as he left home and started a new and relatively independent life in a sheltered community and set out to look for work.
These scenes gave us a chance to see Owen as he describes himself today, "a proud autistic man" and far happier than he was as a child. Finding that Owen was not comfortable with direct eye contact, Williams brilliantly deployed the Interrotron technique, where the interviewer's face appears in the camera as if on a screen, allowing Owen to open up to Williams, and through him, connect directly to the viewer (pictured below, a still from Life, Animated).
I found the score a little too obvious and emotionally manipulative at times, and worry slightly that an inattentive viewer might get the impression that autism can be "cured" by watching Disney movies on a loop rather than its challenges alleviated by appropriate and sensitive therapy. Otherwise, this is a wholly admirable documentary showing a family learning to reframe autism not as a prison but as a different way of being, and a poignant story of one young man making his way in the world.
The Suskinds have gone on to encourage further research into what they call "affinity" therapy – harnessing an autistic child's passion (be it train timetables, Pokémon, Minecraft or Disney...). While the jury is out on how effective affinity therapy can be for children with autism and profound learning disabilities as well, it's certainly worth exploring. Overall, Life, Animated is a very positive addition to the growing number of films about autism, and Williams is definitely a film-maker to watch.