Dego, CBSO, Rustioni, Symphony Hall, Birmingham |

reviews, news & interviews
Dego, CBSO, Rustioni, Symphony Hall, Birmingham
Dego, CBSO, Rustioni, Symphony Hall, Birmingham
The UK premiere of Wolf-Ferrari's Violin Concerto doesn't justify the wait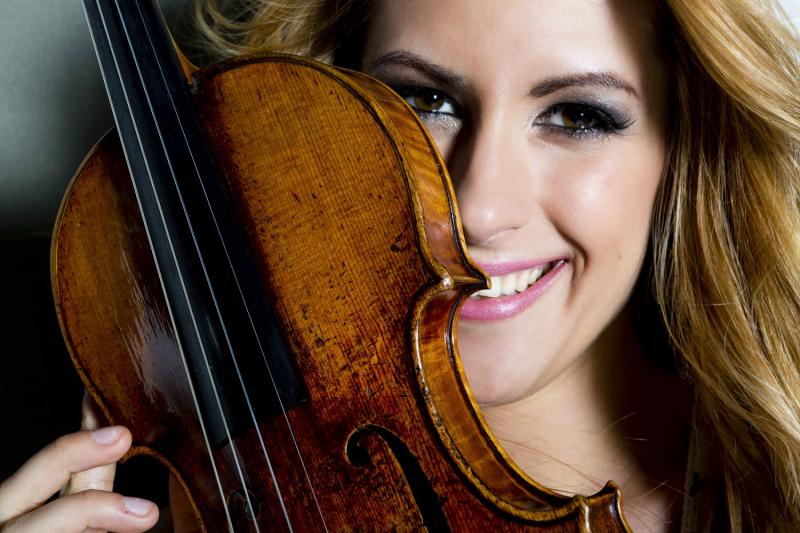 Soloist Francesca Dego: smothered by orchestration
Ermanno Wolf-Ferrari has never quite been a one-work composer. No points for knowing the fizzy overture to his delightful 1909 pro-smoking comedy Il segreto di Susanna; quite a few more if you know the whole opera.
Extra credit for being able to hum the once popular "Serenata" from
I gioielli della Madonna
: but move on to his major
operas
–
L'amore medico
, say, or
I quatro rusteghi
– and we're definitely into specialist territory. So it's not entirely surprising that Wolf-Ferrari's
Violin
Concerto hasn't been performed in the UK until tonight, even once you set aside the uncomfortable fact that it was written in Germany in 1944.
It's not exactly short, either – its four movements push it towards Brahms in terms of length. Nothing wrong with that, as long as a composer has something compelling to say. But Wolf-Ferrari's language at this late stage of his career is a sort of cornered romanticism. Sweetness takes the place of passion, and everything's bathed in that disingenuous artificial sunlight so typical of conservative, well-meaning art from the fascist era. It's attractive enough, though, on its own terms, and a violinist of sufficient conviction and charisma might perhaps make a case for it.
This performance sounded at times like a concerto for harp and celeste
On the strength of this UK premiere, I'm not convinced that Francesca Dego is that player. Her tone is warm but small, and she plays with a wide, throaty vibrato that doesn't quite carry over orchestration of this richness. The point was repeatedly proved in the first two movements, when Wolf-Ferrari meets the soloist's melody head on with lush outpourings for strings and a pair of harps. At moments like those, Dego – who barely made eye contact with the audience – simply vanished. Quieter sections worked better, where there was an engaging intimacy about her playing. But Wolf-Ferrari wrote this concerto for Guila Bustabo, a violinist he called "Paganini in a skirt". What's surely needed in the jaunty opera buffa finale (and what conductor Daniele Rustioni, pictured below right, did his energetic best to supply) is wit, agility and devil-may-care bravura. Oddly, Dego delivered exactly those qualities in a Paganini encore: a passage of left-hand pizzicato drew gasps and spontaneous applause. But she still kept looking at the floor.


It didn't help that the concert had opened, in a spectacularly self-defeating bit of programming, with the prelude to Tristan und Isolde. Yes, we get it: Wolf-Ferrari was born in Venice and worked in Germany, and Wagner wrote part of Tristan in Venice. The artistic price of that donnish in-joke was that Wolf-Ferrari was inevitably (and entirely predictably) overshadowed. The second half worked a great deal better. Rustioni is a wonderfully lively and graceful conductor, and he ended with a Mendelssohn Italian Symphony of luminous clarity and buccaneering verve.

Before that, we'd heard the CBSO finally playing off the leash, in a performance of Respighi's The Fountains of Rome in which you could practically taste the spray of the Triton Fountain, while the final climax at the Trevi Fountain (complete with the Symphony Hall organ) actually made the air shake. Rustioni has a real instinct for colour, and an almost balletic sense of rhythm. If this extravagantly joyful performance sounded at times like a concerto for harp and celeste, there's no denying that the shot-silk textures that Rustioni drew from the CBSO violins made a wonderfully sumptuous foil for Respighi's glittering cascades. Now there's a composer who really deserves a reappraisal.
Wolf-Ferrari wrote this concerto for a violinist he called 'Paganini in a skirt'
rating
Share this article