CBSO, Nelsons, Symphony Hall Birmingham |

reviews, news & interviews
CBSO, Nelsons, Symphony Hall Birmingham
CBSO, Nelsons, Symphony Hall Birmingham
Birmingham's third world-class conductor scales the heights
Wednesday, 03 February 2010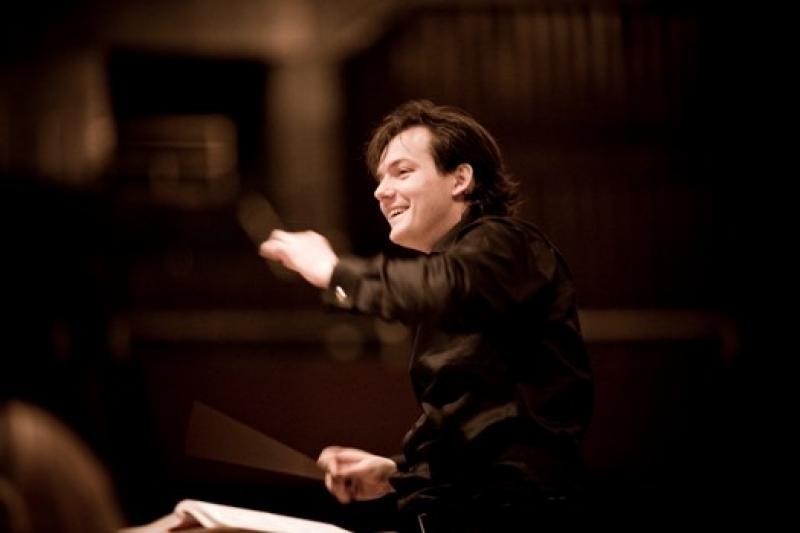 Andris Nelsons: climbing mountains in Birmingham
Yes, he can make the music smile when it needs to as much as he does himself. Had we but cash enough and time, many of us Londoners would travel more often to witness what further heights young Latvian Andris Nelsons can persuade the already world-class City of Birmingham Symphony Orchestra to scale.
It was certainly worth the trip to hear how Richard Strauss's colossal
Alpine Symphony
could sound in Birmingham's Symphony Hall - a venue which, compared to London's less monster-friendly Royal Festival Hall and Barbican Centre, rolls back the roof and lets the air into the big scores.
Not that it's only the great late-romantic works which benefit. Nelsons's Mozart projected perfectly, as spruce and buoyant as it was sometimes tender in its very personal phrasing. Strauss as febrile, accomplished Mozart conductor would probably have admired the sudden blaze in the first-movement development of the Symphony No. 33, otherwise a childlike creature of gurgles and flounces. Even more surprising was the abrupt, almost Beethovenian brute force which spread over the finale-variations of the bewildering C minor Piano Concerto, tossed aside with equal sleight of hand by mock-military clarinets.
At first it seemed as if soloist Martin Helmchen's manner would be more reserved, but he too used impressive control to explode modernistic ferocity into a very cultured interpretation - not, perhaps, a soul-scouring one, but certainly hawk-like in its observation of his equal partners in Mozart's angelic woodwind consort and of Nelsons' every nuance.
Strauss's Mozartian side would no doubt benefit from Nelsons's chameleonic adaptability; he hankers, as who would not, to conduct Der Rosenkavalier in concert. There's no Mozart, however, and plenty of Wagner in the continuous chain of Alpine peaks Strauss decided to ascend shortly after the premiere of his richest opera. An Alpine Symphony, despite the huge costs entailed in assembling its vast orchestra (here 126 players), is very much in the ascendancy these days. Conductors seem to understand that it's not just a picture-postcard depiction of 24 hours in the mountains; we now know so much more about its origins as both requiem and Nietzschean Antichrist Symphony, and Calum MacDonald's expansive note in a generous programme added further chapter and verse on its fascinating history.
Nelsons certainly took the philosophical implications seriously. The mountain's night profile on lower brass was swathed in mystery, and the feathery glooms as this masterpiece of one-movement construction begins to run widdershins from its optimistic high noon made the flesh creep. Strauss once thought of calling them "dreams and ghosts (after Goya)"; so much for a mere change in the weather. The dying of the mountaineers' music at the end - which I've always thought of, fancifully perhaps, as a kind of war requiem to the nature-loving youth of Europe, dead in their thousands by the time Strauss completed the work in 1915 - brought the expected long silence from a rapt full house,
Yet there was also plenty of relish in pictorial brilliance: the offstage hunting-horns, high above the orchestra, have never sounded lustier, the waterfall sprayed freshness and a mountain pasture could not have been in more cheerful contrast to Mahler's mystic, cowbell-laden heights. On the summit, Nelsons flapped in wild excitement, raising shades of papa Strauss's disapproving reaction to "serpentine gestures" in his beanpole son's conducting, but got the necessary blend of opulence and urgency. The wind machine may have screamed and whistled a little too insistently in the riotous storm - a long one, but they can go on for hours in the mountains - yet the hall seemed able to take it and to let Nelsons's dazzling work on thematic clarity shine through.
With a third top conductor in charge - after Rattle and Oramo - Birmingham seems to have made its own luck. And how hard it works on community involvement and presentation; smiley Andris picked up a microphone and worked the crowd last night before conducting a note. We even had the supertitles (for Strauss's 22 descriptive sections) that I'd missed in Barenboim's Festival Hall performance of Schoenberg's Pelleas und Melisande. London, take note.
Hear the new CBSO/Nelsons recording of Strauss's Ein Heldenleben and the Rosenkavalier Suite on Orfeo. An Alpine Symphony has been recorded live for future release. Last night's concert will be broadcast by BBC Radio 3 on 11 February at 7pm
Explore topics
Share this article