The Salesman |

reviews, news & interviews
The Salesman
The Salesman
Iranian Oscar winner pays attention, and then some, to Arthur Miller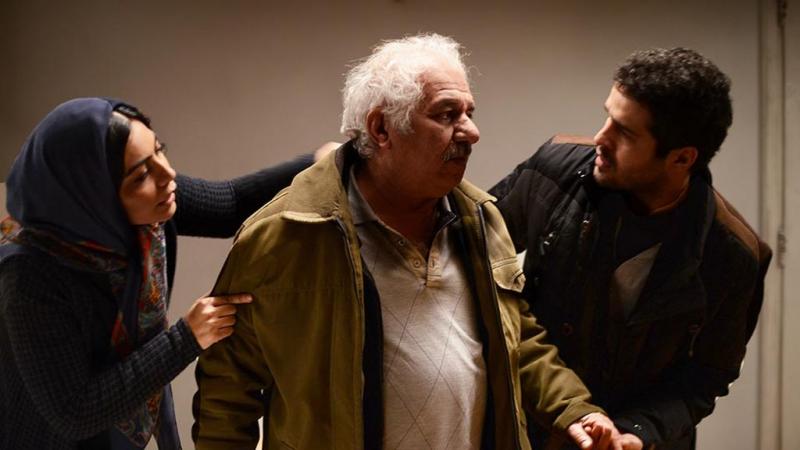 Right this way: Babak Karimi (centre) in 'The Salesman'
"Attention must be paid," we are famously told near the close of Death of a Salesman. And so it was this year on Oscar night when Iranian writer-director Asghar Farhadi won his second Academy Award for Best Foreign Film (A Separation was the first), this time for a movie that leans heavily on Arthu
r Miller's classic – though whether as crutch or inspiration will remain for individual viewers to decide.
Intriguing moment to moment without being quite as searing as it surely intends, the movie may with time be remembered more for reasons to do with politics than with art: Farhadi refused to attend the Oscar ceremony as a way of drawing attention to Donald Trump's outrageous anti-Muslim travel ban, back when it was first mooted. The director's anger is complicated by the irony of a Middle Eastern movie that folds an American theatrical mainstay into its very being and does so pretty much without comment. Time and again, the film conflates putative differences between Iranian culture and the West, asserting a common humanity alongside commonalities of emotional severance and of grief.
The catalytic event in Farhadi's screenplay vaguely echoes Paul Verhoeven's Elle (scandalously overlooked by this year's Foreign Film nominating bods this year), though to notably contrasting effect. Not long have a well-liked literature teacher called Emad (Shahab Hosseini) and his quiet wife Rana (Taraneh Alidoosti, who possesses something of the ringleted beauty of a young Bernadette Peters) moved into new accommodation following the near-collapse of their previous Tehran home before Rana one day is attacked by an intruder while in the shower. Emad returns home to find his wife bloodied and distressed and their union altered, perhaps for ever. Emad can't reverse what has happened to Rana but he can try to reveal the truth about it in a scenario that makes no mystery of Rana's assailant, saving such queries for the more troubled interiority of the human heart.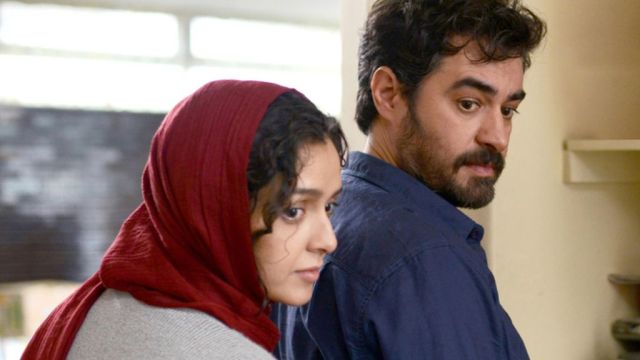 How can Emad help his wife? And where can she find any abiding comfort? The police seem not to be an option, nor is art particularly consoling. Though both spouses are appearing together in a production of Salesman which Emad is directing, Rana suddenly feels too conspicuously on view – as if a playgoer's gaze constituted its own kind of threat. And while Rana incorporates sadness into herself as a way of being, Emad turns sleuth, shifting the film toward a revenge drama of sorts in which no outcome can be satisfactory for the simple reason that life doesn't really work that way (Hosseini and Alidoosti pictured above).
I don't think I've been aware of Miller's touchstone text pressed into celluloid service since Philip Seymour Hoffman was seen directing a production of Salesman in the whacked-out Synecdoche, New York, and Farhadi, to be honest, makes fairly heavy weather of the interpolations from and implicit parallels with the tragic story of WIlly and Linda Loman; nor does it help that the production on view here doesn't look especially good. The Salesman is better when it more glancingly catches its characters on the wing, encompassing and admitting to a range of emotions that defy neat analysis, the intruder's most significantly of all. A miniaturist with an acknowledged gift for seeing his characters in the round, Farhadi doesn't need to push their importance at us. His film is clear-eyed and accomplished but would be stronger still were its director not so busy – in thematic terms – playing, yes, the salesman.