Free Fire review - 'entertaining massacre with superb cast'
Free Fire review - 'entertaining massacre with superb cast'
Brie Larson helps Ben Wheatley go back to brilliant, bloody basics
"Vern and learn!": the cretinous Vern (Sharlto Copley, second right) takes aim. Photos by Kerry Brown.
Ben Wheatley's sixth film in a prolific, unpredictable career is a shoot-'em-up in the most literal sense. Setting a superb international cast led by Brie Larson and Cillian Murphy down in a big, grim warehouse, he lets them blast bits off each other for 70 of Free Fire's 90 minutes.
After Wheatley's most obviously ambitious
film
, his J.G. Ballard adaptation
High-Rise
, suggested narrative structure wasn't always his and co-writer/editor Amy Jump's strength, this locked-room massacre focuses his skills.
The set-up is a gun deal gone wrong in 1978's USA, a period high on lurid disco fashion and low on plot-capsizing mobile phones. Chris (Murphy) and Frank (Wheatley regular Michael Smiley) are probable IRA men arriving for an arms deal brokered by Justine (Larson, in a powder-blue suit setting her coolly apart from the clothes crimes elsewhere). The sellers are led by smoothly superior Ivy Leaguer Ord (Armie Hammer, pictured below left with Larson, Murphy, Sam Riley and Smiley), icily brooding Marlon (Babou Ceesay) and Rhodesian social hand-grenade Vernon (South Africa's District 9 auteur-star Sharlto Copley).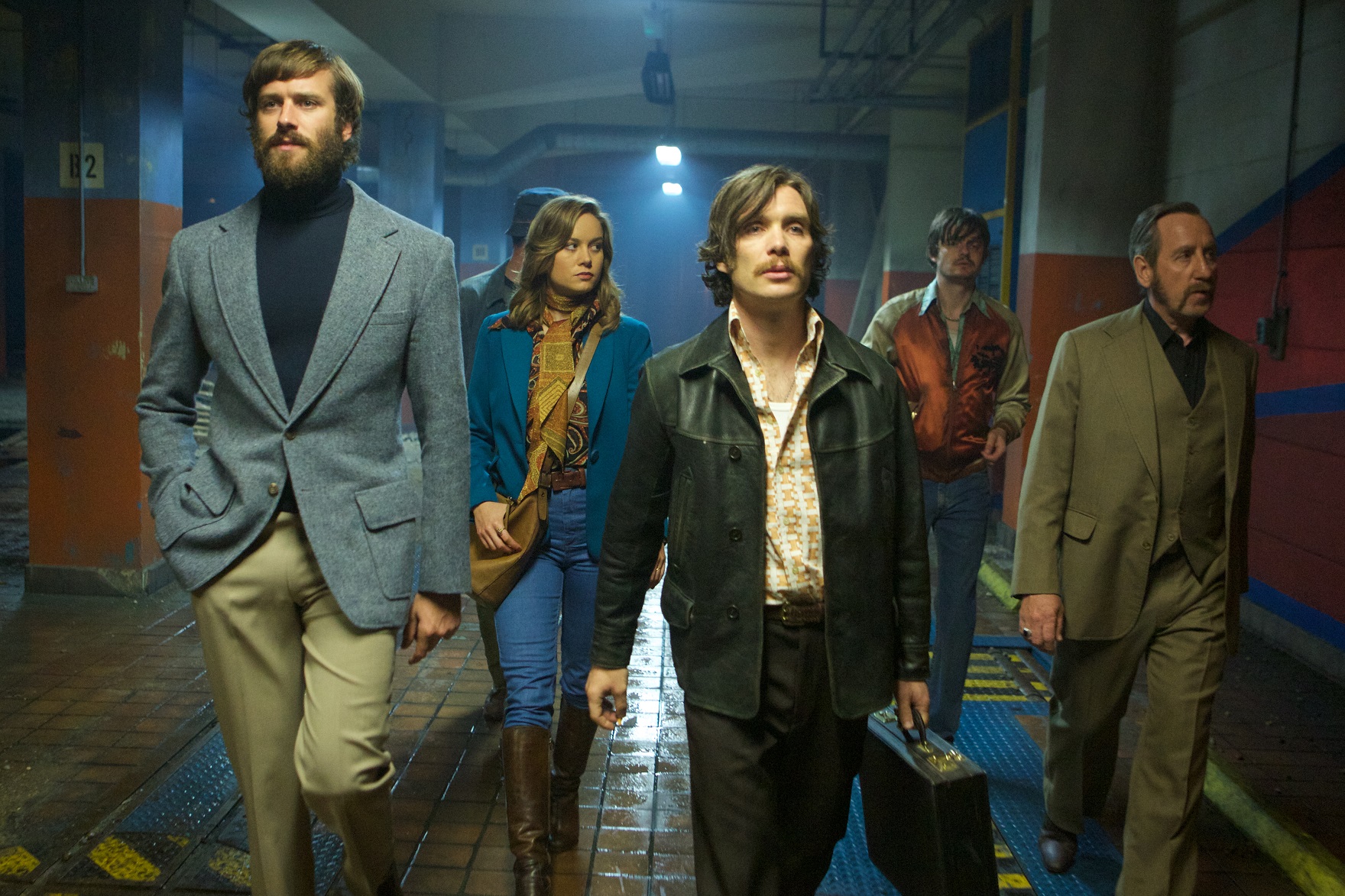 Vern's bumptious come-ons to Justine are just the tip of a faux pas iceberg. He's Alan Partridge plus all the comedic potential of '70s Southern Africans, a macho lunk with a bison-thick accent. Though Vern's not racist, Copley enthusiastically slots him into the villainous role reserved for his forebears. Such an outrageous turn would capsize some films, but merely confirms the flavour here.Bits of bashful romantic business between Larson (pictured below) and Murphy's characters meanwhile offer a brief interlude of breezy sunshine before the bloodshed. Larson excels in these few seconds of feather-light sexual comedy, even when the context is a potential bunk-up after flogging assault rifles.
When a van rolls in blasting our John Denver and an earlier, off-screen altercation involving Irish hireling Stevo (a feral Sam Riley) sets off a chaotic gun battle, the warehouse trapping these motley crews of distrustful, richly quotable criminals inevitably recalls Tarantino's Reservoir Dogs, as that film drew on Kubrick's The Killing. But Wheatley is steeped in different pop culture, such as the merciless British black humour of 2000 AD (he's surely the man to finally nail Judge Dredd). So the word-play is brighter and blunter than Tarantino's baroque, post-Scorsese stews.
Though Free Fire essentially amounts to little more than a puzzle for Wheatley to solve – just how long can you keep a film going on gunfire and banter? – the director's humane sympathy for his ruthlessly whittled-down cast also sets him apart. The increasing amount of lead shipped by these crawling, whimpering desperados hurts, and most of their fates matter, which ramps up the tension.
Wheatley's first two films, Down Terrace and Kill List, had the shock of the new. Kill List especially pulsed and sweated with a visceral quality of violence and terror which its director seems reluctant to revisit. Though he appears to be nearing the big leagues, future Oscar-winner Larson actually crawled around a filthy warehouse for him on the outskirts of his Brighton hometown. The budget's bigger now, but Down Terrace, too, was filmed in an enclosed space on Brighton's edge. Wheatley's territory hasn't changed so much. This is his most simply entertaining riff on it yet.